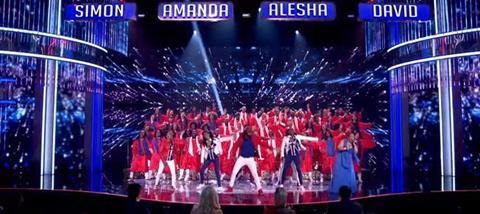 Last night, the country was re-introduced to the 100 Voices of Gospel, contestants on Britain's Got Talent (BGT).
Having been given the 'golden buzzer' the choir had a fast-track straight to the semi-finals. Last night's performance did not disappoint. After a unique rendition of 'I've Got my Mind Set on You', the response again, was a standing ovation. At the end of the night, 100 Voices of Gospel received the highest number of public votes, taking them straight to this Saturday's final.
To the average viewer, these were excellent performances, worthy of the golden buzzer and affirmation of the public vote, but to the Christian viewer, these performances should be understood as something so much more.
It was the comments made by the judges, which grabbed my attention. After the first audition, Amanda Holden said, 'I feel elated. I felt so good I couldn't get it out of me quick enough.' For David Walliams, the performance was an invitation to join in, 'I just wish I could be up there with you.' And for Alesha Dixon, the audition was an indescribable glimpse of heaven, 'There are literally no words that I could actually use right now to describe that feeling that you gave everyone in this room. It is so powerful, everything about you, everything you represent is my idea of heaven.'
After last night's performance, the judges' comments were no different. David Walliams shouted, 'Hallelujah, Praise the Lord. Thank you for sharing this gift you have. The crowd was so completely joyous. We were all in some sort of musical ecstasy.' Alesha echoed Walliams' comments, 'Whenever you're singing, you make people want to be a part of it and that's what's so special about you.' Simon went as far as to say, 'This is by far, the best choir, I've ever heard on any one of these shows.' Amanda noted how important it is to recognise why the choir has come together, 'And for me you are singing about everything, but you have come together because of your faith, and I think that's how faith should be celebrated, in a joyful, uplifting, amazing way.' These are some deeply meaningful comments.
Could it be that these words and phrases are evidence of something more going on? The elation, the sense of wanting to join in, the lack of words needed to express the feeling – could it be that all of these things are pointing to a deeper truth?
We all have a desire for something beyond ourselves, a desire which can only be fulfilled by something beyond this world
CS Lewis, in his book, Mere Christianity, talks about how we all have desires within us. Some of these desires are natural: the desire to eat or to drink. In order to fulfil these desires, we consume food and beverages. Beyond these natural desires, Lewis argues, are desires which go beyond what we can see in the natural world. We all have a desire for something beyond ourselves, a desire which can only be fulfilled by something beyond this world, something transcendent. For Lewis, the fulfillment of this desire may only be found in God.
David Walliams used the word, 'ecstasy' and he wanted to 'join in'. Alesha Dixon said the experience was her 'idea of heaven'. Amanda Holden 'couldn't get it out of [her] quick enough'. In hearing these responses to a choir who are unapologetically worshipping God, I wonder, could it be that the reason there are no words, the reason we want to join in, and the reason they are in a 'different league' is not because they are great performers, but it is because they are inviting the British public to join them in seeking to fulfil a desire?
Could it be that the desire for transcendence, which Lewis says we all have, was for a brief moment being fulfilled? Could it be that for at least a few minutes, on national television, BGT experienced the fulfilment of a God-given desire: the desire to worship?
Joseph Wood is lecturer in church history at Nazarene Theological College, Manchester
Click here to request a free copy of Premier Christianity magazine