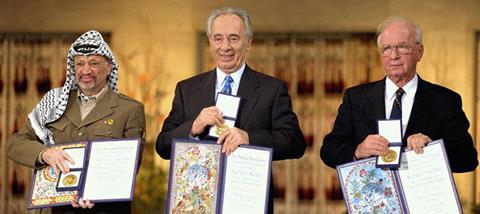 If there is one word that will appear more than any other in the obituaries now being penned for former Israeli president and prime minister Shimon Peres, who died in Tel Aviv earlier this morning aged 93, it will be "contradiction".
Leading world figures including (it is reported) President Obama, former President Clinton, President Hollande, David Cameron and even the Prince of Wales, are preparing to attend the funeral in Jerusalem on Friday. The eulogies have already started to flow, with Obama calling Peres, a winner of the Nobel Peace Prize in 1994, "a soldier for Israel, for the Jewish people, for justice, for peace."
Within Israel however, Peres was a complicated figure, seemingly ubiquitous on the Israeli political scene since the state's establishment in 1948 but never quite capturing the affections of Israeli voters, or even those of his political allies.
There were many contradictions in the life of Shimon Peres
Peres was a protégé of Israel's founder David Ben-Gurion, held every major office of state and was the longest serving member of the Knesset, sitting for 48 years until 2007. But he never won an election outright; his three short spells as Prime Minister in 1977, 1984-86 and 1995-96 were achieved without a direct electoral mandate. His reputation rested not on daredevil military exploits in pursuit of the Zionist dream (in contrast to contemporaries such as Ariel Sharon, Ehud Barak and Moshe Dayan, he had no military record to speak of) but on his record as a pragmatic backroom fixer. Even his long-time colleague in the Israeli Labour Party (which he controversially quit after 46 years in 2005), Yitzhak Rabin, another soldier-politician, described Peres as a "tireless schemer" and "indefatigable subverter".
The contradiction
But there were many more contradictions in the life of Shimon Peres. His reputation as an international peacemaker stood oddly alongside his intimate involvement in the creation of Israel's military-defence establishment and his role as architect-in-chief of Israel's nuclear weapons programme. His status (outside Israel at least) as Zionist icon was contradicted by his image inside Israel as an 'outsider' with a strongly East European accent (he was born in 1923 in what is now Belarus). He liked to think of himself as an intellectual and poet-philosopher, yet he was also the hard-nosed politician who oversaw Israel's bloody assault on Lebanon in April 1996 in which hundreds of Lebanese civilians were killed or wounded.
For Palestinians, the ultimate contradiction in Shimon Peres was between his international reputation as a peace-loving dove, and his hawkish actions against Palestinians on the ground. His Nobel Peace Prize in 1994 was for his role in the ill-fated Oslo Peace Accords, yet he did much to undermine those accords, and the peace process generally, by supporting the blockade against Gaza and supporting the expansion of Israeli settlements in the occupied West Bank and East Jerusalem. Indeed, he was in many ways one of the prime movers in the settler movement, which he actively encouraged while Israeli Defense Minister in the 1970s.
In recent years
The tragedy of his life is his contradictory approach to a just peace with the Palestinians.
In the last decade of his life Peres was a largely marginal figure in Israel, serving in the entirely ceremonial role of President from 2007 to 2014. But he was revered, if not loved, as the last direct link to Israel's "founding fathers". The tragedy of his life is his ambivalent and contradictory approach to a just peace with the Palestinians. This has contributed to Israel being no more certain of its long-term security and standing in the world that when it was established in 1948.
Jeremy Moodey is Chief Executive of the Christian development charity Embrace the Middle East.
Click here to request a free copy of Premier Christianity magazine