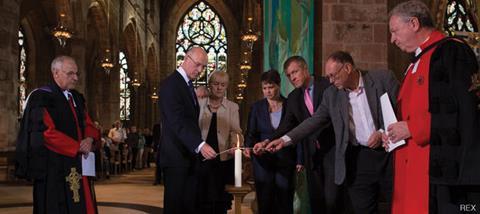 Church of Scotland moderator, the Rt Rev John Chalmers, told the congregation there would be no quick fix. Attendees included Scottish
Conservative and Unionist Party leader Ruth Davidson, Scottish Labour leader Johann Lamont, leader of the Scottish Liberal Democrats Willie Rennie, and Better Together leader Alistair Darling.
Rev Chalmers said: 'For some, this referendum has been about national identity; for us all it has been about self-identity and that is about as close to the soul as it gets.
'So recovery and healing is a soulsearching matter and for me, that is a deeply spiritual matter, so [there is] no quick fix.
'Instead, it will take a force of magnanimity and graciousness to restore equilibrium to both nation and individuals.'
Click here to receive your free copy of Premier Christianity magazine.