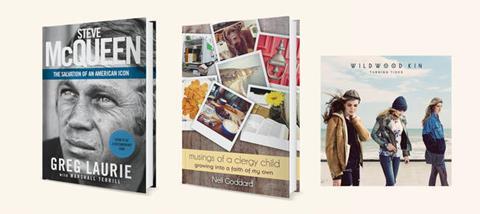 Steve Mcqueen:
The Salvation Of An American Icon
Ian Johnson
Allen Lane
After hearing the film star Steve McQueen had become a Christian before his death to cancer aged 50 in 1980, megachurch pastor Greg Laurie sets out across America in a Ford Mustang 'Bullit' to visit the major places where McQueen lived and talk to those who might shed light on his apparent conversion.
Laurie befriends McQueen's widow (third wife, Barbara Minty McQueen), meets the pilot who brought McQueen's body back in a casket and discovers how Billy Graham connected with the film star.
The travelog style moves briskly, retaining enough mystery and tension to keep the reader interested, and includes Laurie's own story which parallels with McQueen (both had an absent father, an alcoholic mother and received violent treatment in their youth).
McQueen fans will enjoy the biographical elements which chart his development from a nobody actor to TV star and eventual icon through films such as The Magnificent Seven, The Great Escape and Towering Inferno. He became the man every guy wanted to be and every women wanted to be with. There are also insights into his psyche that led to awkward relationships on set, a promiscuous lifestyle even when married, dabbling with drugs and alcohol and finishing with a reclusive period when he preferred solitude to stardom.
An evangelist to the core, Laurie includes a prayer at the end, in part to help meet McQueen's own sadness that his illness six months before his death meant he had little chance to share how much Christ has done for him.
This is an uplifting book. Buy it for the film lovers you know and be inspired in your own evangelism by the stuntman, the pilot instructor and the Californian pastor – all of whom provided links in the chain which ultimately led to salvation for McQueen.
AP
God Conversations
Tania Harris
Authentic
I've often questioned whether the voice I believe to be God's is actually his, or whether my own thoughts are butting in. Or, worse still, whether I'm just hearing random voices!
Finding herself in a similar predicament, Tania Harris has spent time thinking about these questions. While other people claimed to be hearing from God day-in, day-out, she only really knew him from reading the Bible. Aware that every good relationship involves two-way communication, she told God that if he spoke to her clearly, she would do whatever he said. The results were surprising!
From the seemingly trivial conversations – including one about a pair of shoes – to the all-important issues relating to her future, God Conversations isn't a boastful, "I hear from God all the time" kind of book. Instead, it's a deeply honest exploration of how we can learn to hear his voice and discern whether or not it's really God.
God Conversations is the perfect mix of personal experience and sound theological teaching. It's not a formulaic, slick, step-by-step guide to hearing from God. Instead it's an articulate, unpatronising and thought-provoking title that I cannot recommend highly enough.
JT
Sinners in the Hands Of A Loving God
Brian Zahnd
Waterbrook
Pastor Brian Zahnd's latest work has been named in response to the 18thcentury theologian Jonathan Edwards' sermon 'Sinners in the Hands of an Angry God'.
Zahnd's book attempts to show that God is not wrathful but purely loving. In doing so, Zahnd talks about a range of important topics from the atonement to Old Testament judgement to hell.
At 200 pages, it is not designed to be an academic contribution; instead it is a popular-level work skimming and commenting on these topics.
Unfortunately, the book is intellectually sloppy. There is meagre attention given to key biblical passages (Isaiah 53; John 3:36; Matthew 10:28) and the engagement with opposing evangelical theologians is feeble and brief. It also contains false dichotomies about how to approach the issue (there is no examination of the reconciliation of love and retribution), and unsubstantiated and passive-aggressive rhetoric. The book shows little intellectual charity. There's no evidence that the author has listened carefully to opposing arguments and views of others in order to understand them.
Whether the book is popular or found useful by its audience, it is a weak contribution to its genre. Don Carson's The Difficult Doctrine of the Love of God (IVP), the website rethinkinghell.com or Pierced for Our Transgressions (IVP) should be looked at instead. Better still, why not actually read Jonathan Edwards – remembering he didn't just preach one sermon but hundreds, some even talking about God's "infinitely dear and incomprehensible…love".
JP
Musings of a Clergy Child
Nell Goddard
BRF
As a vicar's kid, I was excited to delve into Musings of a Clergy Child and see if Goddard's experience of vicarage life was as interesting and eventful as my own childhood. The funny anecdotes within the first few chapters – members of the congregation walking in on you on the toilet (an oh-too-familiar occurrence) and always having an extra person (or four) round the dinner table at Christmas – was confirmation that there is never a dull moment in any vicarage!
Originally published as a series of blogs, the book's content is best dipped into occasionally. There's a three-tier structure of 'Tips for clergy children', 'Letters' and 'Musings'. This results in a slightly stilted reading at times. Goddard shares her experiences of growing up in a vicarage in 'Tips for clergy children', but these narratives are limited in their scope. While some of the 'Letters' were interesting to read, they are occasionally overly evangelistic and come across as preachy.
'Musings' is an intimate reflection of Goddard's own personal faith and development, as though taken directly from a journal. The author addresses a subject, ponders on it, and then concludes by declaring God's truth over and into each difficult situation with a Bible verse. It's honest, thoughtprovoking and challenging.
This is a good book to give teenagers whose parents are in fulltime ministry as it will help them pursue their own personal relationship with God, rather than living vicariously through their parents. AL
Movies Are Prayers
Josh Larsen
IVP
Films, like all expressions of human creativity, reflect the fact that God made us in his image. This means they sometimes give voice to our deepest urges, including our longing to be connected with God.
Josh Larsen, co-host of the Filmspotting podcast, makes a compelling case for seeing movies as prayers – not in a conscious sense, but as instinctive recognitions of things that are worthy of praise, of things being broken and needing to be put right, and of our desperation for things to be other than they are.
Larsen identifies nine expressions of prayer, framed within the overall sweep of scripture from creation, through fall and redemption to the new creation. For each type of prayer, he explores a diverse range of films and reflects on his own spiritual and film-watching journey.
Too many Christian books on film merely spot parallels between the gospel and a particular scene. Larsen probes beneath the surface to see what deep heart-cry is being expressed. The result is a remarkably thoughtful and spiritual book.
TW
Jews Don't Need Jesus & Other Misconceptions
Avi Snyder
Moody Publishers
Have you met Christians who believe that Jews don't need Jesus to be saved, so we shouldn't evangelise them? If you've encountered this idea, and want to read it being thoroughly critiqued, Avi Snyder's book is for you.
Snyder, who leads the European branch of Jews for Jesus, responds to a myriad of objections to Jewish evangelism such as: Jews are still saved under the Old Covenant, Jews can be saved by Christ even if they don't acknowledge him and evangelism to Jews is insensitive given the history of the two faiths. The author gives sound, short and clear biblical responses to these issues.
Snyder is bold at times: comparing the silence of Christians towards Jews regarding Christ, to the silence of Christians in Germany during the Second World War. The book has a narrow focus, so doesn't deal with the broader topic of evangelism to Jews in general. That said, if you're struggling to pluck up the courage to talk to Jewish believers due to concerns about offending them or being insensitive, this title may embolden you.
HT
Benediction (Live)
The City Harmonic
The Fuel Music
Over the past eight years, The City Harmonic has gone from obscurity to widespread success, especially in their native Canada. Hailing from different denominations, the band members came together with a shared aim of uniting the Church in worship. Their albums, tours and words – both on and off the stage – have gone a long way to achieving this mission. Benediction is the worship band's last ever release. But it has been billed as a "blessing and a sending, not an end". The 14-track live album features fan favourite 'Manifesto' and the profound attention-grabbing 'Maranatha'. Most of the songs are familiar, but 'Honestly' is new and noteworthy. It will especially encourage those who feel distant from God. The beautiful melodies contain much truth, comparable to the great hymns of yesteryear. These anointed songs have been delivered with unity between the band and the crowd. Benediction is a fitting swansong for this much-loved worship band.
JT
Turning Tides
Wildwood Kin
Silvertone
Wildwood Kin are a female trio with flawless harmonies. But they aren't just another HAIM. The Devon-based band is less poppy and more atmospheric, and this, their debut album, shines. The two sisters and cousin have created a spacious, reverb-heavy soundscape that comes from their original approach to composing. Even when using the 'verse-chorus-versechorus-bridge-chorus' format, they produce something strikingly different, as if they let the music go where it wants to. But these gorgeous sonic stylings aren't there to cover any shortcomings. The songs are rich in character and purpose too. Although each has led worship on her own, as a band they are more outwardlooking and these eleven tracks aim to make wider connections. In 'The Valley' they promise, "We'll sing out loud and clearly / Where the echoes will touch the broken / Where the spirits will be woken." It's hard to imagine anyone disliking the staggeringly sumptuous sound of these songs.
DW
The book that changed my life
Abide In Christ
Andrew Murray
This is a book that I recommend to a lot of worship leaders who I mentor. I was raised in the Church but for some reason getting to read all over again what it really means to grow into Christ and for him to be in us and us to be in him marked me forever.
This book helped me to unpack what it means to abide in Christ. One of the things I remember the most was Murray explaining how the same grace that saved us is the same grace that keeps us. I love that so much I wrote a song about it! That abiding grace that God gives for us to be able to rest in him really changed my life and whole thinking. I loved it so much so I recommend this book to a lot of people.
By Christy Nockels
REVIEWERS: ANDY PECK is on the teaching team at CWR and hosts The Leadership File on Premier Christian Radio • JOY TIBBS is a freelance writer and editor • JOSHUA PARIKH is studying for a Masters in Philosophical Theology at Oxford University • ANNA LOUISE is a singer, worship leader and vicar's kid • TONY WATKINS is a speaker and writer on media, culture, science and the Old Testament • HEATHER TOMLINSON is a freelance journalist • DEREK WALKER is an Anglican lay minister, kitchen designer and writer