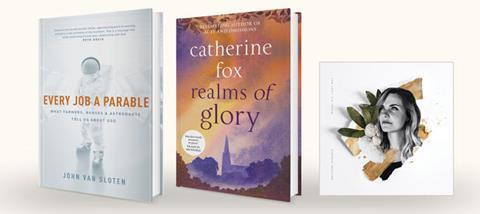 Every Job A Parable
John Van Sloten
Hodder & Stoughton
Pastor and writer John van Sloten believes that our daily work reflects our creator. A myriad of professions including farmers, astronauts and hair stylists give us an insight into God, just as the parables did in Jesus' day.
Van Sloten hopes to give the reader an eye for this through referencing 48 different jobs throughout the 14 chapters, each looking at an aspect of how God interacts with the world of work.
The book is well-crafted and contains helpful quotes. Those who are new to thinking about a Christian view of work will find helpful ideas. But too many times Van Sloten overstates his case and seems to veer into a New Age understanding of God. Yes, we serve the Lord and not human masters (Colossians 3:23) but the assertion "his Spirit is moving in you, through you and all around you as you do your job" is given without any qualifying comments. Of an emergency response team, he writes: "a saving heart beats – in first responders, hospital staff and healthcare boards. That heartbeat is God's". (If he is correct, God doesn't always do a good job!)
His theme might merit a few paragraphs, or even a chapter in a book on work, but some of his illustrations are contrived, or too obvious to mention. How is a judge like God? Can you guess? And why is this whole approach absent from New Testament teaching on work?
It's a big shame this book failed to deliver because we need all workers to see what they do as part of their walk with God and as a means of blessing others. Van Sloten acknowledges this overarching point. But ultimately there was too much to confuse alongside the potential help. AP
Called To Influence
Karen Kircher
Malcolm Down
Whether you're in an official leadership position or not, this book contains valuable insights into the way we view ourselves, others and God.
Called to Influence challenges us to step out of our comfort zones as we are led by the Holy Spirit to effect change.
Helpfully, Kircher gives biblical and modern-day examples of how this looks in practice. She describes times when she's shared God-given words and pictures with clients through her role as a leadership coach. Some of these illustrations are very powerful and the results are often quite moving.
Kircher also shares examples where these interactions haven't gone as smoothly as she would have liked. This honesty is a breath of fresh air as many of the examples can seem daunting.
There is wisdom in each chapter, but sometimes these pearls are overlaboured and at other times they are underexplored. The text is very dense, and the layout and editing lets Kircher's sound content down.
Those who are able to work past this will enjoy a book which helps you understand yourself better and overcome negative mindsets. JT
Realms of Glory

Catherine Fox

Marlyebone House

Realms of Glory is the third and final volume in the Lindchester series, a sort of 21st century Barchester Towers. Like Anthony Trollope in the 19th century, Fox peoples her stories with characters that come off the page and hang around in your head.

This book, like the previous two, spends a lot of time with Freddie, the gay chorister whose attempts to become an adult are constantly frustrated – by Freddie himself. Will he ever leave that destructive pattern of behaviour behind?

The story is set in 2016 and, while it keeps to the area around Lindchester, it covers all the twists and turns in the Church of England's battles for unity that year, as well as the seismic shocks of the Brexit Referendum, the rise of Trump and the loss of so many well-loved celebrities. The characters represent a wide range of different churchmanships – high, low, charismatic, evangelical – fighting to discover what good disagreement might look like.

What makes Realms of Glory such a delight is the humour, humanity and the strong characters. The language may surprise or even shock in places, but Fox has always wanted to write as much for those outside the Church as those inside.

It's a 'warts and all' portrait of the Church, but an affectionate one too. This is not safe Christian fiction, because we don't live in a safe Christian world. Above all, the grace, mercy and love of God shine through the pages. AH
A Church for the Poor
Martin Charlesworth & Natalie Williams
David C Cook
The authors of A Church for the Poor want the UK Church to do something far more radical than start a few new social action programmes. Instead they're looking for biblical transformation.
Using the biblical narrative of the early Church described in the New Testament, Charlesworth and Williams provide a compelling argument for integrating the poor and marginalised into the kingdom of God.
The two-part title provides both a mandate for this vision and some suggestions and strategies as to how we begin to get there. And by employing personal testimony and thorough research, the authors show that this is not a vision beyond our reach.
Following the comments by Rt Rev Philip North at New Wine that current church planting strategy is "complicit in the abandonment of the poor", this is a timely and vital read for those reflecting on why and how the Church needs to change in order to welcome and serve the poor more effectively. EH
God-Soaked Life
Chris Webb
Hodder & Stoughton
Chris Webb's new book is billed as a journey towards "discovering a kingdom spirituality".
It's deeply rooted in scripture and filled with both Webb's own stories and those of Christian greats such as Brother Lawrence, Jonathan Edwards, John of the Cross and Mother Teresa.
Webb writes beautifully; in places his style is almost poetic. Although the book's foundation is quite theological, it is not so deep that the average reader can't grasp what he's saying. The evidence of Webb's deep spirituality, wisdom and knowledge is apparent throughout, grounding the reader in spiritual truths.
However, while I had hoped to be left excited at the prospect of a "God-soaked life", I was left feeling that Webb hadn't covered anything that hasn't already been said many times before. In one sense the book is a bit like an upmarket Alpha guide so it might make a good foundation for a new believer, but for those who have been Christians for a while it promises more than it delivers. I certainly didn't discover anything new about 'a kingdom spirituality', so I'm afraid it won't become a regular fixture on my bookshelf. JM
Hillsong:
Let Hope Rise [Dvd]
Kaleidoscope
This stunning documentary tells the story of how Hillsong became a global phenomenon.
It gives us a behind-the-scenes glimpse into Hillsong United as the band write and record their critically acclaimed 2015 album Empires. Having been made by a non-Christian Emmy-nominated director in Michael John Warren, Let Hope Rise isn't afraid to ask hard questions. How can you say it's all about Jesus when you're the ones on stage? How do your families feel about you touring so often?
The band's vulnerability makes for gripping viewing as Matt Crocker opens up about his sister's suicide and Brian Houston recalls the moment he confronted his father about alleged sexual abuse.
Weaving in live renditions of United's songs, the film is also a worship experience. Taya Smith's flawless rendition of 'Oceans' is made all the more powerful by her tearful testimony of how the song has impacted listeners. This is a superb portrayal of a band unlike any other. SH
Where His Light Was
Kristene DiMarco
Bethel Music
As a member of Bethel Church's Worship Collective, Kristene Dimarco has already proven her gift as a storyteller.
In her latest studio album, Kristene has set lyrics to a rotating backdrop of synth, gospel, country and folk to remind us of a simple, powerful truth: Jesus meets us in the waiting just as much as he meets us in the victory.
This is not a congregational album. 'Take Courage' - which has already been featured on live worship albums - is probably the only song that could be sung in church. This is a raw, vulnerable album that is best appreciated as a piece of art, recognising the artist's job is to comfort the disturbed and disturb the comfortable.
DiMarco's songs will bring great comfort. They remind a weary soul that weakness is OK. They remind us of our hope and that stirs our faith to rise. The songwriter's ability to whisper with gentle boldness that "greater things are yet to come" invites us to join her in the declaration that "he is who he says he is." Buy this album. Weep to it. Dance to it. Enjoy it! JPA
The book that changed my life
The 1662 Book of Common Prayer
I was once a wide-eyed and bushy-tailed boy chorister and, as a 7-year-old singer, was soaked in everything Church of England. I was transfixed by the beautiful language of the Anglican liturgies, as contained in the Book of Common Prayer.
Timeless expressions still haunt my mind and inspire me. It was during the daily singing of services that the beautiful short prayers set for each week, known as Collects, fed my heart no end. The collect for the Sixth Sunday after Trinity is my favourite: "O God, who hast prepared for them that love Thee such good things as pass man's understanding: Pour into our hearts such love toward Thee, that we, loving Thee above all things, may obtain Thy promises, which exceed all that we can desire; through Jesus Christ our Lord. Amen."
Yes, true for me then; true for me now – and true for you as well.
by Dr Noël Tredinnick