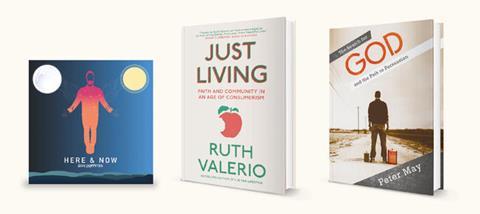 Just living
Ruth Valerio
Hodder & Stoughton
'How you spend controls what happens on the planet.'
These words (seen on a T-shirt) are not a bad summary of the mess we're in. In Just Living, Ruth Valerio's theological analysis of consumerism is coupled with practical advice on how Christians can rescue themselves from it. Any thoughtful Christian will benefit from this book, which is at times complex and sociological, and at others down to earth and full of good advice.
There is a profoundly ethical thread running through the title, which binds together the political, social and economic consequences of the consumerism that detaches us from other people, God, the natural world and ourselves. Valerio is not, however, an otherworldly dreamer ranting against society's shortcomings. Instead, she advocates a middle way between 'a world denying asceticism and an unqualified embrace of material goods'.
If such a complex topic is to be adequately explored then some deep thinking is required, hence the middle section of the book, which deals with the theology and philosophy of the topic, making references to the Desert Fathers and Mothers, Aristotle, St Francis and many modern thinkers. At its heart, this is an erudite and scholarly book and much research must have gone into its writing, but Valerio writes in a very accessible way and the complexities are necessary in order to understand the sweep of her argument.
The practical suggestions in part three on how to adjust our living and attitudes are helpful and realistic. Valerio points out that, despite our best intentions, we may fail to make the differences we would wish. But as she writes: 'We are not the saviour of the world: that honour belongs to God alone. Our job is to be faithful and to keep walking'. RC
>
The Really Really Busy Person's Book on Parenting
Rob Parsons and Katharine Hill
Muddy Pearl
A glance at the title of this book and I assumed I would be in for a read on how to prioritise effectively and juggle the demands of parenthood alongside the rest of life.
In reality, this book is a collection of wise and pithy parenting tips. Parsons and Hill, respectively the founder and UK director of family and parenting charity Care for the Family, have spoken to more than a million people at events across the globe. This is a distilled collection of the lessons learned by some of the parents they have encountered along the way.
The book's appeal is in its succinct presentation. A really, really busy parent could easily pick this up, glean a morsel of wisdom and put it down again (probably in order to change another nappy). The wisdom offered here would make sense to readers of any faith or none, making this a book you could comfortably give to a non-believer.
I wouldn't give this book to someone with older children or extensive parenting experience. But it would make a thoughtful gift for a new parent, and it's likely to have a much greater impact on their child's future than yet another babygrow. LVDH
The Search For God And The Path To Persuasion
Peter May
Malcolm Down Publishing
This book is the product of many years' experience and critical thinking, during which time Peter May has concluded that our presentation of the gospel to an unbelieving world often bears little, if any, resemblance to how Jesus and the early Church went about it.
Taking Jesus as the primary model for evangelism, May argues persuasively that dialogue is the chief means by which we should present the good news. He focuses on the importance of asking penetrating questions, listening carefully and developing a 'gentle art of interrogation'.
His reasoned, non-jargoned approach aims to present Jesus as a towering historical figure whose existence and works are hard to refute. While advocating a thoughtful, reasoned approach to evangelism, he acknowledges that this must go hand in hand with the work of the Holy Spirit.
Wide-ranging in its scope, this book contains much practical advice (the best of which is contained in a helpful appendix) and is peppered with examples from various academic disciplines.
All this makes The Search for God and the Path to Persuasion a sensible and refreshing book. It is delivered with self-deprecating humour, numerous quips and amusing anecdotes. Readers are likely to end up laughing at themselves while also being pulled up short to question their own approaches to evangelism. Don't be put off by the insipidlooking cover; this book is a gem and deserves to be widely read, chewed over and dipped into again and again. MP
Hiding In The Light
Rifqa Bary
Authentic
This is a powerful, engrossing and well-written autobiography about how Rifqa Bary risked everything in giving up her Muslim faith to follow Jesus.
Bary's testimony has made international headlines and caused controversy in some quarters. Ten years after converting from Islam to Christianity, she is still living in fear of honour killings and lives in an undisclosed location.
Bary's interest in Christianity began when she witnessed her next-door neighbour's family praying in the aftermath of 9/11. She immediately noted the difference between Islamic and Christian prayer, and much of the book explains the differences between the two faiths.
The major question this book poses for the Christian reader is: would you deny your faith to avoid severe persecution or would you be defiant and refuse to compromise? This story is a beautiful example of Christian perseverance. It is also an inspirational demonstration of how God's love can change a person's life forever. LT
GRACE
Michele Guinness
Hodder & Stoughton
Grace Grattan Guinness offers us a warm, sparkling insight into the Victorian evangelistic revival in this book.
Her personal diaries and letters (discovered and edited by her granddaughter, Michele Guinness) tell an engaging story.
Grace's strong faith shines through her various challenges. She and her family contributed a huge amount to international mission and evangelism. She also experienced and comments on important events and themes of her time (such as world wars, the creation of Israel, changing attitudes to Africa and women's suffrage). She brings these to life with wry humour in a way that few history books manage.
Grace had a surprising (to modern ears) amount of economic, political and religious freedom. She used her fame to influence religious and social thinking. This book will appeal to those interested in social history. It is also a demonstration of how a strong personal faith can be outworked and guide everyday decisions. MJ
Have It All
Bethel Music
Bethel Music
Following hot on the heels of 2015's enormously successful We Will Not Be Shaken and coinciding with the European Worship Nights tour, Have It All is a powerful testimony to Bethel Music's desire to enable the masses to worship in an accessible way.
Recorded live at Bethel Church, the album is scattered with the highs and lows of life, from the soaring symphony of opening track 'Shine On Us' to the emotionally charged pleas of 'Spirit Move' and 'Pieces'.
Have It All reflects the Bethel collective's desire to worship through all weathers. As worship leader Brian Johnson explains, 'We all had similar things happen – whether good or bad – and this album goes to show that we all made it through the journey and we have something to show for it in the form of a song.'
Turn your mobile off, shut your eyes and listen as you are invited to let your soul rise, meet with the presence of God and to truly have it all. KH
Here & Now
Dave Griffiths
Independent
While some worship leaders can make God's kingdom sound lofty and distant, Griffiths – free of record label interference – celebrates its closeness. Here & Now reminds us we're like children playing wildly on trampolines, laughing and enjoying tickles.
In eschewing cliché, Griffiths acknowledges doubts along the way. He describes growing on life's journey and emphasises the preciousness of having God as our Father.
The impressive imagery that is employed finds an echo in the variety of musical styles. Generally, this is a gritty, organic release with a rocky edge. But there are occasional hints of gospel, and Griffiths even switches to funk on 'Pure Revelry' (if only more Christian tracks had names like that).
Here & Now could offer a few more hooks. And some of the lyrics could scan better. But this is a refreshing set of tracks, full of colour and vibrancy. It also contains far meatier content than the average Christian record. DW
The book that changed my life
THE AUTOBIOGRAPHY OF MALCOLM X
Alex Haley
Penguin
Counterintuitively, this book spoke to me as a young Christian seeking to connect faith with social justice. Malcolm's life was a journey from no faith into a racial commitment to Islam and human rights. There were really two Malcolm Xs in the book. The first was the separatist black Muslim, and the second was the inclusive human rights activist. It was the second Malcolm that spoke to me. Malcolm X was no saint, but he was an incredible sociologist of race and a major prophetic voice in the Civil Rights struggle. What I learned from him as a Christian is that faith and justice are inextricably linked and that it is dangerous to reduce faith to a private personal affair with no social or communal critique. If I had not read this book, I am certain that my life would have been different. Once I'd finished reading it, I lost interest in my budding career in professional football (I was signed to Wolverhampton Wanderers as a schoolboy at the time), and began to focus more seriously on school homework and intellectual pursuits.
by Dr Robert Beckford
REVIEWERS: ROGER COODE is a retired modern language teacher • LUCINDA VAN DER HART is a freelance journalist and mum of two • MANDY PILZ is a freelance writer • LIZZIE TURNER is a trainee journalist • MEGAN JENKINS leads City Forum, a Christian book discussion group as part of Chaplaincy Plus, Birmingham • KATE HILL is a youth and community worker at Trinity Methodist Church • DEREK WALKER is an Anglican lay minister, kitchen designer and writer • ROBERT BECKFORD is a British academic theologian and TV presenter