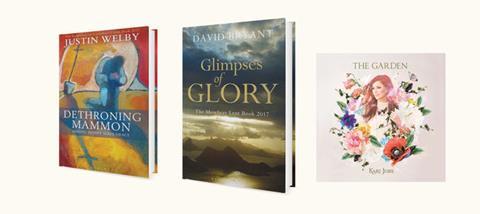 Dethroning Mammon
Justin Welby
Bloomsbury
Dethroning Mammon is a hotchpotch book. It is mainly a call to believe in the abundance of God and live by generosity. Its cover and structure are based on the parable of the pearl of great price. It is also a Lent book focusing on Gospel passages leading up to the crucifixion. It is a call to all Christians and a call to national leaders, in government and in financial services. It contains personal reflections, anecdotes and refers to professional economists. It repeats the main theme and touches on many others: seeing Jesus, seeing like Jesus, worship, family, death and bereavement.
If you like a wide-ranging book which makes trenchant criticism of British finance without ranting, with interesting biblical connections, you will enjoy Dethroning Mammon. Welby's determination to be a friendly prophet against capitalism is courageous and timely. The concluding examples of good Christian initiatives campaigning for international aid, debt reduction and fair trade are inspiring.
But if you prefer your books more thorough, you will probably be annoyed. The sole focus on Lent texts means that much of Jesus' teaching on money is not mentioned. Some of the connections are strained, for instance between seeing Mammon and generosity for what they are and seeing Jesus raising Lazarus.
Another weakness of the book is it contains no examination of the view that money is simply a neutral method of exchange. There's also little in the way of practical advice. Nationally, Welby praises Keynesian 1940s economics, which were about restricting rather than dethroning Mammon. A better focus would be on how companies are structured to increase inequality rather than on how governments should compensate for inequality.
Nevertheless, I hope our archbishop continues to think, and to write, with more biblical focus, about money. RH
Becoming Reverend
Matt Woodcock
Church House Publishing
As a former newspaper journalist – who also has 'Woody' as a nickname – I was immediately drawn to Becoming Reverend. Matt Woodcock is real and honest throughout. His book contains tales of railing against the reality of life. He addresses issues of fertility and family as well as faith.
Written in the form of diary entries, the book is a gateway to entering a place of renewed hope in the midst of trying circumstances.
Early on, we're introduced to the author's surprised reaction to being called into full-time ministry. Interspersed with funny tales including dancing in a Welsh castle, 'Woody' triumphs against the odds. As the author told his local paper: "I wanted to show that you don't have to be some Holy Joe in a comfortable cardigan and sandals to train to be a vicar." That's exactly what he does in Becoming Reverend.
This is a hilarious page-turner with meaning and hope interlaced. What more could you want from a vicar who also happens to host ale festivals? This is brilliant! RW
Glimpses of Glory
David Bryant
Bloomsbury
Glimpses of Glory invites the reader to climb a ladder rung by rung until they "reach that point where the light of God turns the mundane into a glimpse of Paradise".
Divided into 40 short chapters for daily reading during Lent, David Bryant tackles troubling wilderness subjects including abortion, loneliness, lust, guilt and alienation. In the darkness, Bryant points to the light of a merciful God, enigmatic, yet everpresent in our suffering.
Each themed chapter opens with a verse from the Bible and ends with a short prayer. Woven throughout are illustrations from novels and poetry. The most rewarding examples come from Bryant's own source material – his years as a parish priest. Tender instances of encountering the bedridden, comforting the bereaved, visiting a prisoner and befriending a community of travellers provide weight and humanity to Bryant's musings. There is particular poignancy too in the awareness that Bryant himself died shortly after completing this work.
Some readers will object to the author's liberal stance – at one point he describes scripture as "mistaken". Bryant believes much of the Bible is metaphorical, for example, disbelieving that Peter walked on water and instead asking the question: what does this make-believe story reveal about God?
Suitable for those who struggle with more literal interpretations of scripture and who are wrestling with doubt and trials, this book opens up an honest perspective on a generous, if mysterious, God. For those unfazed by a looser reading of the Bible, Glimpses of Glory provides snapshots of the divine to comfort and provoke. AL
Very married
Katherine Willis Pershey
Herald Press
The author of The Message Eugene Peterson has said Very Married is the best book on marriage he's ever read. I wouldn't go that far, but this exploration of fidelity, infidelity and the space in-between is a challenging read.
Pershey is a natural and honest writer who is candid about her own marriage's strengths and weaknesses – the tale of her almost-but-notquite-affair provides encouragement to anyone who's ever felt their heart flutter at someone other than their spouse. Pershey, who is an associate minister at a Congregational church in Illinois, USA is affirming of same-sex relationships. She makes no attempt to disguise this perspective but she doesn't use the book to ram her convictions down the reader's throat either. This is a gentle book to pass on to those considering marriage.
While the author's observations are good, they sometimes fail to resonate in a British context. This results in some of her reflections losing their pertinence. Nevertheless, the book is a positive resource for those considering marriage, those already on their marital journey, and those seeking to minister to couples. KS
The living cross
Amy Boucher
Pye BRF
This Lent book looks at the subjects of forgiveness and reconciliation as illustrated by 47 readings and reflections which are equally divided between the Old and New Testaments and thus help the reader to understand the sweep of God's purposes in salvation history.
For each day a passage is provided, followed by a page or so of comment and a prayer. At the end of each week there is a section of "spiritual exercises and questions for individual reflection and group discussion". The topics dealt with are things that interfere with interpersonal relationships, such as sibling rivalry, jealousy, lack of forgiveness and lack of repentance.
The book has received many very positive reviews. RT Kendall, for example called it "compelling reading". But some of the endorsements feel exaggerated, perhaps because I cannot identify with the angst-ridden feelings which the author describes as being so common, or with the "spiritual exercises" which left me cold. RC
The Garden
Kari Jobe
Capitol
This is an expansive record with stunning production and bold songs of praise from one of America's most-loved Christian artists. Beginning with the record's title track, Kari Jobe builds from a quiet description of "something good / something kind / bringing peace to every corner of my mind" into a declaration of 'You crush all my fears', accompanied by soaring strings.
The congregation-friendly 'Let your glory fall' and pop-influenced 'Lover of my soul' are similarly strong. 'Oh the power' and 'Here as in heaven' are stunning new worship songs, delivered with fiery passion and thunderous drums.
The album is lengthy – clocking in at one hour 15 minutes and featuring 14 songs. Many of the tracks are 'growers' – requiring a decent investment of listening time before they can be fully appreciated.
This is a mature and captivating record. It does contain the occasional cliché, but overall the album's music is as beautiful as its artwork. SH
Dream Country
Sarah Darling
Be Darling Records
If Nashville-based Sarah Darling were a proper country singer, she wouldn't be so unwaveringly optimistic. She'd stick to songs like 'Where cowboys ride' which is an evocative paean to Wyoming's golden fields and open skies. Instead she makes dream country – her term for the wider genre bracket that she inhabits. A shimmering, reverby atmosphere swirls around her pure voice and a gorgeous production showcases its warmth.
Her interest is wider than that of many Grand Ole Opry regulars: Catholic in both senses of the word, she also sings of the romance of Montmartre and longing for the Cornish coast.
Her faith is never explicit but Darling's mission is to dole out hope in buckets and sing of better things lurking around the corner.
'Wandering Star' hangs happily in the head 'Starry Eyes' makes you sway and 'Halley's Comet' – have you spotted the lyrical theme yet? – is eye-closingly beautiful. DW
The book that changed my life
The October Country
Ray Bradbury
When I was a teenager I'd never heard of Ray Bradbury, but the title of his newly published paperback puzzled and intrigued me. The October Country was described in the newspaper as a collection of short stories whose genre hovered somewhere between science fiction and fantasy. So I got the 81 double-decker bus into Tunbridge Wells, and made my very first book purchase. I was so proud.
I started to read on the bus home, and hardly stopped until I reached the last page in the early hours of the following morning.
It seemed to offer permission to ask "What if…?" to explore ideas that were alien but sufficiently safe within the boundaries of fiction. When I began to write about Christian concepts and attitudes the permission that had been granted all those years ago was a major component of my determination to avoid the overmanicured pathways of traditional evangelical literature. I have definitely written my share of rubbish over the last 30 years, but I remain deeply grateful for the opportunity to take a walk through the mysteries of Bradbury's fertile imagination. On some profound level I was set free. Thank God for that. By Adrian Plass