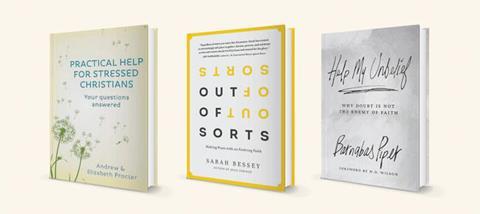 Practical Help for Stressed Christians
Andrew and Elizabeth Procter
SPCK
Another book on stress? Yes, but this one is a bit different. The basic premise is that being a Christian will cause you additional stress, and the purpose of this book is to provide practical help.
Practical Help for Stressed Christians is built around six headings – stress, God, family life, church life, work and culture/society.
Fourteen short chapters deal with some of the questions that stressed-out believers often ask, from 'How can I make time for God?' and 'How can I fit church into my pressured life?' to 'How can I carry on when I feel swamped and disillusioned at work?' Difficult questions such as 'What am I to make of the sexual revolution?' are also covered.
The Procters clearly know their subject well (he's an Anglican priest and she's a consultant psychiatrist), and they write with warmth and understanding in a way that is easily accessible. The authors are never judgemental and always practical, reflecting a sympathetic awareness of the challenges many of us face.
The book's strength is that it offers workable solutions to the problems identified, and invites the reader to prayerfully reflect on the way forward.
That said, there is a weakness in the initial premise. Being a Christian may be challenging, but it also provides us with many ways, that others don't have, of preventing stress and coping with pressure. The book would have been stronger had the authors highlighted this and provided a more positive slant on the whole issue of stress.
Nevertheless, this is a good introduction to the subject of stress for anyone who wants to better understand its causes and find ways to handle it more successfully. I imagine it being used very effectively in a home group setting, or as a basis for one-toone mentoring. TH
The Perfectionism Book
Will van der Hart and Rob Waller
IVP
Arguing that we all suffer from a touch of perfectionism to some degree, authors Will van der Hart and Rob Waller provide sound therapeutic analysis, with wise, applied biblical insight.
The Perfectionism Book identifies the perfectionism problem, showing how it is different from pursuing excellence and exploring the damage that perfectionist attitudes can do to the spiritual life. The authors write, 'the Christian who has a healthy hunger for holiness is passionate about honouring God in response to the "completion" they have already found. The perfectionist is trying to win their own or the approval (or control) of others by exacting their high standards'.
The book also explains how a perfectionist works for the drug of future happiness; they can miss out on life in the meantime. As a recovering perfectionist, I could see the traits writ large all the way through this book. What made the analysis bearable was the honesty of the authors, the apt real-life illustrations and the revealing exercises, which helped pinpoint the kind of particular problems we might have and how to move towards solutions. The chapters that identify gratitude and compassion as godly tools that can help displace perfectionist tendencies could well be life-changing. AP
Out of Sorts
Sarah Bessey
Darton, Longman & Todd
Sarah Bessey stands out in the field of Christian bloggers-turned-authors with her thoughtful, emotive prose and gentle yet deeply affecting way of tackling huge issues.
Out of Sorts is Bessey's contribution to a discussion that has occupied many Christians in the last few years – the evolution of faith and how we can work through this while remaining close to God. The focus on this topic can be seen as something of a backlash against a Church and wider Christian culture that prizes neat answers, simple steps to dealing with issues, and discourages hard questions.
It's unsurprising, then, that Out of Sorts is not a book of easy answers. Throughout chapters on topics ranging from theology to community, scripture to church life, grief to vocation, Bessey acts as a companion to the reader rather than as someone dispensing solutions. She skilfully explores her own journeys through these areas – from her conversion, to life in ministry, to disillusionment with the Church, and her experiences of motherhood – encouraging us on our own journeys at the same time.
Her key objective is to walk with the reader, developing the notion that faith is at times messy and confusing – and that this is inevitable, but through it all, God abides in us. In Out of Sorts, Bessey comes across as the sort of friend whose advice and prayers you wouldn't want to be without. It's a book for anyone who doesn't want to feel alone as they grapple with the hard questions, or anyone needing reassurance that not 'having it all figured out' is just fine. HM
Abraham: A Journey through Lent
Meg Warner
SPCK
In this scholarly, accessible and highly personal book, Meg Warner invites readers to join her on a journey through Lent. We travel with three companions: the Christian story, the Abraham stories and the story of the author herself.
The book's chapters correspond with the six weeks of Lent, during which the reader is encouraged to reflect on their own story. Each chapter ends with questions for reflection.
The book is theology, testimony and study guide rolled into one. Warner reflects deeply on the biblical texts, and refuses to give simplistic answers to life's big questions. The personal narrative that is weaved through the Abraham stories is very revealing and occasionally distracting, but it does help draw out and ground some significant themes.
Abraham gets things wrong, and it is precisely because of this that he is a model for us in our time. The good news is that Abraham learns and grows through his mistakes, and God remains faithful to him throughout his journey. PW
The Mystery of Everything
Hilary Brand
Darton, Longman & Todd
Human beings are reason-seekers. The course of history has been marked by our quest to discover, to know, to understand. This is a God-given tendency – he wants us to explore – but he also deliberately keeps some things a mystery.
Hilary Brand's Lent course embraces this tension and celebrates the unknowable in the midst of the known. Using clips from the 2014 biopic of Stephen Hawking's life, The Theory of Everything, Brand invites groups to discuss their experiences of wonder, suffering, relationships, failure and hope.
I found many of the ideas and questions thought-provoking. But structurally, it is a little confusing. There are extra daily readings which complement the themes of the week, but they are listed at the back, not alongside the weekly studies. Overall, the book draws great depth from the film and is an excellent example of how to use popular culture to explore and enrich our faith. JP
Help My Unbelief
Barnabas Piper
David C Cook
With the rise of popular mainstream atheists, Christians are being challenged to question their own beliefs.
In Help My Unbelief, Barnabas Piper (son of John Piper) does not condemn fears and doubts within the Christian community, but instead assures the reader that it is ok to ask questions and not to have all the answers. At times he even encourages the reader to wrestle with bouts of unbelief in order to form a firm faith rooted in truth; a faith that will not crumble with the pressures of life or the opinion of others.
The book is structured around the account in Mark's Gospel when a father asks Jesus to banish a demon from his son. The distraught father says, 'I do believe; help me overcome my unbelief!' It is through this verse that Piper unpacks the differences in doubt: 'unbelieving doubt' – doubt that is not interested in the answer, only in something it can disprove, and 'believing doubt' – doubt that is already anchored in the truth of God's character and love, but is searching for more answers. He encourages the reader that this 'believing doubt' is what will strengthen our faith, and that by having God at the core of our 'unbelief', our questioning will help us form a stronger relationship with him.
Piper quotes throughout the book from various Christian theologians, speakers and philosophers. The author's vulnerability about his own struggles in faith creates an honest and thought-provoking read. AM
Meeting God in Paul
Rowan Williams
SPCK
With dozens of chunky commentaries available on each of Paul's letters, how on earth can a slender volume say anything of substance about the entirety of Paul's writings?
Well, if you're Rowan Williams, somehow you can. This little paperback contains condensed insights into the culture Paul inhabited, which in turn provide deeper understanding of the letters he penned.
A very human Paul emerges in the opening pages: a bow-legged, mono-browed widower, prone to having his emotions run away with him. Some of the stereotypes about Paul are knocked down and his moral teaching is emphasised as a 'manifestation' of God's glory, not the route to approval.
Despite the economy of his words, Williams does not simply speak straight to the intellect. As the author unfolds Paul's arguments, the beauty of the Apostle's message of reconciliation provokes a response in the heart and soul.
This is not only an excellent introduction to Paul for a new Christian, but an inspiring, fresh angle for a more seasoned student too. AL
Right to Die?
John Wyatt
IVP
The issues of euthanasia and assisted suicide can at times seem like a minefield. Thankfully this book by John Wyatt is both thoughtful and clear.
The title closely and carefully examines the assumptions (compassion and autonomy) that underlay the case for euthanasia. It respectfully explores arguments in favour of euthanasia as well as sharply critiquing them. Wyatt looks at recent cases and the media debates surrounding them. He also examines the history of euthanasia throughout the world.
This is a good book that raises many important questions, but personally I remain torn on the issue. There is an edge of vague evangelical piety in Wyatt's writing that rankles with me. George Carey and Desmond Tutu have both come down in favour of assisted dying. Wyatt might have been better to show more compassion. There is more to be thought through, prayed about and reflected on in this area. Nevertheless, Right to Die? is an excellent starting point, and on that basis is well worth a read. SM
The Song That I Sing
Dave Bilbrough
Double Bil Media
Dave Bilbrough has been a worship leader and recording artist for four decades and in that time has released over 20 albums. But this new album has to be one of his best yet and could be destined to become a classic.
Dave is a singer, songwriter and troubadour, but most of all someone with a true and real faith that clearly comes across through his songs. He describes this collection of songs as 'the essence – the core of my heart...I invite you to explore with me God's wonderful grace'.
Dave has put his heart and soul into this release which features ten memorable tracks. His guitar playing is complemented by brass and string orchestration. He is joined by the beautiful voice of Cathy Burton on 'The Song That I Sing' and 'God is Love'. All in all, this is an edifying worship album that will lead the listener to a deeper experience of God. JC
Let It Echo
Jesus Culture
Jesus Culture
If you know what it's like to suffer, either through your own pain or through the pain of someone you love, this album will stick to your ribs like a hearty, heavenly dinner.
The live worship album has raw energy. From the majestic vocals of Chris Quilala on 'Let it Echo', to Kim's legendary dulcet tones on 'Fierce', the whole album tells of storms, trials, darkness and trusting God through the process. Chris sings 'God with us, you are comfort for every heart that mourns…for eternity, we will sing of all you've done'. Chris and his wife have suffered the loss of a child, and these are no hastily scribbled lyrics. The album was written with an understanding of heartache and God's faithfulness.
Let It Echo is packed full of rich wisdom and heartfelt lyrics from worshippers who've learned to dance in the rain. PC
The book that changed my life
Desiring God
John Piper
Multnomah Books
'Books don't change people, paragraphs do - sometimes sentences.' John Piper's famous comment has certainly proved true in my life, and his book Desiring God is the ultimate example. It was there that I first discovered that my primary aim in life was to be happy in God. At first I thought it was too good to be true; now, I think it is too good not to be true.
The introduction alone is astonishing. Mixing together the Westminster Shorter Catechism, CS Lewis, Blaise Pascal, Jonathan Edwards, the Heidelberg Catechism and of course the scriptures, Piper shows that pursuing God's glory and pursuing our joy are one and the same thing. 'God is most glorified in us' he explains, 'when we are most satisfied in him.' Boom. That discovery permeates every aspect of my life and shapes my relationship with God, through George Müller's powerful comment, cited by Piper: 'the first great and primary business to which I ought to attend every day was, to have my soul happy in the Lord.'
by Andrew Wilson