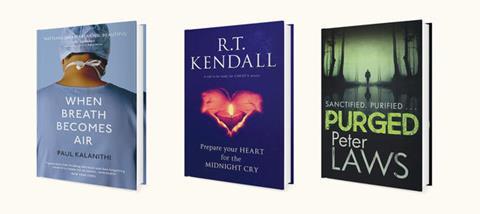 PREPARE YOUR HEART FOR THE MIDNIGHT CRY
RT Kendall
SPCK
Wake up! This is the warning from acclaimed writer and teacher RT Kendall as he unpacks themes seldom heard in sermons, but which have a radical impact on how we live out our faith.
Using the parable of the ten virgins in Matthew 25 as his focal piece, Kendall describes the end times, not only the second coming of Christ, but the period before that: the midnight cry.
Kendall believes that word and Spirit should be in tandem and this approach is evident as his strong scriptural exposition is balanced with prophetic wisdom and insight. His approach is blunt and will stir controversy, as he states: "You cannot lose your salvation but you can lose your inheritance. There will be no opportunity for repentance for foolish virgins."
The midnight cry will usher in a change in church leadership; people with no profile now will become cornerstones of the new era. He tells charismatics and Pentecostals that they should not see themselves as the final plan of God for the world, for that time of revival will be much bigger and is yet to come. He warns that, at the time of the midnight cry, "countless people will bitterly regret their spiritual laziness" because of half-hearted Christianity or backsliding. "We often roll over and go back to sleep – where is our sense of outrage at moral decline? We have become used to darkness" he says.
Look beyond the fear-factor and the difficult sections to digest (both theologically and personally) and this is an insightful read. It challenges us to come closer to God and sharpen our evangelism.
Kendall believes the midnight cry is highly possible in his lifetime: "Expectancy is the fruit of an abiding faith." Are you ready? AD
He was and is and is to come
Stefan Liston and Dan Jones
Liston & Jones
He Was And Is And Is To Come is an illustrated poem that retells the gospel story in a snappy, readable style.
The poem originated in a performance at the Newday youth festival, and the project seems aimed at a younger audience; Dan Jones' modest and colourful illustration fits the lighthearted tone, even as it brushes on all manner of deep ideas.
The gospel, a revolutionary tract if ever there was one, belongs in the realm of spoken word poetry: a genre with a strong connection to the spread of explosive ideas. It's ripe for discovery by a younger, politically aware generation. Unfortunately, He Was doesn't share this focus. Although the high points give pause, and frame truths in a tender way, they tend to assume a familiarity with Christian ideas. When pieced together, it feels unclear who this has been written for.
He Was is essentially a lengthy doxology, with the language and illustration at its best when it is most abstract and imaginative. It's easy to read, and great to look at. But it constrains itself by sticking to the script, obliged to wedge in an historical account rather than finding more poetic ways to reveal the heart of Jesus. CD
Purged
Peter Laws
Allison & Busby
If there's something strange (and by strange, I mean a crime with odd religious elements) in the neighbourhood, who you gonna call?
In Purged, the creepy new novel from Baptist minister Rev Peter Laws, it would be Matt Hunter, an ordained vicar who lost his faith, became a professor of sociology and is now writing a book debunking the Christian faith. In his spare time, Hunter works with the police to help solve religiously motivated crimes – which is handy because when he and his family visit the village of Hobbs Hill, he is soon caught up in a murder spree by a religiously unhinged killer.
Rev Laws writes with style and an insider's knowledge of Bible colleges, the quirks and oddities of the happy-clappy church experiences and the general alien-ness of how church people can be perceived by nonreligious folk.
This is an accomplished read which squeezes in plenty of fun film and pop culture references while keeping the narrative moving. Purged is certainly not a read for the squeamish. There are many tense moments, the murders are grisly and there is a pervading sense of sinister unease that courses through the prose, bolstered by the supernatural aspects. And while this isn't a standard 'horror', it is packed with disturbing themes that will linger in your mind.
There is much to ponder in the intense, grim and quirky Purged. It's a compellingly different thriller which is worth a read as long as you're not of an overly sensitive disposition. MA
An atheist and a Christian walk into a bar
Randal Rauser & Justin Schieber
Prometheus Books
Cordial disagreement and friendly but robust debate is becoming rarer as our culture lets people sit within bubbles, holding cherished beliefs unchallenged.
Therefore it's refreshing and exciting to see notable philosophers Randal Rauser (Christian) and Justin Schieber (atheist) engage in charitable disagreement. In An Atheist and a Christian Walk into a Bar, they debate and discuss the rationality of belief in a traditional monotheistic God and cover a surprising breadth of topics with rigour, clarity and originality.
The book is marked by excellent research, drawing upon some of the finest current work in philosophy of religion. In simplifying these academic debates for readers, Rauser and Schieber explain concepts carefully, and intersperse proceedings with perpetual jokes. While this makes reading light and easy, it can also become tiresome, as the jokes are really quite bad (as the authors admit). There's the occasional poorly edited sentence too. Nevertheless, the book is a standout piece in its genre. Best of all, it proves that conversations about religion can be enjoyable, gracious and mutually enriching. JP
Hope when it hurts
Kristen Wetherell & Sarah Walton
The Good Book Company
One of the most refreshing things about this devotional is that the two authors are still in the midst of suffering so they write from real experience.
The book is an exploration of verses taken from 2 Corinthians and focusses on how God wants to give us hope within our hurts.
It can be hard to take in anything in the midst of deep suffering but the authors are sensitive, honest and vulnerable, which provides an instant connection for the reader. They acknowledge that we all have changing responses to pain; they do not belittle that process but rather indicate the invitation it gives us to wrestle with God.
Each chapter concludes with reflective questions, a prayer and suggested scriptures for further meditation. There is also space for journaling.
There are a few things unique to the nationality of the authors (American), such as the financial burden of medical care, but that does not detract from their poignant insights.
Beautifully packaged, this devotional would make a wonderful gift. CM
When breath becomes air
Paul Kalanithi
Vintage
This is a powerful and moving memoir by Paul Kalanithi – a highly skilled neurosurgeon who was diagnosed with inoperable lung cancer at the age of 36.
This emotionally charged book was written during the final months of Kalanithi's life and recounts his experiences both as a medic and a patient. The doctor's dying wish was that it be published – a task he entrusted to his wife who survived him along with the couple's young daughter, Cady.
It's easy to see why When Breath Becomes Air has spent time on The New York Times and Sunday Times bestseller lists and was selected as Waterstones' book of the month earlier this year. It's not just that Kalanithi has a remarkable story to tell. The way he tells it is phenomenal. There are insights into
the life and death world that those in the medical profession must work inside of and serious consideration of the many ethical questions that doctors face. On top of this, there's broader wisdom about what it means to live life to the full and die well.
Kalanithi's faith doesn't feature as heavily in the book as it could have done, but his journey away from and then back to Christianity is recorded, along with quotes from the scriptures. Kalanithi's upbeat perspective even in the midst of personal tragedy is inspiring and makes this the kind of book that's accessible to anyone – regardless of age, background or religion.
This is a superbly written and must-read autobiography – beautiful, poignant and thought-provoking. SH
The key of all unknown
KA Hitchins
Instant Apostle
The first few pages are a little flamboyant, but this novel will grip you and make you think until the end. The protagonist is a woman trapped in a coma following an unexplained accident, listening to the dialogues of the family, police and medical staff but unable to join in.
She struggles to piece together her memories as well as her personal values while she lies there helpless. She's no longer able to be the controlled, successful, rational scientist of her former life.
This 'whodunit' book also pulls in interesting topics including love, gender issues, apologetics, romance, death, and faith – with considerable emotional intelligence and depth. Unlike much Christian fiction, there's little sanctimony or moralising, which makes it more palatable to the outside world.
A reoccurring question is: what is the meaning and purpose of life without God? There are a few clunks in the storytelling but you barely notice as you're pulled through the book wanting answers while empathising with the terrible plight of the paralysed woman. Highly recommended. HT
The God particle (DVD)
James Cary
Kairos Film and Media
The God Particle is a DVD of a stage play from comedy writer James Cary. This sci-fi romantic comedy charts the relationship of a quantum physicist and a vicar, exploring questions of faith, love and time travel.
The script is hilarious and contains some great oneliners, but the characters are slightly one-dimensional – Rev Dr Gilbert Romans is somewhat self-righteous, doesn't understand cultural references and is full of clichés. The quantum physicist Dr Bex Kenworthy embodies many stereotypical atheist objections, none of which are answered satisfactorily by Gilbert. At one point he announces that people often "love in spite of evidence not because of it", which, whether intentional or not, implies that some people believe in God in spite of evidence to the contrary – an idea I strongly disagree with.
While the sci-fi elements of the play make it farcical, it makes for enjoyable viewing. Watching it with a non-Christian friend in a theatre would raise interesting discussions but the minimalist set and acting style don't translate as well on to DVD. RJ
Worthy of Your Name
Passion
Capital
For the past 20 years, Passion has welcomed students to its huge US conferences. The live albums that follow these events feature wellknown worship leaders and are upbeat, jubilant and, of course, passionate.
Worthy of Your Name is no different. Kristian Stanfill's superb opener 'Glorious Day' celebrates the moment when "You called my name / And I ran out of that grave". The sound – especially the catchy guitar parts – are reminiscent of Coldplay's anthemic 'Every teardrop is a waterfall'.
Matt Redman's new song 'Your cross changes everything' is as well written as you might expect. Hillsong United's 'Rule' which features the voice of David Crowder is also a standout tune.
The most common criticism of Passion albums (and to a certain extent, worship albums in general) is they all sound the same. A more generous description would be that Passion has found a formula that works: inviting worship leaders to deliver their songs – with a pop/rock sound that the attendees love, and have come to expect. SH
Here I am send me
Darlene Zschech
Integrity Music
Darlene Zschech's new album has a clear theme – an unadulterated response to the Great Commission – as demonstrated by the record's title and tracks 'Here I am' and 'Go'.
Both of these songs promise to take worship to neighbours and nations, reinforced with stirring piano interludes and percussion leads.
This is the Australian songwriter's first album since she was treated for cancer and 'You will be praised' speaks of fearlessness in dark valleys. The well-produced live worship sounds echo much of Zschech's back catalogue, including her huge 1993 hit 'Shout to the Lord'.
Here I Am Send Me doesn't reinvent worship. It was co-written with Paul Baloche, Martin Smith, Leeland and Jenn Johnson, and musically it doesn't stray from the sounds you'd expect to hear from these artists. This isn't new or progressive. But it is the type of relatable music that will infiltrate congregational worship across the world, much like Zschech's earlier work. NW
The book that changed my life
JUST AS I AM
The autobiography of Billy Graham
I read Billy Graham's Just As I Am when I was a few years into ministry. I hungered for role models to learn from. Years later, I often return to the lessons I found in these pages: The importance of staying true to one's calling (Graham turned down Lyndon Johnson's offer to run for the US presidency), taking calculated risks (he accepted a historic opportunity to preach in the Soviet Union with all the propaganda hazards it entailed), handling criticism (both fundamentalists and liberals publicly denounced him), dealing with betrayal (his friend Richard Nixon secretly taped their private conversations) and being politically prophetic but astute (Graham was an early opponent of racial segregation, and judged the Religious Right as an unhealthy politicoreligious mix).
Graham lists his missteps too, including not being around enough for his family and not always remaining politically bipartisan. I'd love to see millennials engage with Just As I Am. Today's pressures are really age-old perils in new guises. Yesterday's heroes can show us how to face them, and propel us to exploit our own opportunities.

by Sheridan Voysey