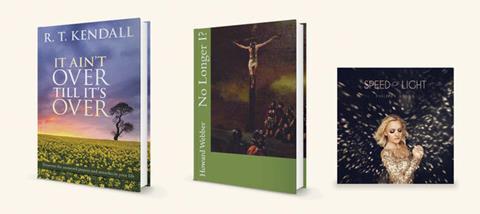 NO LONGER I?
Howard Webber
Gracednotes Ministries 2016
If, like me, you tend to ignore the old adage and judge books by their covers, you might be tempted to give No Longer I? a wide berth. Resist the temptation.
Salvation Army officer Howard Webber begins by telling the story of his first pastorate, held in a North Wales village, 30 years ago. Lovers of social histories such as the Call the Midwife series will enjoy the tales of trials and triumphs, peopled with a cast of true village characters.
The tone, however, is set by the book's opening story. As Howard and his wife were about to leave for their next posting, one of his elderly corps [church] members told him, 'You are the worst officer [minister] this corps has ever had.'
This rebuke haunted Howard until one day, bedridden with meningitis and with time on his hands to listen to God's voice, he heard God ask, 'What if you are the worst officer they've ever had?' Thus begins the second part of the book, an examination of what it means to really surrender to God, put yourself to one side and work simply for his glory.
From Hezekiah and Nehemiah to the disciples, Paul and, of course, Jesus, Webber looks at biblical examples of those who got it right, and those who got it very wrong.
Linking back to examples from the first half of the book would have been a useful way to illustrate how he could have reacted in various ministry situations. How would the fully surrendered life have helped him overcome the problems or conduct his ministry differently? Webber doesn't do this, though, and this means we've got two interesting halves of a book rather than one coherent whole.
Nevertheless, it is well worth reading, and once it is open you will barely notice the cover. JP
INTO EXTRA TIME
Michael Paul Gallagher
DLT
For Father Michael Paul Gallagher, death was the final surrender to God after a life of submission to him and service to others.
Into Extra Time documents Fr Michael Paul's final ten months on earth in his own words. The 75-year-old Jesuit priest from Dublin – who spent two decades teaching theology in Rome – writes with honesty, humility and vulnerability. His words reflect the peace, strength and freedom he experienced in his final passage of life – a time underpinned by 'the quiet reality of God with me in all of this,' he says.
He doesn't, however, gloss over his physical, emotional and spiritual battle with cancer, writing openly about the 'waves of fog' and how God can feel 'painfully silent or absent' and even 'unreal'.
This unassuming book is far from cohesive or neatly presented, but that is its appeal. Diary excerpts are the book's centrepiece. They are raw, personal and powerful. I imagine the Irishman's words will bring comfort to someone in a similar situation, and their relatives and friends too. In life and in death, Father Michael Paul Gallagher is an inspiring figure. AD
A PECULIAR GLORY
John Piper
IVP
Want to lose some calories and get a good workout? Read this.
John Piper is in a hurry. Since handing over the leadership of Bethlehem Baptist Church in Minnesota, he is writing a lot. This, his first major work for quite some time, is a rich, Bible-filled, full-on Piper classic about the glory of God in the scriptures. It's not an easy read and some chapters require plenty of concentration. Rigorous biblical scholarship and good theology are important to Piper.
One of Piper's main aims is that his readers understand and answer the question: 'How can you know for sure that the Bible is the reliable Word of God?' But at times I wondered who the book is for. It is part autobiography, part seminary lecture and part exercise class. Piper's passion for The Bible and the glory of God is a major theme. His chapter The Glory of God as the Scope of the World and the Word is stunning despite the less than catchy title. Like much of Piper's other work, this book will be enjoyed by fans of John Calvin and Jonathan Edwards.
A Peculiar Glory will make you want to read the Bible and worship God. So if you are feeling theologically and mentally flabby, read this. It will leave you exhausted, well-toned and glowing. Your theological biceps may even begin to bulge. MLS
GOD IN PUBLIC
Tom Wright
SPCK
Tom Wright is a one-off. He is one of world's leading New Testament scholars so he more than ticks the academic box; he's a former Bishop of Durham so understands the Church of England from the inside.
He has also sat in the House of Lords and knows how the wheels of Westminster turn. All of this makes his latest offering a unique discussion of theology, history, culture and the contemporary political scene. It provides a realistic critique of why 'we don't do God' in the public square. The chapters on Paul speaking in Athens to the intellectuals of his day and the dialogue between Jesus and Pilate are worth the cost of the book alone. Power, terror, war, peace, the law, money and sexual ethics are all addressed with sharp insight. As Wright consistently affirms, God's place is firmly in the public square. Why? Because it's his square in the first place. This is a thought-provoking book that informs and inspires. IC
TWO DOGS AND A PARROT
Joan Chittister
SPCK
If you're an animal lover, you'll probably enjoy this book. Joan Chittister describes humorous anecdotes involving three of her own pets and uses these to draw out life lessons for us humans.
Chittister's starting point is that God created animals to be in relationship with us. She cites the creation story in Genesis, where animals are brought to Adam to be named, as evidence of God's desire for us to recognise and respect living creatures. She feels strongly that the lives many of us lead are totally disconnected from the natural world but that caring for animals can help restore that lost dimension. Although written from a Christian standpoint, I was surprised that God (let alone Jesus) barely gets a mention. But what comes across loud and clear is Chittister's philosophy that animals make us 'aware of another whole level of what it means to be alive'. This is a philosophy that will resonate with many Christians and may challenge others to look at animals in a new way. CN
IT AIN'T OVER TILL IT'S OVER
RT Kendall
SPCK
The title and subhead ('persevere for answered prayers and miracles in your life') sum up the aim of this book well, as Kendall, celebrating his 80th birthday, shares a lifetime of biblical and theological reflection urging the reader to persevere even when nothing seems likely to change.
The heavyweight topics covered include prayer, God's apparent hiddenness, the unsaved, healing, prodigals, revival, the gospel and finishing well. The title, taken from a sporting phrase made popular by Baseball coach Yogi Berra, is used as a constant refrain. This is a readable and accessible book with engaging illustrations and stories from his upbringing in Kentucky, his 25 years at Westminster Chapel, London and other meetings and connections, including fascinating tales of his relationship with Yasser Arafat. Kendall shares his heart as well as his theology, outlining personal failings and struggles with candour that will relieve many who conclude 'yes, me too' as they read. He is never trite in his conclusions or unfeeling towards those who may find his views, particularly on the nature of hell, unpalatable. His theological world, framed through Reformed and charismatic sympathies, shapes his analysis. His conclusions are wise and measured – and could provide 'aha moments' for those dogged by struggles over events they couldn't equate with their faith. AP
WHEN FAITH GETS SHAKEN [DVD]
Patrick Regan
CWR
Christians sometimes feel they should hide negative feelings in their life because they show a lack of faith.
Patrick Regan's new DVD series, based on his book of the same name, gives permission for people to be honest about their struggles – reassuring us that 'It's ok not to be ok'. The six short episodes deal with a range of difficult emotions such as guilt, anger and fear. They are framed by Patrick's own story but each one is illustrated by an interview with someone known to him (including his wife and his mother). These moving and hopeful stories help to ground the teaching in reality. Patrick is an engaging host. It's easy to warm to his openness and candour. He also does well to draw his subjects out without overcrowding them with questions, letting their powerful stories speak for themselves. When Faith gets Shaken is a brave and helpful resource. CN
REJECTION HURTS
Steve Hepden
Freedom Publishing
In this book Steve Hepden addresses the sometimes overlooked and important issue of rejection.
He writes both as someone who has experienced rejection, and who has had years in church leadership, tending to those who have suffered the effects of rejection. The title contains biblical reflection on characters in the Bible who experienced rejection, the loving nature of God and the freedom he offers us. But overall this book is riddled with mistakes and needs a thorough edit. The structure is rambling and it is unclear whether it is aimed at a person seeking help or someone looking for guidance on how to help others. The biblical material is not always well-handled and in places becomes quite conjectural (eg On Zacchaeus: 'he was no doubt depressed'). Hepden has a lot to offer and I am sure people will find freedom from rejection through his ministry. As he works on his second book, though, I'd encourage him to find a decent editor. RV
WORSHIP AND BELIEVE
Steven Curtis Chapman
Authentic
For three decades, Steven Curtis Chapman has been regarded as one of the most successful and prolific American Christian artists and songwriters of his genre.
But this, his latest album, is a significant departure from his norm – it's a worship album.Yet, as Chapman sings his heart out, you never sense that he's jumping on the worship bandwagon. The songs are melodically and lyrically strong, particularly 'One True God', co-written with Matt Redman and Chris Tomlin, 'Amen' co-written with Rend Collective and the beautifully uplifting 'Who You Say We Are'. Another positive is the generous amount of biblical truth within the lyrics, covering themes of declaring belief, creational wonder, God's goodness and being the Body of Christ. Production is of a high standard, strongly favouring piano, acoustic and strings as well as a contemporary pop canvas. Chapman's first outing into recording a worship album is an instantly likeable listen. SR
This is a brilliant album from Philippa Hanna. The singer has recently moved to the USA, and this – her fourth album – was recorded in Nashville, Tennessee.
Speed of Light is fantastically produced and is both God-centred and musically distinguished. Many of the songs (including the title track) are about hope, tackling the challenges of life and overcoming adversity. There are allusions to her Christian beliefs throughout the record. On the album's first single, 'Even Now', a song about faith amidst difficulty and disappointment, she sings, 'Standing now in the dark, I know the one who holds my heart.' The album has done well since its release, topping the Christian and Gospel iTunes chart in its first week. Hanna's strong social media presence and support act slots with Anastasia will no doubt help push her latest release out to a mainstream audience. This is good news as Speed of Light is an album that deserves to be widely heard. LS
The book that changed my life
CONFESSIONS
St Augustine
Many books I read seem to go in and out like a dose of salts. But one that really had an enormous impact on me when I was a young Christian was Augustine's Confessions. In places it is quite dense and not an easy read, but I found it thrilling. The mixture of personal testimony, philosophy, theology, apologetics and Bible teaching was a heady cocktail for me. I knew I was on to something special when I read the line: 'Man is one of your creatures, Lord, and his instinct is to praise you…The thought of you stirs him so deeply that he cannot be content unless he praises you, because you made us for yourself and our hearts find no peace until they rest in you.' I have read this book several times since and each time it gives me fresh insight and hope. Augustine also writes about how he heard a voice saying 'tolle lege' (take and read) about the book of Romans. I would urge any Christian to do the same with this ancient African father of the Church. You won't be disappointed.
by David Robertson
REVIEWERS: JENNIE POLLOCK is a freelance writer and editor who lives in London • ANDREW DUBOCK is communications manager at Viva • MARK LANDRETH-SMITH and his wife Beverley lead Bridge Church Newbury – a Commission church, part of the Newfrontiers family • IAN COFFEY is vice principal and director of leadership training at Moorlands College • CAROLINE NEWBOLD is chaplain of Lady Margaret School and associate minister of St Stephen's Church, Ealing • ANDY PECK is a tutor at CWR • RUTH VALERIO is theology director at A Rocha UK • SUE RINALDI is a singer-songwriter • LUCY SNELL is an LST music graduate and a songwriter •