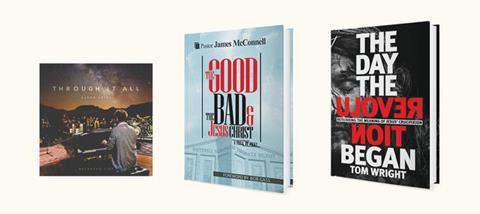 The Day The Revolution Began
Tom Wright
SPCK
Reading this book is like being given a set of X-ray glasses that reveal so much more than we normally see. We think we know what happened at the cross of Jesus, until Tom Wright shows us a lot more. The heart of Wright's argument is that we are inclined to understand the crucifixion too narrowly – seeing salvation as a personal transaction of righteousness from God given upon belief in Christ. Wright calls this way of thinking "a covenant of works". He likens it to drinking a cocktail without an all-important component. We can still drink it and many key flavours are there, but the intended full meaning, the real kick to the cocktail is missing. That kick is to see that beyond our personal salvation, God has freed us to recover our true and original purpose. We were created to worship God, reflect his glory into the world and steward creation as his representatives. Wright calls this "the covenant of vocation".
The revolution of Jesus is not just about saving us. Through the death and resurrection of Christ, God has created a royal priesthood of people who are now free from idolatry (the cause of sin) and free to work towards God's great purpose of bringing heaven and earth together again. In Jesus' death: "God was reconciling the world to himself in Christ" (2 Corinthians 5:19).
Wright works through many familiar scriptures with typical patient and diligent scholarship to disclose this greater "covenant vocation" of God's people. He brings to light the much wider scope and impact of Jesus' death and resurrection in the mind of God.
This is an important as well as an excellent book that will enhance the way salvation and discipleship is understood and taught in the future. PV
Sea Changed
Kate Nicholas
Authentic
Sea Changed is the story of Kate Nicholas' search for meaning and her desire to understand the spirituality that she was so often aware of. Her early life reads like something out of Evelyn Waugh. Her parents – a journalist and an eccentric advertising copywriter – lived in an apartment that overlooked Paul McCartney's back garden, and Nicholas' school friends included the daughter of one of the Barings Bank magnates. Her ancestry includes a dashing mix of tinplate workermade-good, exotic great aunts, and workhouse employees.
Her career in PR saw her progress to editor-in-chief of PR Week (via exclusive interviews with Princess Diana's PR advisor and Prince Edward's then-fiancée Sophie RhysJones), then to chief communications officer for World Vision International. We walk with her through her cancer diagnosis and treatment, which were the impetus for her writing the book.
It's a well-written autobiography – as befits a woman who has lived with writing her whole life – and would be of interest to anyone who loves to learn about other people's journeys of finding faith in the midst of trials, and of the place and power of prayer alongside medical treatment for healing. JP
The Good, The Bad & Jesus Christ
Pastor James McConnell
Maurice Wylie Media
Pastor James McConnell made headlines last year when he was charged with making grossly offensive remarks during a sermon (he described Islam as a "doctrine spawned in hell"). In what was hailed as a victory for free speech, the 78-year-old pastor of Whitehall Metropolitan Tabernacle was found 'not guilty' and walked free from a Belfast court having been cleared of all charges. In this his autobiography Pastor McConnell gives a testimony of the Lord's utter faithfulness throughout this tough period.
From a difficult childhood in war-torn Belfast, where he lost his mother and father prematurely, to the birth of the Whitewell Metropolitan Tabernacle, McConnell's love for Jesus is so evident and his relationship with the Lord, which lifted him out of grief and loss, is inspirational.
This is an uplifting, encouraging read. The book particularly focuses on how he overcame fear – even when facing prosecution for his preaching. His description of the lengths to which he was willing to go to be a good student of the Bible and to pray for his city, is inspirational. The pastor has acquired an amazing passion for the lost which has resulted in multitudes being saved and one of the biggest congregations in the UK being built.
Pastor McConnell's life has spanned a period of history in Belfast into which the reader gains a valuable insight through his anecdotal style of writing. This is a delightful book which is well worth your time. CI
Finding God In The Waves
Mike McHargue
Hodder & Stoughton
There's something wonderfully comforting about a book which manages to crystallise thoughts you'd already been wrestling with, but in a much more coherent way. At times Finding God in the Waves felt like coming home. Mike McHargue's story (you may know him better as 'Science Mike') from church leader to secret atheist to an experience when he "found God in the waves" is remarkable. From the impact his parent's divorce had on his faith, his time teaching Sunday school despite being an atheist, through to him rediscovering his faith, each element of McHargue's journey is full of humour and warmth.
The highlights are his 'axioms', statements about faith, God and Jesus that he can accept to be true; these are almost the bare minimums of faith – perhaps a literal godsend for those struggling to see how their faith exists in an era of science.
McHargue is vulnerable and unafraid to take on tricky questions. For those of us who seek to live in the tension between faith and doubt, this is a mustread. JC
119: My Life As A Bisexual Christian
Jaime Sommers
DLT
This book is the personal story of a woman trying to come to terms with a sexual identity that many Christians find challenging to accept.
While training as a lay leader – happily married but also attracted to her own sex – Sommers becomes close to a woman in the congregation, one day kissing her (in a way she describes as "more Radio 4 than Channel 4"). Later, when the friend makes allegations against her, Jaime has to step back from ministry and so begins a period of self-doubt and debilitating depression.
The Church authorities dealing with the allegation are presented as inept, uncaring and ignorant. The title of the book refers to how in the Church of England's Issues of Human Sexuality report, bisexuality is awarded a mere 119 words.
Sommers examines her situation in an honest and open way, acknowledging her mistakes and tackling hard questions. The biographical details are sometimes overdone and the book occasionally strays into the polemic. But she has succeeded in her stated aims: to share her story, raise awareness and dispel ignorance. CN
Through It All
Aaron Keyes
Mission Worship
Aaron Keyes, writer of 'Sovereign over us', is known for reconciling worship music and scripture in a relevant and reverent manner. This, his latest live album, is a powerful and uplifting work. Each song is musically distinctive yet written with congregational worship in mind. There are catchy refrains and sensible vocal ranges for both men and women to sing along with.
The musicianship is of a high standard, and a good breadth of sounds have been used – from country music to more modern electro-pop.
There's an honesty to the lyrics that is striking and emotive. Keyes is quick to direct reflection and response into praise: "Even though my heart may break…I will praise you" he sings in 'The valley'. It often feels as though the songs have arisen out of a community and a journey of worship.
All of this makes Through it All a deeply inspiring and edifying album, written by a faithful and talented singer-songwriter. LS
Still
Rivers & Robots
Integrity Music
A worship album with no lyrics? Given how we cling to language as our main means of worship, this album could seem alien and perhaps even a little threatening. But this latest project from Manchester-based band Rivers & Robots is, at times, a transcendent masterpiece.
For those unfamiliar with this stillupcoming Christian band, the name Rivers & Robots points to their combination of acoustic and electronic sounds. This, their fourth album, is the first with the giant Integrity Music, but they have managed to retain their raw sound.
The recognisable melodies of 'Majesty', 'I exalt thee' and 'Be still' fulfil the album's aim of reinterpreting worship songs but some more traditional melodies would have added to the album's depth.
The drumming in 'Lord let your glory fall' was on occasion distracting but, on the whole, this is an album made for personal reflection and adoration. And, for creative types, this makes for the perfect work-time listening. KS
The book that changed my life
Surprised By The Power Of The Spirit
Jack Deere
I became a follower of Jesus at the age of 18 from a totally unchurched background. I had never read the Bible and had absolutely zero knowledge. However, I was passionate and eager to tell people about Jesus. I also had a deep sense that there was more to my faith than what I was experiencing. Someone gave me Jack Deere's Surprised by the Power of the Spirit and I was gripped. Suddenly a new world was opened up to me in which miracles were possible, spiritual gifts were for everyone and God wanted to give me all that I needed to tell my mates about Jesus. It was like a veil was being removed from my eyes. I prayed hard that God would give me the gift of evangelism, tongues, prophecy and anything else that was available! The stories told in the book built my faith, enlarged my curiosity and drove me into the Bible. It changed everything. I came alive in my faith and two years later planted a church on a council estate. And then, what I was reading about began to happen in front of my very eyes. It was beautiful. By Carl Beech