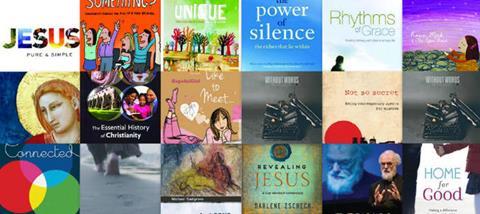 The Sea Cares for Its Own
The Weathering // 7Core Music
This is the debut album from Hong Kong-based duo The Weathering. Originally from the US, the pair comprises husband and wife Jeff and Leora Caylor. Billed as 'indie pop for fans of magic and mermaids…' I was initially sceptical (being rather ambivalent towards both) but intrigued. The album is an enjoyable blend of synth sounds and pop, wrapped up with gorgeous vocals. Stand-out track 'Where Other Ghosts Gather' is a piano-led song which showcases Leora's voice, as she breathes life into the wistful lyrics.
While not an explicitly 'Christian' album, the lyrics hint at a hidden spirituality. I was left slightly disappointed, as while it was pleasant to listen to, it lacked depth and punch, failing to fully deliver what I was expecting. The promise and potential is there, but it just misses the mark. RG
Worship Duets
Graham Kendrick // Integrity Music
Graham Kendrick has long been considered the father of modern worship, and now he's back with this solid album of duets. (Well, if it's good enough for Sir Tom...)
The list of names involved with this project is impressive and includes Matt Redman, Martin Smith, Rend Collective, Darlene Zschech and Stuart Townend. Given the names and different streams that were collaborating, expectations of a new level of innovation were high.
While this is a good worship collection, both production and originality could display more creativity. The cross and God's grace are the focus throughout, and the lyrics that convey these themes are beautifully written. The highlight for me was the reworking of Kendrick's hymn 'The Servant King'. Rend Collective bring a fresh take on this classic song. Overall, the album lacks verve but my parents might like it. LBJ
Glorious Ruins
Hillsong // Hillsong Music
Hillsong are back with a fresh worship offering to equip the Church. Hoping to follow in the footsteps of last year's hugely popular live album Cornerstone, this was recorded live in London and Sydney. It features 12 new tracks, written by well-known names including Joel Houston and Reuben Morgan, along with a collaboration with Chris Tomlin. Interestingly, this is the first album without Darlene Zschech.
The title track is a beautiful guitar-led ballad, which explores the theme of Glorious Ruins: 'Let the ruins come to life, in the beauty of your name, rising up from the ashes, God forever You reign.' These songs are everything you'd expect; passionate, catchy and very, very good. Churches up and down the country will no doubt be singing them very soon. It's all too easy to pick on Hillsong for being too shiny and perfect, but this collection is not to be missed. RG
Our reviewers:
LBJ - Lucinda Borkett-Jones is an editorial intern on Christianity magazine; RG - Ruth Garneris an editorial intern on Christianity magazine