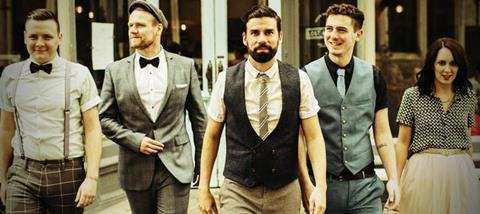 As a musician who loves worship, and a worshipper who loves music, I arrived in London W12, intrigued to see how Rend Collective approached performing in one of London's most iconic music venues.
In fact, the last time I had been to Shepherd's Bush Empire was for a Delirious? gig (so that shows it's been a while!) and as the evening progressed I was reminded just how difficult it is for Christian worship bands to walk the tricky tightrope of leading people to Jesus, but also implicitly acknowledging that the crowd has turned out, in no small measure, to listen to their original material and to enjoy a show.
Rend's way of dealing with this conundrum (described by frontman Chris Llewellyn recently as a "Batman Vs Superman" conflict) is to be utterly unashamed about their motivation for being on stage – "this is church!" – announced Llewellyn confidently, as he belted out an energetic version of 'Undignified' (tickertape streaming liberally from the ceiling). Over the course of 90 high-octane-fuelled minutes I was increasingly won over by the integrity of their performance as an act of sacrificial worship – God was at the centre and there was no denying him his rightful place.
As Rend launched into 'Build Your Kingdom Here' Llewellyn, in his lilting Northern Irish accent, quipped "there are no rockstars in the Kingdom of God – apart from U2!"
The experimental folk rock sound popularised by Mumford & Sons isn't to my immediate personal taste. There are only so many violin solos a man can take after all – but not being overly familiar with Rend's back catalogue I soon discovered that there is more to what they offer than first meets the eye.
During 'The Joy of the Lord' I lost count of the number of times instruments were swapped and it became abundantly clear that this is a very talented group of men and women. The mandolins, accordions, banjos, ukuleles and even what I think was a dustbin lid, were skilfully and carefully deployed to create some refreshing musical dynamics throughout the set.
As a frontman, Llewellyn is engaging and halfway through the show – while the majority of the crew took a breather – band leader Gareth Gilkeson preached a powerful gospel message, calling people to the foot of the cross.
Having recently preached on worship in my local church what struck me was Rend are clearly motivated by releasing people into a deep experience of God, by sermonising (in the best sense of the term) throughout their performance. "Worship is never an accident – it's always an intentional act" it was stated and the lament 'Weep With Me' included an exhortation for people to be real with God – for us to tell him what we really feel. In many ways this was the stand out part of the evening – as they cried out to God "are you even listening?" and the refrain rang out "Lord I believe, help my unbelief."
As a good evangelical raised on a diet of solid Trinitarian hymns, I was struck at how theologically strong many of Rend's lyrics are. 'Rescuer', 'Nailed to the Cross', 'More than Conquerors' and 'Boldly I Approach' are all full of solid biblical truth.
During the high energy 'You Will Never Run' there was a brief moment of darkness. When the lights came up, every band member came back into view wearing a giant Panda head. The point? Apparently it was to demonstrate that "seriousness is not a fruit of the Spirit"!
As the evening drew to a close, a rendition of 'My Lighthouse' was obviously inevitable – and no less enjoyable for that fact. Ultimately, the evening finished where it started – with worship. The soft chorus of 'What a Beautiful Name' ended with the classic 'I love you Lord and I lift my voice'. And then they were gone.
As my wife and I left to trudge home we did so with a slight skip in our steps – reminded of God's faithfulness through the storms of life and that, having rended our hearts in the great assembly, we too are, in some small way, now part of the Collective.
Matthew Rhodes leads the worship team at Streatham Baptist Church
Visit rendcollective.com for upcoming tour dates and to book tickets
Click here for a free sample copy of Premier Christianity magazine