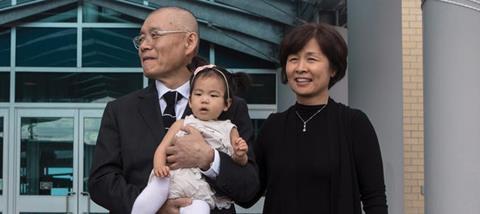 Hyeon Soo Lim, 62, was released on 'sick bail' despite receiving a life sentence for attempting to use religion to destroy the North Korean system and helping US and South Korean authorities lure and abduct North Korean citizens.
The day after arriving back on Canadian soil, Pastor Lim attended his former church. The Guardian reported congregants welcomed their pastor back with "tears, ecstatic cheers and standing ovations".
In a statement the pastor said: "From the first day of my detainment until the day I was released, I ate 2,757 meals in isolation. It was difficult to see when and how the entire ordeal would end."
Mr Lim revealed he'd been forced to dig holes measuring 1 metre wide and 1 metre deep despite freezing temperatures. "The mud was so hard that it took two days to dig one hole," he said. "My upper body was sweating; my fingers and toes were frostbitten."
Mr Lim says he was hospitalised on four separate occasions while in custody.
Speaking about his time in prison, Mr Lim said: "I read the Bible in both English and Korean five times and memorised over 700 Bible verses. There were moments of discouragement, resentment and grumbling that soon changed [into] courage, joy and thanksgiving."
According to his family, Mr Lim had travelled to North Korea many times over the past two decades to support nursing homes and orphanages, before being arrested on a trip to the country in 2015.
The news of Mr Lim's release came amidst escalating tensions between North Korea and the USA after Pyongyang threatened to fire missiles toward the US territory of Guam.
Rob Puckett, the pastor of Calvary Baptist Church in Guam, told Premier Christianity magazine that inhabitants of the Pacific island territory are familiar with the longterm threat North Korea has posed and encouraged "people everywhere" to "pray for the...leaders all around the world that can influence this".
North Korea had threatened to launch the strike after President Trump said the US would respond with "fire and fury like the world has never seen" if North Korea continued its threatening rhetoric.
Pyongyang had said they would fire four Hwasong-12 missiles into waters as close as 20 miles from Guam but later promised to wait and watch "the foolish Yankees" before making a final decision.