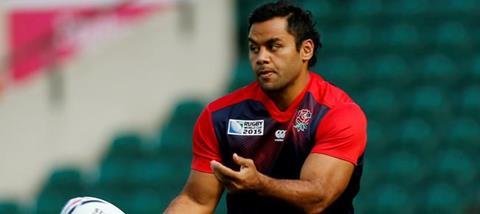 Does Jesus impact your Rugby?
Knowing that Jesus is with me makes me a stronger person, makes me a more confident person. Whatever I do try to do, even if it doesn't come off, I'll always have God or Jesus to lean back on, and I know if it didn't go my way there must be a reason. There is always a reason.
You know you can't win every game and it is tough but my faith helps me with that because there is more to life than winning and losing rugby games.
What about disappointments?
We lost the game to Clermont and I was asking myself 'why don't I ever win anything?' I prayed a lot and I talked to my mum about it who is a minister herself, she just says that if we become driven by trophies and winning and things like that then our whole life will just change. They become our idols and that's what God doesn't want - for us to have idols and for us to follow things and not him, which opened my eyes up a lot.
The setbacks with England and stuff like that was really tough because all the media would be on my back. I was asking myself, 'there's 15 other players, why are they blaming me?' I came back stronger not because I got fitter, not because I got stronger, but because I went back to my faith and I went back to what we'd been taught all our lives. That whenever you're playing, whatever you're doing, whenever you've just woken up, just say 'thank you' to God.
Everything that I have right now has been given to me. Even my talent is a gift and I know I have to work on it but someone higher up has given it to me, so I just have to be thankful for everything that I have.
How do you prepare spiritually for a match?
I never ask that we win or that I play well. I just ask for protection, I think that's the biggest thing. Just that I would have strength and energy to do not only myself proud but my family and everyone else proud. Then I just play the game.
How do you handle success?
My Mum and Dad are the biggest influences on us staying grounded, especially my mum. She always thinks that a setback is something that makes you stronger and something that is there to help you get better. She'll always say we've done well but she always put at the end, 'thank God' as it's not our doing it's someone else's.
How do you want to be remembered?
I would like them to think that I was a cool guy, but humble enough to take on criticism, take on other people's ideas and also just a man of God. Obviously the rugby is there but you've got your whole life to live after that. You want people to think of you as a great guy, an approachable guy.
Do you have a favourite Bible verse?
A favourite of ours is Psalm 91 and it just talks about God being your protector and God being your shield. It's funny when all the big games are on because that's the only thing we kind of worry about - just that God protects us and looks after us.
Another one is Corinthians: 'Love is patient love is kind,' that's a big one. If you want to be a good person and you're giving money and all that stuff but you're not doing it with love then you might as well not do it, cause you're doing it for a different purpose. Everything is backed up by love.
To watch the full interview visit engagemediahub.com. Engage2015 is a cross denominational campaign set up to help UK churches engage in mission and inspire legacy during and after Rugby World Cup 2015. You can follow Engage on twitter @Engage2015
To receive a free copy of Premier Christianity magazine click here