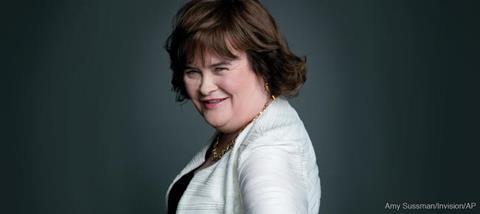 When an unassuming 47-year-old from West Lothian stepped onto the stage and prepared to audition before a 2,000-strong crowd and the Britain's Got Talent judges almost six years ago, most of the nation made a sweeping judgement based on her appearance. And then Susan Boyle began to sing.
We immediately kicked ourselves for being so shallow. And then we kicked ourselves again when Susan's life story – one wrapped up in years of unemployment, the recent loss of both her parents and struggles with her mental health – began to seep into the public arena. The YouTube clip of Susan's audition, in which she sang 'I Dreamed a Dream' from Les Miserables, has since been watched more than 300 million times.
One of nine children born to Catholic parents, Susan grew up in the small Scottish village of Blackburn. She attended church on a weekly basis throughout her childhood, first encountering music as she sang along with the rest of the congregation. It wasn't until later in life that she sang solo.
MIRACLES CAN HAPPEN, BUT YOU HAVE TO WAIT
School presented a mixed blessing for Susan. One of her older sisters was a teacher at the school and taught Susan, which was an advantage, but bullying was commonplace. Due to her lack of confidence, Susan's teachers encouraged her to go on stage, thinking this might boost her self-esteem. Her school years were filled with choir rehearsals and concerts.
Susan's memory for details of her childhood – and particularly for the lyrics of hymns she sang many years ago – is remarkable. In her conversation with Pam Rhodes for Premier Christianity, she revealed that at her first communion, aged seven, she sang 'Suffer Little Children To Come Unto Me' and 'O Mary Mother Sweetest Best'. She reels off the lyrics to the latter with aplomb.
Until her mother's death in 2007, the pair lived together in Susan's childhood home. Their relationship had grown particularly strong in the years following her father's passing away in 1999. It was Susan's mother, a devout Irish Catholic, who had always championed her singing and eventually encouraged her to apply for a talent show.
Susan came second in the Britain's Got Talent final, but was immediately signed by Simon Cowell's record label, Syco Entertainment. Everything changed for her overnight: she immediately moved to London for six months and then made her first trip to the US to work on America's Got Talent.
It has been a whirlwind of success and mounting fame for Susan ever since; albeit a whirlwind in which she has needed to consider her spiritual and mental health carefully while allowing her career to develop. In 2012 she was diagnosed with Asperger syndrome. Asked by Parade magazine how this has affected her, she says: 'I'm more relaxed and confident. People have a better understanding of me now. I don't feel so alienated. Asperger's is a condition I have to live with, but it hasn't prevented me from doing what I love. I have a lot more to offer.'
Susan holds the international record for the most pre-ordered album of all time. To date, she has sold more than 19 million albums worldwide and has received two Grammy Awards nominations. She also made her debut film performance last year playing a vicar's wife, and of course singing, in festive family film The Christmas Candle, based on Max Lucado's novel. This winter will see her depart for her first US tour and the release of her sixth album. And there are more albums and an Australian tour in the pipeline, she says.
Despite all that's happened for the 'wee lassie' from West Lothian (Susan's own words), this is a woman with her feet planted firmly on the ground, and she still lives in the family home. 'I'm still in the local community, and I feel that's very important,' she says.
And it's not insignificant that Susan's latest album is called Hope. 'It's to show other people that they too can do what I did,' she says. 'But not just that. They can have a belief in themselves, have belief in their own abilities and, if you like, a belief in God.'
Pam: You were the last of nine children, and your mum had you when she was in her mid-40s. It wasn't the easiest of births, was it?
Susan: She had to have a Caesarean section...She was advised at the time to have an abortion, but because of her Catholic beliefs that didn't come about. So I'm still here, obviously.
What kind of youngster were you?
I think I would probably describe myself as a little ball of fire. I was hyperactive and I was a pest.
I was very hard to rear, you know. I was very difficult to bring up, with my behavioural problems and everything else.
What was school like for you?
School was a very nice place. I had a sister who taught in the school, and the teachers were very kind. But the kids can be cruel, and they used to call me names. But they weren't all like that…School days, I
think, were the happiest days of my life.
What were Sundays like in your house?
On Sundays my mother would get up really early and go to first mass, because she had to come back and make the dinner…She wanted a bit of peace, you know. Everyone else went to the half-past eleven mass. It was really good.
So how did you feel about church as a youngster? Did you enjoy it?
I enjoyed being in church because I liked the peace and tranquillity. I liked the hymns and I liked the idea of having a connection with God.
Do you have a special affection for hymns?
I love hymns. They're a way of communicating with God and a kind of prayer, if you like, set to music.
Did you pray together as a family?
We prayed together as a family and we prayed individually as well, because to pray together is to act together. I've found that very helpful throughout my adult life as well.
You've spoken of turning points in your life, one of which occurred when you and your mum went to Lourdes. Why did you go and what do you remember of that trip?
I went to Lourdes because I had a difficult time growing up. I found it very helpful; very peaceful. I couldn't really do very much on my own before, but after that – it wasn't immediate – I gradually got around to doing things on my own. I think that Our Lady had a part in everything I did.
I'VE GOT A VERY CLOSE RELATIONSHIP WITH GOD
You lost your mum in 2007. That must have hit you very hard…
I felt that half of me died because I was very used to being around the house with her. I was the only one left because the rest of them all got married, or got out of the house for some reason…I practically became her carer. I was her companion…I was pretty low. I had to get social workers in to help me. I had to rebuild my life again [and] learn how to manage on the few coins I had. I was always living on benefits at the time and it was very difficult.
All your life your mum encouraged you to sing. Did you feel like singing during that period?
Naturally you don't feel like singing…I got very introverted…but I joined the Legion of Mary [an international association of Church volunteers] at about that time, and that gradually pulled me round.
Does singing reflect how you're feeling inside?
Singing is about telling stories, but you've got to feel those stories within the words of the actual composition. If you feel the story within the composition, it helps you to connect with the song.
Wasn't it your mum who first suggested that you should have a go at Britain's Got Talent?
It wasn't Britain's Got Talent; it was a choral programme we were watching on television. And I turned around and I said, 'Is that what you want me to do?' And she goes, 'Of course...'
A couple of years after her death you found yourself heading to the audition for Britain's Got Talent. What was that day like?
It was a dark morning. I got washed and dressed quickly; my cat was wondering what was wrong. I said, 'Just sit there just now, Pebbles, and I'll be back in a wee while.'
I was early for my appointment, so they actually told me to wait…I went for a wee walk, and when I came back they told me I was actually too late, so I was to come back for the ones at night. I says, 'Well, I'm not travelling now, could I wait somewhere?' So they said, 'You can wait in the holding rooms.'
So I waited for ages in the holding rooms. I saw…magicians coming in, I saw people screaming and fighting, I saw Ant and Dec coming in…I just enjoyed myself watching them. And then it came my turn at 7.30pm. I was one of the last ones there. I went in, and you know the rest.
How on earth did you feel when you walked out onto the stage to face that huge audience, plus Simon Cowell and the judges?
I was very nervous and very withdrawn.
'I Dreamed a Dream' was a very poignant song choice. How did you come to select it?
Because of the circumstances I was going through at the time; they were very difficult. I said to myself, 'There has to be some way out of this, some way of making change.'
You couldn't possibly have been prepared for the audience's reaction. How did you feel when you got the standing ovation?
I wasn't really prepared for the standing ovation. I was pleasantly surprised…it was just like a big explosion, really, after that.
Your life changed instantly. Why do you think people were so drawn to you?
I think it was the idea of being the underdog; the person who was always laughed at; the person who other people couldn't really see doing much. So that was probably my way, without realising it, of saying: 'This is who I am. I've got something to offer.' Even though some people thought that outwardly I'd nothing to offer.
Working with Syco from then on was tough for you, wasn't it?
Mentally and emotionally, because I'd never done it before. It was very new to me, and I was expected to learn communication skills, such as interview skills, in a very short space of time.
Was it spiritually tough for you as well? Did you feel as if you had moved away from your roots to such a degree that you had almost lost your connection with God?
I never really lost my connection with God. I always maintain that having your roots is very important. So after six months I came back to Blackburn, and there was a time that I didn't go to chapel because I was too busy. But I missed it so much that I came back and I regained my roots from there.
HYMNS ARE A KIND OF PRAYER SET TO MUSIC
How would you describe your relationship with God during that season?
I've got a very close relationship with God. It's almost like a second father, if you like. And I felt he was guiding me at the time.
As Christians, we have a responsibility to use our talents. Is it important to you to use your extraordinary talent well?
Well, I didn't really know I had any talents before. But I guess this is Our Lady's way of saying, 'You've got something, are you going to use it?' So your point about being able to use your talents is a very poignant one for me; a very special one.
Show business isn't necessarily a kind world. How difficult it is to hang onto your Christian principles?
It's not difficult for me, as an individual, but I suppose for other people…maybe younger people…it draws them into things that maybe they don't understand. So it has its dangers, but it has its good points as well. I was quite lucky because I came into it at an age where maybe I could be a bit more mature about things.
What have been your personal highlights since that Britain's Got Talent audition?
There have been so many, but it was probably when I met Pope Benedict at Bellahouston Park in Glasgow. I was honoured enough to be asked to sing three songs at the mass.
You appeared in your first film, The Christmas Candle, last year. It's a film about miracles. What do you think about miracles?
Miracles can happen, but you have to wait. You have to wait for miracles.
So prayers are answered?
Prayers are answered, but only if God thinks they're good for you.
You have a cover version of John Lennon's 'Imagine' on the album, the lyrics of which include, 'Imagine there's no heaven'. How do you picture heaven?
Heaven for me is a lovely garden, where you meet people that you've known before; people who've passed on, who you've loved.
Do you think that your beliefs have matured in view of all that's happened to you in recent years?
They haven't waned, but they've definitely matured. I'm getting older and I'm getting a bit more analytical.
You can listen to Pam Rhodes' interview with Susan Boyle on Premier Christian Radio at 5pm on Christmas Day.
The album Hope is available from essentialchristian.com and in Christian bookshops.