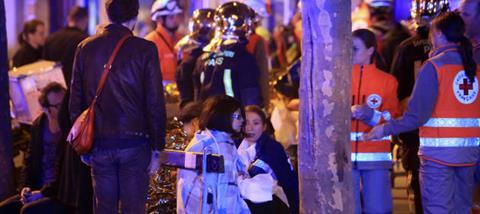 There is nothing rational, nothing explicable about such an event - experts are wheeled out by TV and Radio stations to offer some kind of understanding, but the truth is, there is none. A terrible violence has gripped the hearts of a small group of people, who have unleashed on total strangers the full force of their fury. Like domestic abuse on a national scale, this is neither politically nor emotionally reasoned. It is a primal violence as destructive on those who perpetrate it as on their victims.
How can we pray for the people of France today?
- We can pray that the God of all consolation - who loves France, and Syria and Iraq, with a love that can neither be counted nor measured - will by his spirit be present with all those caught up in these events. Pray for the bereaved, the wounded, the people of a city currently gripped by fear. The God you pray to is the one in whom 'we live and move and have our being', the one who is not far from any one of us. Pray that those gripped by trauma will know him near.
- We can pray for Francois Hollande and his team as they meet to manage a response. A State of Emergency has been declared across the nation - a huge statement of the level of their concern. Pray for wisdom, compassion and strength. There is not a leader on planet earth who does not, at such a time, reach for a strength beyond themselves. Pray that Hollande will find that his maker is there to bless and help him.
- Pray for the French Police, Army and Emergency services. The Paris services were deeply traumatised by the Charlie Hebdo shootings - still a recent wound - how much more will they be shaken by this new horror? They need our prayers. As a resident of France, I can tell you that the way French service personnel respond to a crisis such as this is extraordinary. People will be working extended hours, giving themselves beyond the call of duty to those in need. 'Solidarité' is a substantial value in French culture, and you can touch and taste it at such times.
- Pray for Peace. The adoption on Facebook of the new 'peace for Paris' symbol is beautiful. Paris remains the world's best known and most loved tourist destination. It has also proved, in the past seventy years, that it is capable of pursuing peace and living in forgiveness. The speed with which Angela Merkel came to the side of Francois Hollande at the time of the last attack was extraordinary, and proof that peace can reign. If France and Germany can become friends after such a terrible emnity, then this new horror, too, can be swallowed by grace. Pray that it may be so.
Many years ago a book was published about the final years of the occupation of Paris in World War 2. It later became a popular film. It was called Is Paris Burning? Well today, Paris is burning: with grief, with rage, with a deep woundedness. Let's come together as people, resident or not, who love this city, and pray for her peace and safety, and for the glory of her maker to rise like a new dawn after the darkest of nights.
Click here to request a free copy of Premier Christianity magazine