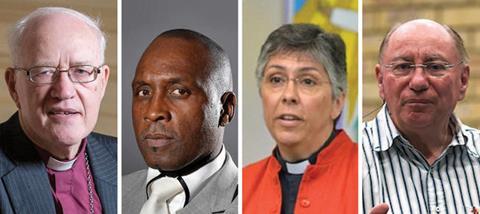 Former archbishop resigns
Lord George Carey has resigned from his position of honorary bishop in the Diocese of Oxford. Carey said he accepted the criticisms made of him in a review of the Church's handling of abuse against young men carried out by Bishop Peter Ball.
Evangelist will return to boxing
Boxer-turned-evangelist Nigel Benn says he wants to get back in the ring: "I just need closure and once I get closure, that's it boom. I can go back working for Jesus," he told Sky Sports.
From fleeing persecution to bishop
Rev Canon Dr Guli Francis-Dehqani, whose family was forced to flee Iran in the wake of the 1980 revolution, is to become the first female bishop from a minority ethnic community in the Church of England.
Tributes paid to Dr Michael Eaton
Christian preacher and writer Dr Michael Eaton has died from a heart attack, aged 74. Dr Eaton grew up in inner-city London and ministered internationally. RT Kendall said "he was my great encourager".
Sir Tim Rice blasts 'moronic' change to Joseph musical lyrics
Sir Tim Rice has criticised teachers in New Zealand who changed lyrics in the Joseph and the Amazing Technicolor Dreamcoat musical by removing a reference to Israel.
The accomplished lyricist said it was "moronic" to change "Children of Israel" to "Children of Kindness" in the hit song 'Close every door'.
Sir Rice said: "Joseph is an innocent story straight from the Bible and these people in New Zealand thought we were making statements about Israel and Palestine – bonkers." An apology was later issued by the local council in the area.
The month in figures
A recent survey found 58 per cent of Scots said they had no religion compared with 40 per cent when the survey was carried out in 1999.
9,598 Christian refugees have arrived in the USA compared with 7,250 Muslim refugees from January to June 2017.
Scripture Union has announced that Guardians of Ancora – their awardwinning digital game designed to teach children about the Bible – has reached 1 million plays.
Brits in need of a refreshing snack in the heat of summer may well opt for chocolate-flavoured ice cream this month. Twenty-two per cent of all new ice cream products lunched in 2015-16 were chocolate flavoured.