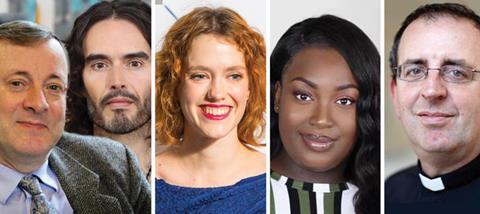 Mcgrath & Brand talk God
Comedian Russell Brand and Christian apologist Alister McGrath had an hour-long chat about faith on Brand's podcast Under the Skin. The two discussed whether faith is rational and McGrath explained how he went from atheism to Christianity.
Rev to join Strictly
Pop star turned priest Rev Richard Coles is to appear on BBC One's Strictly Come Dancing this autumn. Rev Coles joked: "Cometh the hour, cometh the overweight vicar with arthritis in his knees."
Abc's daughter hid her depression
The Archbishop of Canterbury's daughter has revealed that she kept her depression a secret from her father. Katharine Welby-Roberts said her new book I Thought There Would Be Cake (SPCK) was written to help others suffering from the illness.
Christian vlogger on Oxbridge racism
Courtney Boateng has revealed she experienced racism while studing at Cambridge University. Speaking to Channel 4 News, Boateng said fellow students talked about her being "lucky" to be "let in" to the university.
Hillsong deny involvement in Bieber's tour cancellations
Hillsong have been forced to deny any involvement in Justin Bieber's decision to cancel his world tour, after a TV presenter claimed the pop star stopped playing in order to 'reconnect with his faith' and start his own church.
Bieber's recent trip to the Hillsong conference in Sydney led to rumours that the popstar's Christian faith was behind his decision to cancel the remaining 14 dates of the 'Purpose' world tour.
But a Hillsong spokesperson said: "The recent announcement by Justin Bieber about his tour does not involve Hillsong Church," adding, "We wish Justin the best for his future."
The month in figures
New data has revealed there is a 41 per cent gender pay gap at the CofE's headquarters. Median pay for men was £45,072 compared to £31,900 for women.
Premier's research revealed Rt Rev Sarah Mullally, Bishop of Crediton, tweets more often than any other bishop, with an average 165 tweets sent every month.
The public are more likely to assume a criminal is an atheist than a Christian, a study by the University of Kentucky has found.
Almost 100 churches are calling for a change in conservation laws because of bat excrement falling from church ceilings. 60 per cent of pre-16thcentury churches contain bat roosts.