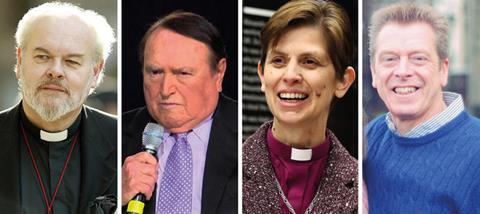 CERULLO TO BUILD THEME PARK
Televangelist Morris Cerullo has announced plans to build a £125m Christian theme park in America. The Legacy International Center will contain a biblical museum, a replica of the Western Wall.
CHRISTIANS SHOULD GROW BEARDS
The Bishop of London, the Rt Rev Richard Chartres has encouraged Christians in Muslim areas to grow beards. He said facial hair was 'a new way' to connect with parishioners.
FIRST FEMALE BISHOP SITS FOR PORTRAIT
St Peter's College at the University of Oxford has commissioned a portrait of the CofE's first female bishop, Rt Rev Libby Lane. It marks the first anniversary of the bishop's consecration.
MARK BAILEY RESIGNS
Mark Bailey has resigned from leading New Wine and as vicar of Holy Trinity Cheltenham. Bishop Rachel Treeweek's statement read: 'This relates to a matter now being considered under the Clergy Discipline Measure.'