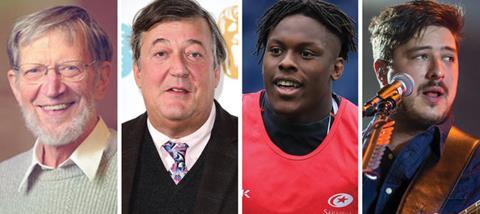 Fry accused of blasphemy
Comedian and atheist Stephen Fry was investigated by police in Ireland after a viewer claimed his anti-God comments in a 2015 interview on RTE were blasphemous. The case has since been dropped.
Itoje praises God
Ahead of touring New Zealand with the British Lions this month, rugby star Maro Itoje told BBC 5 live: "I feel as if everything I have, everything I've been given and the position I am in is as a result of God."
Plantinga awarded
Christian philosopher Alvin Plantinga has been named as this year's Templeton Prize winner, picking up a cheque for £1.1m. He was given the prize for "breakthrough discoveries" which "revolutionise the way we think".
Mumford loves Jesus
Speaking at the HTB leadership conference at the Royal Albert Hall, the frontman of Mumford & Sons said: "I love Jesus and I always will." Marcus Mumford is the son of Vineyard's John and Ele Mumford.
'Hidden treasures' prophecy leads to gold coins discovery in piano
A Christian piano tuner has discovered gold coins worth up to £350,000 hidden in a donated school piano, weeks after receiving a prophecy about receiving 'hidden treasures'.
Martin Backhouse, 61, discovered 913 gold coins neatly stacked in dusty hand-stitched packages and pouches beneath the instrument's keyboard base while he was in the process of tuning it.
The story was widely reported in the national media but Mr Backhouse has revealed to Premier Christianity that his discovery came seven weeks after a fellow Christian shared Isaiah 45:2-3 with him during a time of ministry. The passage includes the words, "I will give you hidden treasures, riches stored in secret places, so that you may know that I am the Lord".
Backhouse has since discovered he's entitled to half of the hoard's value under the Treasure Act 1996.
Experts from the British Museum found the coins ranged in date from 1847 to 1915, and consist of 633 full sovereigns and 280 half-sovereigns, with the majority dating from the reign of Queen Victoria.
Justin Welby feared 'saying something wrong' during Holy Land tour
The Archbishop of Canterbury, Justin Welby has admitted "the fear of saying something completely inappropriate" kept him awake at night while touring the Holy Land. Welby was speaking to Premier Christianity in Jerusalem, during his twelve-day tour, which included visits to Israel, the Palestinian territories and Jordan. "The thing that kept me awake before the trip and has continued to keep me awake during the trip is the fear of saying something completely inappropriate. "And I probably have on a number of occasions said something that could be misunderstood. Almost anything you say here can be misunderstood and will be by some because in a conflict people hear things in a way you don't intend to say them. "But you can't always be silent," he added. "It's no use sitting there just 'shtum'. It doesn't make any sense. And you can't say nothing when you see things that are clearly very wrong or very dangerous." Speaking about his intentions, Welby said: "I think the aim is to try and be as positive as possible. So we try and talk about peace." The archbishop met with political leaders including Israel's Prime Minister, Benjamin Netanyahu and the Palestinian Authority President, Mahmoud Abbas. He also spent time with Christian leaders on both sides of the conflict. Speaking about the "complicated" political situation, Welby quipped: "After two weeks here you think you understand the situation, after two months you think you don't know anything."
This month in figures
The number of people identifying as Orthodox Christians in Russia has grown from 37 per cent in 1991 to to 71 per cent in 2015.
A Baptist from Jamaica has become the oldest person in the world at the age of 117. Violet Mosse-Brown has been a longstanding and active member of her church
Following the news that Durham Cathedral is losing £500,000 per year, Anglican leaders will look into the financial management of all cathedrals
32 per cent of young people in the UK believe in a God, according to new research from Youth for Christ.