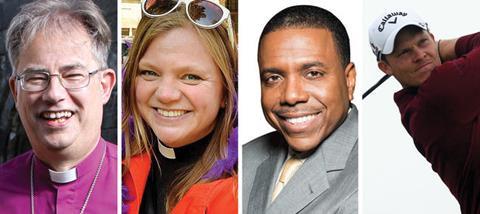 TV BETTER THAN SERMONS
Writing in the Radio Times, Gogglebox vicar Kate Bottley has said her TV role has led to more conversations about faith than any of her sermons.
GOLF WIN FOR DANNY
Christian golfer Danny Willett, who is also the son of a Church of England vicar, has won the US Masters golf event. The 28-year-old Brit takes away a cheque for $1.8m.
BISHOP FINALLY ANNOUNCED
After 18 months of waiting, the next Bishop of Oxford has been announced. Rt Rev Steven Croft, 58, is to move from his current position as Bishop of Sheffield.
DOLLAR NOT WELCOME
American preacher Creflo Dollar has been told by the Free Church of Scotland that he's not welcome in Glasgow. Rev David Robertson said Mr Dollar, who is due to speak to thousands in the city, promotes a 'blasphemous…prosperity gospel'.