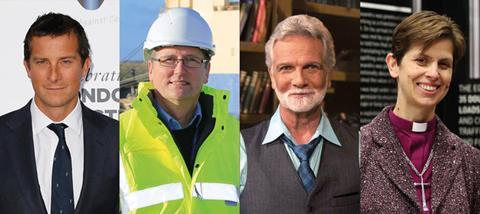 FAITH EMPOWERS BEAR GRYLLS
TV adventurer Bear Grylls says his Christian faith helped him deal with accusations that he stayed in motels and that scenes were staged while filming Born Survivor. He told The Mirror his faith has been 'very empowering and important'.
TRIBUTES PAID TO AMERICAN PASTOR
Pastor and author John Paul Jackson has died from cancer at the age of 64. Jackson founded Streams Ministries International and was known for his prophetic interpretation of dreams and visions. More than 1,000 people paid tribute on his Facebook page.
NEW MINISTRY FOR BRISTOL BUILDER
Former builder Steven Loader has made Bristol's Portbury and Avonmouth docks his new mission field, working with Christian charity Counties. He says: 'There is so much need amongst the seafarers…I always make it clear to them that God has not forgotten them.'
BISHOP LIBBY LANE TACKLES TRAFFICKING
The CofE's first female bishop, Libby Lane, has launched a campaign to combat human trafficking in conjunction with Stop the Traffik. The project will train airport staff to identify vulnerable passengers and look for typical signs of trafficking.