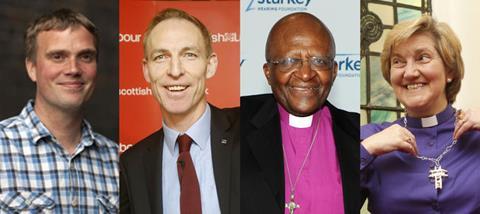 GAVIN CALVER LEAVES YFC FOR EA

National director of Youth for Christ (YFC), Gavin Calver, is to become director of mission, England, at the Evangelical Alliance. 'I feel God has called me to serve the local Church by helping to mobilise mission across England,' he said.
CHRISTIAN MP LEADS SCOTTISH LABOUR

Catholic MP Jim Murphy has been named as the new leader of the Scottish Labour Party. Despite criticism from the Scottish Secular Society, Mr Murphy has been vocal about his beliefs and his support for faith schools in Scotland.
ARCHBISHOP TUTU CANCELS TRAVEL

South African Archbishop Desmond Tutu has been forced to cancel his overseas trips for the immediate future. The 83-year-old has been battling prostate cancer for the past 15 years and has undergone successful treatment in the past.
HONORARY DEGREE FOR REV LORNA HOOD

Former Church of Scotland moderator Lorna Hood has been awarded the Doctor of Divinity by Glasgow University. The 61-year-old chaired the Church's General Assembly in 2013 and is also an honorary chaplain to the Queen.
Click here to receive your free copy of Premier Christianity magazine.