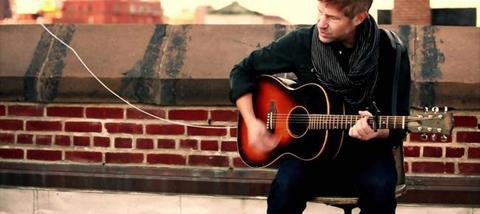 You talk about worshipping during times of sorrow on your blog. After the Paris attacks this is a challenge for us all. How can we keep worshipping in difficult times?
Life is difficult. Of course these most recent events are tragic but the truth is many of us in our congregations have gone through trials, difficulties and hardships. Worship is the appropriate response in any situation. The Psalmist says 'when my heart is overwhelmed, lead me to the rock that is higher than I'. The temptation when we go through crisis is to withdraw from the Lord or our church community and grow hardened, cynical and bitter. The Psalmists says when we are overwhelmed to press in, to lean into the rock and keep talking to the Lord.
Following the attacks in Paris, you've made your French worship album free. What made you do this?
We did a tour in France this past year and we actually played in the Bataclan Theatre this past May. I was looking back at some of my Instagrams around May and I could picture the room, our rehearsing and the people crammed into that room worshipping God, hands in the air singing French worship songs. A few months later now, trying to imagine the horror. It's almost unthinkable.
It's a feeling of sadness and heaviness. I wish we could go back this week and lift up the name of Jesus. Not in a religious way but in a very real way as we proclaim Jesus Christ and lift up his name it actually changes the spiritual atmosphere. I truly believe that. Paul says in Ephesians 6 'We wrestle not against flesh and blood but principalities and powers'. The battle is in the spirit.
Christmas Worship Vol 2 is out now. Tell me about it
It stemmed from being a worship pastor in a local church in Texas for the last 25 years. Every time November came around I'd open the filing cabinet and take out the big Christmas carol folder. There's a lot of theology in 'Hark The Herald Angels Sing' and there's an emotional or nostalgic connection in a lot of these songs. We can't just disregard them.
However they typically sing about the Lord. 'O Holy Night' is singing about this night and the stars. But then what? It's not really singing to the Lord. I would experiment and come out of a Christmas carol and look for a simple modern chorus that would be a response.
On the new album we're singing 'Joy To The World' then we go into 'Our God Saves'. I would prayerfully experiment with these medleys and found them to be helpful in our own church. When we did the first volume the feedback was tremendous from worship leaders. But I also got emails saying hey you didn't do 'Silent Night'. So I thought it was time to do another one! These are the songs we didn't get to on the first one.
What do you do to prepare for Christmas?
This time of year is a time of reflection. I like to journal a lot and write my thoughts out. I find it helpful to process the past year and think about some of the highs and lows and give thanks. Recalling and remembering is an aspect of worshipping. The Pslamist says 'Forget not all his benefits'.
Even in the midst of the busyness of the season, the consumerism, gifts, dinners, appointments, commitments we're making - we've got to carve time out and find time to process this past year.
As we head into a new year and 2016 approaches, I'm asking God for a new sense of hope and anticipation. 'Give me a new start, help me let go of forgiveness or bitterness. I ask for counsel and wisdom for the upcoming year.'
We're doing a two week Christmas tour and we're off to Canada. It's going to be quite busy. England's very own Stu G from Delirious will be joining and it'll be a joy to have him on that. We're all very busy but please, I implore you to take the time to process this past year and to ask God for hope, peace and counsel for the upcoming year.
Amy Sheridan is a mother of five and a journalism student at Salford University. She blogs at sittingatthewell.wordpress.com