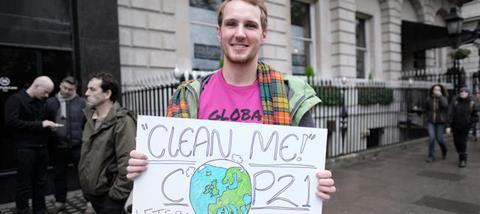 A recent and very important World Meteorological Organisation (WMO) report has proved beyond any doubt that 2015 will the warmest year in recorded history.
It's not only land temperatures which have risen (they now average over 1C higher than 80 years ago) but we're now seeing the highest ever recorded sea surface temperatures. In parts of Southern and central Asia, the average daytime maximum temperature has risen to 45C. That is almost unbearable heat all year round - and that is the average high temperature!
The report concludes that 90% of the increased carbon dioxide has been absorbed by our oceans. But there is growing concern that the ability of our oceans to absorb ever more emissions is beginning to decrease.
This is a critical time for the planet. The Paris summit which is now underway will decide whether humans are willing to not only acknowledge the crisis facing us; but also whether there can be a collective will found to do something about it.
There are some signs of real hope. The USA, Russia, India and China are finally acknowledging the need for superpower-led change. Obama has sat on the fence ever since coming to office; but the last few months has seen his attitude soften. A small majority in the US have reluctantly concluded that for the Pope to say we are heading in to real trouble - we must indeed be heading for a precipice. So whilst many Catholics in the richer parts of the US continue to squabble; a growing number of politicians of all parties and persuasions are waking up to the unfolding threat.
But is this too little too late? In parts of central Asia and Africa the results of global warming are already etched onto the faces of farmers who year after year can no longer predict when the rains will come; how long the droughts will last or whether the next flash flood will wash away all the remaining top soil.
In the sheltered UK we still debate whether climate change is happening at all. But for 10% of the world's population it is already a life and death issue. And don't be confused by the migration crisis from the Middle East. That too is at least in part a product of climate change; as is ISIS - who are preying on young men who have lost land to crop failure and are looking for a new life and a reliable income. Climate change is blurring geo-political as well as economic boundaries.
Despite all this, we can still make a difference both individually and corporately. Meet Shi Yan, a woman who since 2012 has being managing a Shared Harvest farm one hour north of Beijing. Shi Yan's farm is not only a completely organic low-energy farm, it was also one of the first farms in China to follow a Community Supported Agriculture (CSA) system; where local people are able to buy meat and vegetables straight from the producer - avoiding transport costs and encouraging local farming to take off.
Yan is a 33 year old trail-blazer; determined to give China a carbon-light sustainable future. Last year she got married with a bouquet of broccoli rather than flowers and fed her guests on food produced from her farm! Today Shared Harvest provides food for its 500 members in Beijing and already 200 other Shared Harvest initiatives are springing up around China.
If you want some inspiration while the leaders speak in Paris, log onto the A Rocha Advent calendar. This free resource provides 25 days of podcasts from well known leaders including Alpha pioneer Nicky Gumbel on issues of climate and the wider environment
Finally it is worth remembering that when we don't feel able to act practically for whatever reason - there is no excuse not to pray. Light a candle for Paris - and use a bit of time to think and pray not only for those caught in the mess of terrorism - but also for the decision makers who over the next few days are carrying the future of the planet in their hands.
Andy Lester is A Rocha UK's Conservation Director and has a background in ecology, economics and the corporate sector.