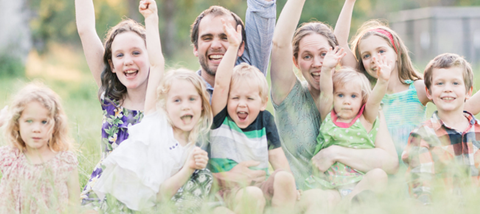 There were several things which had given us the confidence to step out, and move our family from the UK to Redding, California and join Bethel Church for eight months. Yet the strongest influence for us was something no-one else could see: the still, small voice of Jesus. We had begun to trust his voice and with it the growing urge to 'get up and go' regardless of our circumstances.
Having applied and been accepted into the Bethel School of Supernatural Ministry (see below video) I resigned from my job, we put our belongings in storage and we spent the summer house-sitting and living with friends while hoping and praying for a miracle. In order to make this dream become a reality, we'd need $35,000. But with a low income and no property or savings to our name, and seven young children, it felt impossible.
We shared our vision with friends and asked for financial and prayer support, knowing that we faced some huge hurdles: visa applications; school fees; plane flights etc. But as we stepped forward in those weeks, each need was met, often at the last minute and in unexpected ways.
______________
WATCH: An introduction to Bethel Church's School of Supernatural Ministry:
______________
I remember standing outside the US embassy, dazed, having had our nine visas approved and wondering what to do next. The week after I remember finally seeing enough money in our bank account to book flights… just days before the deadline to arrive at school in Redding. In the week leading up to our flight, the US embassy in London still had possession of all our passports and visas but, without any intervention from us, they were dispatched the day before and arrived on the morning of our flight; we collected them in Exeter and drove straight to Gatwick.
We boarded our plane with no more than an address and three nights accommodation booked in Redding. We finally arrived but ran out of money in the first week and had to leave our Air BnB. In the last hour before we had to leave, we huddled as a family, thanked God for getting us that far and prayed for somewhere to sleep that night. Minutes later we received a message from someone who was offering us the use of a caravan parked in their backyard. Completely bewildered, we accepted the offer and followed the SatNav to the address we had been given.
We camped for nearly three months while looking for housing and praying for more money. Just before Christmas we had some offers to house-sit followed by a surprise gift of $5,000. We spent the next two months sofa-surfing and moving house almost every week. There was more than one occasion where we had packed our van and driven off not knowing where we would sleep that night.
Our eight months were filled with nail-biting tension often followed by unusual, sometimes dramatic, answers to prayer, more than I can remember
In all these situations, one of the main challenges for me was dealing with the sense of being out of control. As a father and husband I wanted to at least appear like I had everything in hand, but I never got close. There were many days where we only had enough food or nappies for the day itself. It felt ridiculous, "this can't go on"! I would think. Yet we were challenged by the reality of Jesus' words about exactly these aspects of life: "Look at the birds of the air, they do not sow or reap or store away in barns, and yet your heavenly father feeds them…Therefore do not worry about tomorrow, for tomorrow will worry about itself. Each day has enough trouble of its own" (Matthew 6:26,34).
We had the choice to either count these verses as irrelevant or just accept them like little children. My son Joseph considered, "If God got us to America he will [fill in the blank]". I felt scared and inspired by that simplicity and learned to listen to his logic more often.
Our eight months were filled with nail-biting tension often followed by unusual, sometimes dramatic, answers to prayer, more than I can remember. But the greatest experience, for us all, was a deepening intimacy with God. For every painful and confusing hour, there were many more filled with growing trust and hope. And for every disappointment we had another invitation to a tender and honest conversation with God. Each time a prayer didn't seem to be answered, we would be humbled by a spectacular answer to another one. Through it all we were learning about the character of God. He is far better than we imagined.
Each time a prayer didn't seem to be answered, we would be humbled by a spectacular answer to another one
The return flight to England was the most testing for us. This time we never had the money to book flights but had to leave the country by a certain date. We chose a day we wanted to fly, packed up life and arrived at the airport. Nothing happened. It was one of the most awkward and crushing moments of my life. We got back into our van and found somewhere to stay nearby. I remember my eldest son declaring: "we will have all the money we need to buy our plane tickets by tomorrow"! The next day God provided the $3,000 we needed for plane tickets through some strangers we had just met who handed us their credit card. My eldest daughter exclaimed, "I knew that would happen"! 48 hours later we were back in London.
In the past I've felt tempted to discount my own need for answered prayer as immature or even presumptuous. I've since realised that Jesus speaks about this need, "Ask and you will receive and your joy will be complete" (John 16:24). Until we have a mission that is bigger than ourselves and our own ability we might be missing an invitation from heaven to discover and reveal to the world what God is really like.
Tim Boxer is husband to Ruth and father of seven (nearly eight) children. He recently graduated from Bethel School of Supernatural Ministry after eight months living in Redding, CA with his family. Tim is currently writing his first book and lives in Devon with his family where they are involved in a radical new church plant. For more information visit theboxerfamily.com
Click here to read our feature article - Bethel Church: Heaven on Earth?
Enjoyed that? Get more articles covering news, culture, faith and apologetics in every print issue of Premier Christianity magazine. Subscribe now