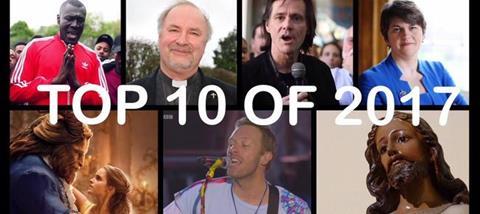 Too many people believe there's a battle between LGBT persons and the Church. But as this speech by Rev Sam Allberry demonstrates, the truth is far more complicated than that.
Hundreds of archaeological findings are confirming the biblical record. Here are just nine of the most interesting discoveries in recent years.
After the devastating terror attack in Manchester, this benefit concert brought great hope. Krish Kandiah unfolds the spiritual thread running through One Love.
Gavin Ashenden caused a stir in January 2017 when he resigned as chaplain to the Queen. Writing on the Premier Christianity blog, Ashenden explains his decision and warns of a three-cornered struggle for the public space between Christianity, secularism and Islam.
He might have dabbled in other religions and belief systems in the past, but this speech from Jim Carrey sounded remarkably Christian.
Stormzy's hit track 'Blinded by your grace Pt 2' includes the lyrics "Lord, I've been broken / Although I'm not worthy / You fixed me, I'm blinded / By your grace / You came and saved me".
Some Christians had threatened to boycott Beauty and the Best after it was revealed the film would feature Disney's first ever gay character and love scene. Luke Aylen - a gay Christian who holds to a traditional understanding of marriage - explains why he's against the move.
Bart Campolo admitted this year he'd left his Christian faith behind after a long process of gradually ditching more and more key Christian doctrines. So does moving toward a more progressive faith really lead to atheism? Sam Hailes investigates
After the DUP entered an agreement with the Conservatives to govern following this summer's general election, everyone wanted to know: Who are the DUP? The Evangelical Alliance's Peter Lynas explains
Over 100,000 of you engaged with this blog - our most popular ever published!
Want more great content? Be the first with the news in 2018 by subscribing to Premier Christianity magazine and signing up to our weekly emails (tick the 'Premier Christianity' box)