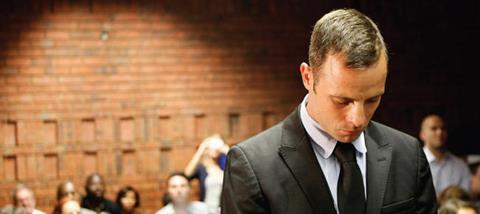 Both were known as people of faith. As well as being a worldrenowned Paralympic and Olympic running star, South-African Pistorius is known as a devoutly religious man. His faith is illustrated by a tattoo on his back which quotes 1 Corinthians 9: 26-27. He is reported to pray before every race.
Twenty-nine year-old Reeva attended a Catholic school, described herself as a 'child of God' and in a recent interview said she believed in destiny and faith.
Pastor Kurt Sutton conducted Reeva's funeral in her home town of Port Elizabeth on February 19th. He told Christianity magazine, 'It was a privilege and an honour to lay to rest such an incredible woman. I didn't know the family before so I don't know where Reeva was with her faith. One woman stood up at the funeral and said that Reeva loved the Lord and that was a special moment. My job right now is to try and take care of the family.'
During Pistorius' bail hearing in February, prosecutors said he committed premeditated murder when he fired four shots into a locked bathroom door, hitting his girlfriend on the other side. Steenkamp sustained gunshot wounds to her head, hip and arm. The sprinter's next court appearance is scheduled for 4th June.
He denies murder.
'The tough thing is that in four month's time everything is cracked open again,' Sutton told Christianity. 'The Steenkamps will go through a period of healing right now and then comes June with the trial and everything will be open again and in a sense they will almost have to bury their daughter twice.
'At present they are dealing with her loss and then they will have to come to terms with how she died, they will have to bury that whole situation again. We just have to trust God and keep them in our prayers.' Shortly after his arrest Pistorius was visited in police custody by pastor AJ Wilson, who told Reuters television, 'The Holy Spirit gave me an order that this is now the chance to go pray with Oscar. The [police] colonel told him that I have come to pray with him. He just cried and we all cried together.'
He has also been visited regularly by pastor Bert Pretorius founder of the 3C (Community, Character, Courage) Church. The main branch is in the wealthy area of Irene, south of Pretoria.
Pastor Pretorius has declined to comment on his contact with Pistorius, saying the situation was 'too sensitive' but said in a sermon that he was 'ministering to him on a daily basis'. Reeva's father, Barry Steenkamp, old reporters that the family was struggling to come to terms with her death, but added, 'There is no hatred in our hearts.'
He said of Pistorius: 'He must be going through things that we don't know about. We ask the Lord every day to help us find a reason why this should happen to Reeva. She was the most beautiful, kind girl in the world.'