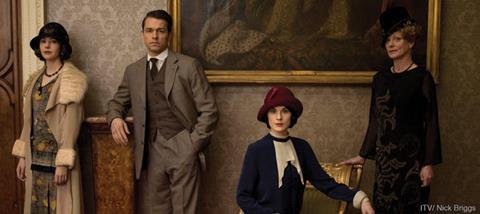 Yet again, the world is gazing at a Labrador's bottom. Every week this winter, more than 100 million people across the globe will gather for the iconic opening shot of Downton Abbey, ITV's period drama phenomenon. The stars have become household names, the DVD box sets have netted millions in sales, and American visitors have turned its stately home setting into a lucrative tourist attraction. The awards, viewing figures and critical acclaim have all been overwhelming, and while ITV expected the show to be a hit, few people predicted success on this scale.
As the fifth season draws to a close, Downton has established a place for itself in TV history. The most successful British costume drama since Brideshead Revisited (based on viewer figures), it paints a broadly sympathetic picture of an aristocratic family and a considerable staff of servants as they deal with a whirlwind of social change during the early part of the 20th century. The show has covered a range of issues including love, death, violence and war, but intriguingly one element is missing. Apart from very brief and occasional references, Downton Abbey finds almost no place whatsoever for God.
Why does a story written by a practising Catholic, and set in a time when faith was prominent, seem to relegate Christianity to the sidelines? And why has the show been so extraordinarily popular?
'NATIONAL TRUST SENTIMENTALITY'
The initial reaction to Downton Abbey wasn't entirely favourable. TV correspondents on both sides of the Atlantic (the show has an enormous following in the US) called it melodramatic, suggesting it was light entertainment rather than genuine drama. Known for his scathing comments, AA Gill wrote in The Sunday Times that Downton was: 'Everything I despise and despair of on British television: National Trust sentimentality, costumed comfort drama that flogs an embarrassing, demeaning and bogus vision of the place I live in.'
Several years on, some critics remain, but they have been drowned out by millions of voices giving the opposite opinion.
Part of the reason for this shift is the darker direction the show took after the first season. The arrival of the First World War, which breaks at the very end of series one, allowed for a grittier set of issues to be explored. While the first clutch of episodes mainly focused on aristocratic social issues, the second series features a string of shocking plot twists, including the surprise deaths of several major characters. By the end of the third season – and particularly in the infamous Christmas Day 2012 episode, which featured leading man Dan Stevens' surprise departure – Downton had moved from being a programme loved by people who like period dramas to being viewed as a national treasure.
IT COULD BE THAT ITV HAS ACTUALLY REQUESTED A SECULARISED VISION OF HISTORY
On the surface, there is little to separate it from successful recent shows such as the BBC's Cranford and Lark Rise to Candleford, but a perfect storm of great storytelling, acting and production values, fuelled by the gelignite of social media, has caused it to transcend similar shows and stand alone at the summit of British television.
OUR ARISTOCRATIC LOVE AFFAIR
Downton's fan base is extremely diverse. Much like The Great British Bake Off (with which I'd argue it shares some distant DNA) its combination of escapism and essential Britishness means it is frequently A-listed on the pages of both the Daily Mail and The Guardian, albeit for slightly different reasons.
The latter seems to largely forgive the social inequality represented in the show. Interestingly, many left-wing fans, who would hate everything the central family stands for if their lifestyle was preserved today, are quite happy to embrace the sight of Elizabeth McGovern as the wealthy Countess of Grantham, who drifts through life, barely able to dress without the help of a servant. In fact, McGovern is one of a raft of characters we shouldn't really like but do, from Maggie Smith's mainly embittered Dowager Countess to the enigmatic Mr Bates. We turn a blind eye to their flaws because they're so frequently compelling, and the distance of time certainly helps.
Bates is the focus of many of the most interesting and controversial storylines in Downton. Murder, rape and revenge have all been explored through the character. Above stairs, stiff-upper-lipped heiress Lady Mary and her sisters have taken us through illegitimate childbirth, rebellion and heaps of romance. In fact, there are few social issues Downton hasn't explored in its 40 or so episodes to date…except faith.
AIRBRUSHING GOD OUT
Some brief appearances from a vicar, some short prayers for safety and a small subplot involving the earl's anti-Catholic views are pretty much the sum total of Downton's engagement with God so far. In reality, while the 1920s saw the start of a decline in Christian engagement, the majority of the population still attended church on Sunday and faith was a central part of community life (infant baptism figures, for example, were around five times higher than today, even though the population was 30% smaller, according to the Church Society).
We see hints at this in Downton. Minor characters are seen leaving church or standing inside a church building discussing architecture. For the most part, God is a passive observer, invoked only in moments of high tragedy, especially by those living 'above stairs'.
Among the servants, the almighty is mentioned more often, but still only in a deferential 'if God wills it' sense, which implies the use of faith as a class containment device. Just as John Wesley is often credited with preventing a revolution in England at the time of the French Revolution because he had the working classes sitting in church when they could have been revolting, Britain's faithful and God-fearing serving class had little sense of the potential of social mobility (although this is explored when one of the footmen is accepted as a trainee chef at The Ritz).
PERHAPS FELLOWES IS SUGGESTING THAT FAITH AND MATERIAL RICHES ARE INCOMPATIBLE
Given that the show's producers seem so keenly aware of the historical context around it (the first storyline is catalysed by the sinking of the Titanic, while women's suffrage and the social issues around the Great War are explored in depth), it seems strange that writer Julian Fellowes should ignore the historical accuracy of the place of faith. In reality, these characters would have prayed before bedtime (we've seen this just once in the whole series), and certainly at the start of the lavish mealtimes that have become so central to the show. God would have been a central character in conversations above and below stairs (see Brideshead Revisited for a compelling example), and church attendance and membership would have been a vital part of many of the lives we see on screen. Arguably, Fellowes has actually missed a dramatic trick, given that church was a great social leveller, which would have placed the earl himself and his lowliest servant in the same congregation (albeit in segregated areas).
When faith is mentioned, it is usually raised either as a political issue or as a way of maintaining class order. Lord Grantham looks up only to the king, and then to God; they are at the top of a hierarchy that sees the servants acknowledging and accepting their place at the bottom.
Still, the extent of God's absence from Downton remains a puzzle. There are really only two possible explanations, given that historical accuracy would place God in a more central role. Either Fellowes is making a point by leaving God out, or he and his team – or, more interestingly, the network – have decided that a faith-heavy story won't cut it with the 9pm Sunday night drama audience. It's interesting that on the following evening each week, ITV broadcast Granchester, a period show about a detective priest. Has someone decided that people simply don't want to be challenged by God on a Sunday night?
As a practising Catholic, perhaps Fellowes is suggesting that faith and material riches are incompatible. If that is his point, he's in good company. Jesus frequently talks in terms that should frighten the wealthy: the Parable of the Rich Man and Lazarus (Luke 16) or the story of the Parable of the Rich Fool (Luke 12), to whom he said: 'life does not consist in an abundance of possessions'(Luke 12:15).
The residents of Downton, blissfully unaware that the days of this aristocratic lifestyle are thankfully numbered, seem to show little concern for the poor, or for the gross inequality their lives represent. Perhaps Fellowes can't stomach the idea of God's presence among them.
Alternatively, we might imagine that the makers of Downton simply 'don't do God', just like Tony Blair didn't, and just like Wayne Rooney reportedly can't. Maybe God is seen as toxic to mainstream success, and that his place is in niche programmes such as Rev. It could be that ITV has actually requested a secularised vision of history.
Christian cultural commentators like me are used to seeing God show up in music, films and TV shows all the time. Sometimes he's hinted at, while at other times the themes of the kingdom loom large. Occasionally he's a character in the story. Yet with Downton Abbey – one of the biggest shows in the world and set in a 'Christian' era – none of these are true. What remains unclear is whether his omission is a strange oversight or if he's actually been written out.
Small stories, big picture
One of the elements that makes Downton so compelling is its use of apparently tiny plot lines to tell a bigger story. Here are a few moments from the show's five seasons to illustrate its loveable knack of telling often hilariously low-stake stories:
The missing antique snuffbox
Season one
Pantomime villain Thomas Barrow tries to frame Mr Bates for the theft of Lord Grantham's favourite antique. The plot fails, but not before we've had an insight into the huge power disparity between the upper and working-class characters.
Lady Sybil wears trousers
Season one
The cat is really set among the pigeons when the earl's youngest daughter decides to defy her expected dress code; a precursor to a wider discussion of feminism, and her class-boundary-shattering relationship with chauffeur Tom.
The mystery of the paper knife
Season four
Another storyline involving an antique sees one of many skirmishes between rival older ladies Lady Violet and Isobel Crawley. The former is unwilling to give a disgraced servant girl a shot of redemption, but all is saved when Isobel finds the apparently stolen antique down the back of a chair. It's all a clever commentary on wealthy people lacking grace, of course.
Anna goes to the chemist
Season five
When Lady Mary sends her maid to buy birth control on her behalf, the latter faces a grilling about her marital status. 'There's always abstinence,' offers the chemist. But this theme is really about female sexual liberation in an age of repressed desire.