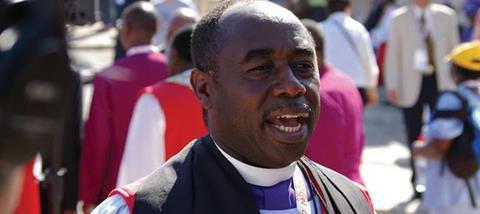 The Archbishop of Jos, Most Rev Benjamin Kwashi, was speaking as Islamist extremists such as Boko Haram and Hausa Fulani herdsmen continue to attack Christians in northern Nigeria, which is predominantly Muslim.
The two groups have murdered thousands of Christians and forced over 1 million people to leave their homes.
In a recently released video, the leader of Boko Haram urged his fighters to "kill, slaughter and abduct". According to Christian Aid, 1.8 million people are in urgent need of food, water and sanitation supplies.
Speaking to religious freedom charity Release International, Archbishop Benjamin said he could not in good conscience tell believers to stay in northern Nigeria while their lives are in danger. He said if Christians chose to remain they would have to "trust God more than you've ever done in all your life".
On the subject of a possible civil war between Christians and Muslims, while not advocating revenge, he said: "They [Christians] have lost people and they're angry. What is keeping them from taking revenge, only God knows. But the day that anger bursts, it can't be controlled…People will take revenge one day..."
Church leaders in Nigeria held a national day of mourning on 8th January. The Christian Association of Nigeria (CAN) said the attacks amount to genocide and accused authorities of "turning a blind eye" to the violence.
The head of the Nigerian Catholic Bishops' Conference, Archbishop Ignatius Kaigama of Jos, said the current levels of savagery against Christians were "unparalleled in the country's history".
"We are becoming so sadistic that we do not see that such brutality creates a culture of impunity, chaos, anarchy and doom; as if the needless killing by Boko Haram is not enough," he said.
The Archbishop warned that young people were gaining the impression that the lives of others are cheap and can be taken away at a whim.
"When will one Nigerian life matter, or must people be killed in thousands or millions before we realise the humongous damage done to our people?"
The news of increased persecution comes as Open Doors release their World Watch List which monitors attacks against Christians around the world. North Korea topped the list while Nigeria is thought to be the twelfth worst country for persecution against Christians.
Meanwhile in Sudan (ranked fifth on the World Watch List), one of two pastors accused of crimes against the state has been freed while a judge has upheld the charges against a second.
Rev Kuwa Shamal Abazmam Kurri faced the death penalty or life imprisonment if he had been found guilty, however, a court has concluded there is no evidence to proceed in his trial.
Fellow church leader, Rev Hassan Abduraheem Kodi Taour – along with two other men – has had his charges confirmed and still faces the death penalty if found guilty.
The pair were arrested in December 2015 and charged with committing crimes against the state.