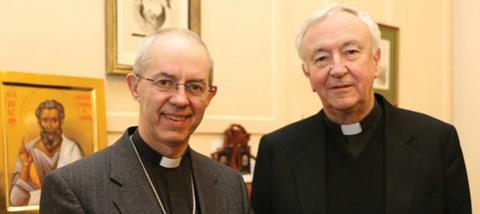 Christians now outnumbered by people with no religion
Almost half of the population of England and Wales identifies itself as having no religion, outweighing the number of people who say they are Christian.
The British Social Attitudes survey found that 48.5% of those asked referred to themselves as having no religion – a huge increase from the 25% who ticked the 'none' category in the 2011 census.
Those who defined themselves as Christian made up 43.8% of the population, meaning that people of faith are in the minority for the first time.
The proportion of the population describing themselves as Anglican has plunged from 44.5% in 1983 to just 19% today.
Stephen Bullivant, senior lecturer in theology and ethics at St Mary's Catholic University in Twickenham, told The Guardian: 'The main driver is people who were brought up with some religion now saying they have no religion.
'What we're seeing is an acceleration in the numbers of people not only not practising their faith on a regular basis, but not even ticking the box.'
Justin Welby hosts Bible study on Facebook Live
The Archbishop of Canterbury has begun hosting Bible studies on Facebook Live.
The newly launched Facebook Live feature allows Facebook users to live-stream (broadcast) themselves online.
Justin Welby was reportedly joined by thousands around the world for his first Bible study. Christians in the UK, USA, South Sudan, Pakistan, Nigeria, Australia, the Seychelles and Japan were all said to have joined in.
The Archbishop discussed John 1:35-42 where the disciples have their first encounter with Jesus. He then took questions from viewers. At the end of the 20-minute broadcast, Archbishop Justin encouraged people to read the Bible with their Christian friends and relatives.
He said: 'You can spend ten minutes finding [out] how each other is, ten minutes looking at a passage of the Bible – asking very simply "What does it say? What does it mean? What are we going to do about it?" – and ten minutes praying together. It's a really good way of spending time together.'
Welby has since live-streamed a conversation with the Catholic Archbishop of Westminster, Cardinal Vincent Nichols. The videos have combined views of more than 1 million and can be viewed on the Archbishop of Canterbury's Facebook page.
>
BBC report finds it is 'too Christian'
A report for the BBC has said the corporation is 'too Christian' and should increase its coverage of other faiths.
The internal review said the broadcaster should have more programmes about the Muslim, Hindu and Sikh religions.
In a statement, Aaqil Ahmed, the BBC's head of religion and ethics said, 'We do look at the number of hours we produce, and measure that against the religious make-up of society.
'We also carry out checks to give us a better understanding of how we represent the different faiths across the various BBC channels and services.
'Christianity remains the cornerstone of our output and there are more hours dedicated to it than there are to other faiths.'
The BBC later clarified that it intends to do more programming around Christianity, as well as more programming about other faiths. 'There is absolutely no question of an "either or" on our output,' a spokesperson said.
THE MONTH IN FIGURES
The Church of England has announced an 8.2% return on its billions of pounds of investments last year. The fund has grown from £2.4bn at the start of 1995 to £7bn at the end of 2015
New figures have revealed only 13% of clergy in the Church of England are under the age of 40
Festival-goers at the Big Church Day Out have donated enough money to give 1,066,530 meals to people suffering extreme hunger. Tearfund says the money will be used in disaster-hit areas
England have high hopes for this summer's UEFA Euro 2016 tournament, having won all ten of their qualifying matches