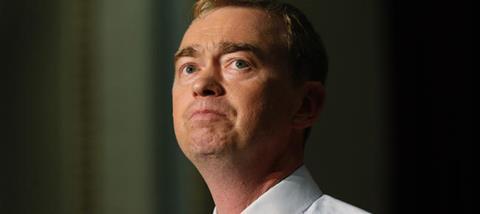 Farron received 56% of the vote, held by Liberal Democrat members. Norman Lamb received 43.5%.
Farron has faced intense pressure about his Christian faith and his biblical beliefs about homosexuality.
The MP abstained on the vote to legalise gay marriage in England and Wales, although he has since said he regrets this and would vote in favour of the change now.
Channel 4 News presenter Cathy Newman asked Farron about his views on gay sex three times during one interview. He refused to give a specific right or wrong answer on the subject, saying that all people are sinners and that we should look at our own lives rather than pointing the finger at others.
Writing on the Premier Christianity blog, moderator for the Free Church of Scotland, David Robertson, said recent media interviews with Farron demonstrated how 'intolerant, authoritarian and anti-Christian' British society has become. Robertson said John Humphreys 'repeatedly badgered' the MP. Farron was appearing on the Today programme when Humphreys questioned whether the leader asked God for advice when making big decisions.
Speaking on BBC One's The Andrew Marr Show, Farron said: 'Let me be crystal clear. I am a liberal and I absolutely support equality and I'm passionate about LGBT plus rights.'
He said there were areas where the law had to be extended and that equal marriage should also be available to transgender people.
'I am absolutely in favour of equal access, under law, for all people, whatever their sexuality,' he stressed.
Farron also said he did not think Christians were 'put down' by the media. Writing in the Liberal Democrat Christian Forum's book Liberal Democrats Do God (CreateSpace), Mr Farron said he became a Christian 'because the evidence for Christianity is staggeringly compelling'.
He added: 'Of course, becoming a Christian is staggeringly inconvenient too, which I suspect is why I buried my head in the sand for so long. If I was to become a Christian, I would have to accept that I was not the master of my own destiny; that I needed to bow down to God who created me and who will judge me. I would also have to accept that I was a "sinner" and ask for forgiveness and turn to Him as my master.'