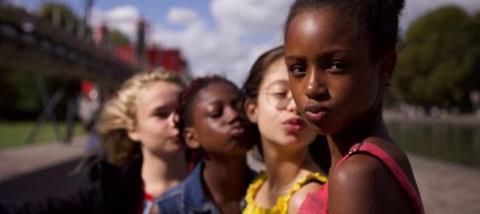 When I found out about the release of a Netflix film called Cuties I was horrified.
It had originally been advertised with a promotional poster of a girl squad made up of eleven-year-olds wearing skimpy outfits and posing suggestively. The description read: "Amy, 11, becomes fascinated with a twerking dance crew. Hoping to join them, she starts to explore her femininity, defying her family's traditions." I signed every petition to stop the film in its tracks, to no avail. It was sadly released in September.
After reading positive reviews defending Cuties, suggesting parents even watch it with their children, I was even more shocked. Should this film be legal, let alone watched by children or teens? The frustration was very real as I could not understand why people would think that filming eleven-year-olds twerking was ok.
Twerking is something I used to do to arouse men when I worked in strip clubs (before I became a born-again Christian). Behaving in a manner that uses sexuality for power can be intoxicating to young girls, as it was to me. I loved the persona I created, the attention, the power, the validation it seemed to give me, and yet, it led to the darkest moments of my life. It created damage that cannot easily be repaired. Being an object can take away your humanity and lead you to a path of no return. To subject eleven-year-olds to this is sickening and, being the mother of an eleven-year-old girl myself, it really struck a chord with me.
There are other themes in Cuties that are addressed, such as cultural and family issues, and, commendable as those portrayals may be, they do not make the disturbing parts of the film ok. The cinematography is graphic, as the camera needlessly lingers and zooms-in on the bodies of the young girls as they gyrate to dance routines that get more explicit. There is one scene where Amy is twerking on the floor of the launderette while sucking her finger. In the next scene the cameras focus on the girls as they touch each other's bums and practise twerking in all different ways. It reminds me of my days sexually dancing like this for men and women's pleasure and it makes me feel sick for these poor children.
Amy, the lead girl (played by Fathia Youssouf), also takes a photo of her private parts to post on social media and tries to seduce her older cousin to get out of trouble for stealing his phone. These are just some of the disturbing moments in the film.
Cuties avoids judging the sexualised dances of the girls, and with no morals asserted, it could leave the film open to interpretation, which I believe encourages the normalisation of this behaviour and desensitisation of the viewer. I can't help but wonder how many adults will be taking advantage of this free and legal content that's reminiscent of soft child pornography.
There have been plenty of other films that have managed to handle gritty topics without being so graphic. The audience does not need to see the actual exploitation of the children to get the message.
I do not understand why anyone would want to watch Cuties. Even if you watch this with a teenager and pair it with a conversation about why it's wrong, it could open their minds to things they cannot erase.
The writer/director, Maïmouna Doucouré, has explained that through Cuties she sought to critique the hyper-sexualisation of pre-adolescent girls, but I believe she has failed spectacularly. The state of Texas seems to agree: a grand Jury indicted Netflix on tuesday (6 October), charging the streaming company with "promotion of lewd visual material depicting a child".
Be aware that if you watch this film, you will not be able to un-see some of those scenes. In my opinion, a less graphic documentary or film would be more effective at raising important issues.
Perhaps the question we should be asking ourselves now as parents, guardians, teachers and youth workers is: are we allowing the normalisation of the sexualisation of our young? Are we allowing our children access to unsuitable material, via films watched with unsupervised access to the internet?
Why not take the controversy surrounding Netflix as a sign to put down your devices and spend some time with your children? Let them be kids; after all, childhood, as Cuties all too graphically shows, is so short-lived.
Anna Robson is a Christian and digital content creator
Premier Christianity is committed to publishing a variety of opinion pieces from across the UK Church. The views expressed here do not necessarily represent those of the publisher
To read another view: Why Christians shouldn't boycott Netflix's controversial Cuties