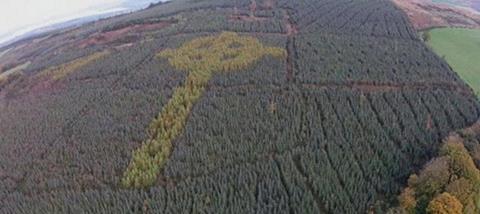 It was spotted by passengers flying into City of Derry Airport, sparking speculation about its origins. The Northern Irish broadcaster UTV investigated and discovered that 51-year-old Liam Emmery, who died earlier this year, had created the cross using thousands of trees. His creation is thought to be at least 100m tall and 70m wide.
His mother, Norma, told UTV, "Liam was in an accident and was unwell for two years. He'd suffered brain damage. I'd forgotten about the plantation. If Liam was here we'd all have heard about it because he would have been so proud!"
Horticultural expert Gareth Austin said the cross was a "gift" that others will be able to experience for at least another 60 years.
The month in figures
More than 1 million people have turned to foodbanks for help in the past year, according to Christian charity the Trussell Trust.
A Traidcraft poll has found 84 per cent of people prefer to receive Christmas cards, compared to just three per cent who would rather receive texts and two per cent who would prefer social media messages.
2.5 million people attended Christmas church services in 2015, according to the Church of England. The number marks a three-year high and bucks the trend as the numbers attending weekly services continues to drop.
The amount of money spent on Christmas advertising is expected to be higher than ever with retailers forking out £5.6bn in the run-up to Christmas 2016. The figure is £300m more than last year.