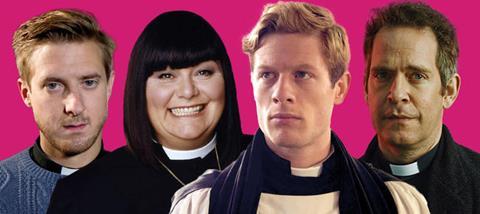 There seem to be more church leaders on our screens now than ever before. In fact, two major – and very different – British shows feature ordained leads, while even the trailblazing Vicar of Dibley was back for a one-off, women-bishops-affirming special on Comic Relief.
And despite the latter's comedic style, none of these shows paint church leaders as one-dimensional figures of fun. These are well-rounded, interesting human beings who have chosen a path of ministry.
What does this tell us? Is some sort of subtle revival breaking out in the writers' rooms of British television?
A ROUGH GUIDE TO THE TV PRIESTHOOD
This month, Dawn French reprised her role as village vicar Geraldine Kennedy (née Granger), one of the most prominent and influential examples of the TV minister. Although the show ended its regular run in 2000, it has been rebooted several times for special episodes either at Christmas or, as on this occasion, for Comic Relief.
Like much of Richard Curtis' writing, Dibley hides serious ideas within comedy, and has often reflected the progressive mood across much of the Church of England.
This new episode is no exception, coinciding neatly with the ordination of the first female bishop, Libby Lane. It is likely to be Rev Geraldine's final appearance and there's a sense, with all the progress that has been made in the real-life Anglican Church, that her work is done.
Rev Geraldine's onscreen heir is Adam Smallbone, Tom Hollander's stumbling, bumbling east London priest, and the central character in BBC2's Rev. It's an entirely different show from Dibley, with an absence of a laughter track and a greater sense of spiritual depth. While Rev Adam makes his fair share of errors, he constantly returns to God in prayer and sees some of those prayers answered.
Another collared character who seeks God's help for plot resolution is Rev Sidney Chambers, the vicar-sleuth played by James Norton in ITV1's Grantchester. Chambers is a priest in 1950s Cambridgeshire, where he helps overworked Detective Inspector Geordie Keating (Robson Green) solve murder cases in a sleepy village that would give Midsomer a run for its body count.
BROADCHURCH'S PAUL COATES DOESN'T PRESENT A CHRISTIAN FAITH WITH NEAT, FLUFFY ANSWERS
And talking of small towns with dark secrets, let's not forget Rev Paul Coates (Arthur Darvill), the troubled vicar in Broadchurch, who can't avoid getting caught up in the show's web of suspicion. Coates came out of the second season's recent shock finale pretty well, and viewers saw him praying with some of the central characters, ensuring that the subject of faith isn't lost in a show that is partly an exploration of grief.
Other programmes have used a minister character to leverage controversy. EastEnders' Pentecostal pastor Lucas Johnson (Don Gilet) started well but was slowly revealed as a crazed serial killer who used his faith as a justification for awful things including forced 'baptism' and murder.
More recently, Coronation Street's Rev Billy Mayhew (Daniel Griffith) is a gay character who struggles with the apparent conflict between his sexual identity and the Church he loves, which could be viewed either as a reflection of real life, or a deliberate ploy to drum up viewing figures by exploiting a delicate and complicated theological subject.
Finally, as we arrive back at the comedic end of the spectrum, there are a couple of older, and hugely well-known, characters to mention. One is Father Ted Crilly (Dermot Morgan), the eponymous lead of the brilliant Channel 4 sitcom that ran in the late 90s but remains a firm favourite.
Ted is a Catholic priest on a remote island off the coast of Ireland, and he deals with small but hilarious issues in his parish. The constant threat of a US remake has so far proved no more than a rumour, but the show lives on through an enthusiastic fan community that continues to hold an annual convention called Tedfest, which is well worth a Google search.
Although we're focusing on British shows, it seems wrong to omit one of the most influential TV priests to appear on our screens over the last 20 years. Unlike the above, The Simpsons' Rev Timothy Lovejoy perpetuates the stereotype of the fire-and-brimstone Pharisee, referring to the Bible as a '2,000-page sleeping pill'.
FULLY HUMAN
While there is great diversity in these characters, there are also traits and ideas that unite them. Most impressively, none of the characters mentioned above (Rev Lovejoy excepted) are simply stereotypical tropes; they are mature humans whose faith is an important part of who they are, but not the only part. They have love lives (sometimes not the kind that would keep evangelicals happy), they have outside interests and friends beyond the Church, and the majority seem to be wrestling and stumbling their way through a life of faith.
Rev.'s Adam Smallbone, for instance, regularly prays like a man at the end of his rope, genuinely unable to see a solution to his problems without the hope of divine intervention. And Broadchurch's Paul Coates doesn't present a Christian faith with neat, fluffy answers to profound questions of suffering. He journeys compassionately with his heartbroken parishioners; even suspected paedophile Joe Miller, who everyone else refuses to visit in prison.
TRAGICALLY FLAWED
Most of the characters, and certainly the dramatic ones, carry a tragic flaw. Grantchester's Sidney Chambers is haunted by the death and destruction he saw on the battlefield as an officer in the Scots Guards before his ordination, while Rev Coates and Smallbone battle with doubt.
THERE IS LITTLE PLACE ON SCREEN FOR CHARISMATIC, SPIRIT-FILLED, VISIONARY LEADERS WHO ARE OUT TO CHANGE THE WORLD
More significantly, perhaps, Smallbone – like Pastor Lucas Johnson – battles with a more serious character flaw. While season three of Rev. included a poignant, modern-day rewrite of the Passion story, with the disgraced central character carrying a wooden cross through the streets, the series halts when Smallbone commits an act of moral failure.
With a fourth series not yet confirmed, the Rev has resigned from his role, and is now working in a convenience store, while the central church has closed down. While this storyline is undoubtedly true-to-life in some isolated cases, it is not an accurate reflection of the average church leader.
FOCUSED ON JUSTICE
More positively, almost all of these portrayals include a focus on social action and justice. Smallbone is terrifically invested in his local community, particularly those at the lower end of the social ladder. His relationship with heavy-drinking, unemployed Colin, with whom he shares many deep conversations on the bench outside his church, is central to the show.
In Broadchurch, Coates explores the more remarkable edges of grace, attempting to convince bereaved mum Beth to set up a charity in her son's name to help recovering sex offenders. This feels slightly contrived to the viewer, and also proves to be beyond Beth, but there is no doubt that the show's writer, Chris Chibnall, has faith in his vicar and sees him as a force for extraordinary good.
Perhaps the most positive portrayal of Christian community leaders is found in BBC1's Sunday night hit Call the Midwife, which follows the lives of a group of convent-based midwives who live and work alongside the nuns in poverty-stricken, post-war east London.
Again, the show casts Christians as agents of great social concern and action. The inference is that the community would be completely lost without them. Local politicians are portrayed as pragmatic and disinterested, and the only maternity doctor in Poplar is overrun. The Church was vital to the survival of that community, and the show makes that clearly apparent.
AVOIDANCE TACTICS
Apart from the nuns, led by the thoughtful Sister Julienne (Jenny Agutter), the only church leader in Call the Midwife is handsome, well-meaning curate Tom Hereward (Jack Ashton). He is not a dynamic man, however, and this is something he largely shares with the other characters on this list. They are all fairly passive men and women, doing the best they can and dealing with the various issues thrown at them, rather than being proactive. That might be an accurate portrayal of many church leaders, but it's true to say that there is little place on screen for charismatic, spirit-filled, visionary leaders who are out to change the world.
In fact, almost all of these characters seem to be drawn from the same narrow part of what is, in reality, a very broad Church (no pun intended). You could imagine Adam, Geraldine, Paul and Sidney getting on well at the same clergy training event. They would probably all be more comfortable at Greenbelt than New Wine. Even Father Ted is an easy-going chap who would prioritise relationship over doctrine.
And here's the really interesting thing. When shows like these introduce characters from other parts of the Church, such as Rev.'s HTB-spoofing trendy vicar Darren, they're usually strange and unpleasant characters with a warped view of the world, serious control issues and hints of an abusive personality. Rev Lovejoy is another that probably trips over this line more often than not.
Conversely, of course, the slightly sneering treatment given to these minor characters highlights the relative respect with which the others on this list are portrayed. Shows that place faith – or characters possessing it – in a central position tend to steer away from agenda and caricature. So even if they're only illuminating one part of the Church, at least they're doing it in a fairly positive light.
The other great omission in terms of TV's treatment of faith, especially in the UK, is the general absence of 'normal' Christian characters. Dot Cotton notwithstanding, when we see a person of faith, they generally have a dog collar on. Why is that? Why don't we have 'regular' characters who simply have faith as part of their make-up, but are also shopkeepers, barristers and full-time mums? That's arguably much more powerful, yet it's so rarely seen in the diverse characters that appear in our drama and comedy shows.
COMFORTABLE FAITH
Modern portrayals of ministers on screen tend to be respectful. They are rarely designed to undermine the Christian faith. Yet they tend to reinforce an image of the Church as dusty do-gooders whom you might smile at but aren't part of a movement to which you would give your life.
Father Ted is funny, but you wouldn't change your lifestyle because of something he said. Smallbone is kind to the poor and on a spiritual journey of his own, but you wouldn't make him an advert for Christian discipleship. He's not a man to be followed, because his own life is too much of a mess.
It's great to see Christianity generally being handled respectfully, but that is also how TV tends to treat history, royalty and other things that don't appear as a threat. I am wary about getting excited just because a Christian character isn't shown negatively. It could just be a sign that the vibrant heart of the faith is now considered irrelevant.
Perhaps, then, this trend demonstrates that we have become comfortable with ministers; particularly left-leaning Anglican ones. This is no bad thing, unless it's at the expense of seeing the Christian faith portrayed accurately: as a prophetic movement that costs your whole life to join, and ultimately connects us with a real, loving, life-changing God.
It's great to see faith take a central role in drama, creating opportunities for culturally relevant discussion within and outside the Church. Christianity is a radical faith, however, and a source of both personal and community transformation. We should be cautious of anything that anaesthetises that for the sensibilities of the primetime TV viewer.
Real vicars on screen
Alongside the glut of fictional clergy currently found on British TV, several examples of the real thing are also making regular appearances, and perhaps doing a better job of demonstrating the profession.
Rev Kate Bottley: Gogglebox
Nottinghamshire-based Bottley rose to fame when a video of a flashmob at a wedding she officiated went viral. She was then approached by Caroline Aherne's show, which films people watching and reacting to television programmes. She quickly became one of its stars, appearing regularly alongside her husband Graham and dog Buster.
Rev Richard Coles: Various shows
The former Communard is fascinating to the media because of his past, his vow of celibacy and his quick wit. That combination has landed him on a variety of comedy panel shows, as well as several serious news programmes.
Rev Sally Hitchiner: BBC/Sky News
The Brunel University chaplain and Diverse Church founder appears regularly on news broadcasts (both radio and television), was a key spokesperson on female bishops, and is often asked to comment on the modernisation of the Church of England.
Rev Justin Welby: Various shows
He doesn't tend to do comedy panel shows (although frankly, I think that's an oversight on his part), but Welby has not been afraid to defend his spicier ideas (such as Wonga-slaying) to some of TV's fiercest interviewers. We would all love to see him on Room 101.
Click here to receive your free copy of Premier Christianity magazine.