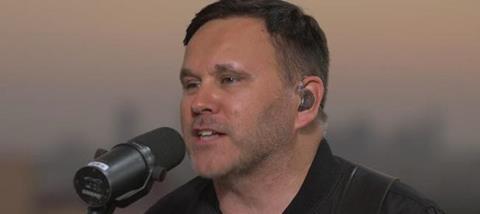 A studio album featuring collaborations with rising Gospel stars – is this the new Matt Redman?
Following three live albums, Redman returned to the studio for Glory Song. And what a studio it was! Capitol Studios in Los Angeles is a world-famous, world-class facility.
The album's sound is suitably sparkling and expansive, with Redman's lead vocals richly complemented by guests such as Tasha Cobbs Leonard, Kierra Sheard and Guvna B. The vocal variety is definitely one of the most refreshing things about this album, with the record also featuring a gospel choir and some congregational singing provided by over one hundred local worship leaders.
The musical backing is of course pristine, even if the arrangements don't tend to break any creative ground. This is music for the Church – with (mostly) memorable melodies and playable chords. You'll be singing along after only a couple of listens.
Occasionally this risks bordering on the predictable – and those familiar with Redman's recent material will find little to surprise lyrically. In 'Greatest Hallelujah' you can bet that the lyric "Alpha and Omega" is followed by "beginning and the end", and we're not left hanging as the next line faithfully delivers the rhyme we've all be waiting for ("Father and a friend").
It takes a few listens to figure out what Redman means by the phrase "Gracefully broken" in one of the other big hits currently being touted from the album. It seems mostly like a neat catchphrase to suggest that God has to break us, or that we are broken in his presence; but the way he does so, is gracefully. Has Redman penned a song around a neat catchphrase? It's never properly explained, only inserted alongside lyrics about surrender.
Theologically most of the lyrics lean toward the Calvinistic emphasis of God's sovereignty and Lordship over situations, which will certainly find a home in the vast swathes of American evangelical churches where Redman's songs have their greatest global exposure. The same can be said of 'One Day' - written around a decidedly disembodied eschatological vision of restoration 'when we all get to heaven', which might be challenged by, for example, the robust and increasingly popular vision of a new heaven and a new earth espoused by Tom Wright in books such as Surprised by Hope.
But what we get from Redman is strong in its own right. He delivers simple and mostly clear and confident lyrical content to help the church worship.
While the themes of God's sovereignty and unchanging faithfulness form the great canvas of his songs - as typified in 'Questions (You Are Faithful)' - the cross is often depicted centre-frame ('Redemption Ground' and 'It Is Finished'). And there are some touching moments of raw honesty, such as in the whispered promise "no cancer, no depression" at the end of 'One Day', or in the heartfelt prayer of 'Simple Pursuit'.
Overall then, lyrically, this is stock-in-trade Redman. Musically, it comes with a generous and refreshing Gospel flavouring, making it a rewarding listen – and at times an infectious singalong.
Ben Trigg is a musician, songwriter and worship leader based in London and working with Ichthus Christian Fellowship.
Glory Song (Integrity) is out now. Matt Redman will be hosting a series of Worship Nights across the UK this month in partnership with Big Church Live. Click here for more details
Click here to request a free copy of Premier Christianity magazine, which also features an interview with Matt Redman about the album