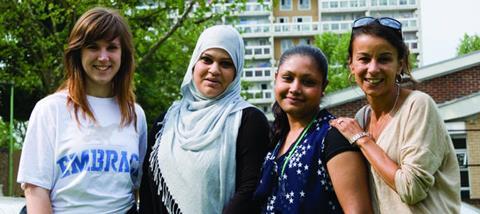 Working together for a common goal is key to achieving 'community' among people with very different backgrounds, according to a new report by Christian thinktank Theos and the Contextual Theology Centre.
'Making Multiculturalism Work: enabling practical action across deep difference' advocates a new approach to living together. It claims that everyday side-by-side activity is often more productive than face-to-face discussion, however well meaning.
David Barclay, the report's author, claims this kind of working together has been hampered by an emphasis on people being 'progressive enough' to be allowed to take part in community projects.
He told Christianity magazine, 'Often people use what you can call a "progressive test" where ideological boxes are ticked and they use that to decide who they're happy to be seen working with in public.
'But that's problematic for a couple of reasons. Firstly I think it's actually counterproductive. If people have opinions or beliefs that are outside of the mainstream and potentially damaging, the best way to challenge that is to be in a relationship with those people. I don't think anyone helps themselves by simply excluding people from public dialogue and public cooperation.
'It's also not a very imaginative way of modelling multiculturalism in action. We have to be prepared to take risks and have some imagination about who we are prepared to work with. That doesn't mean that we should have no tests whatsoever, but I would suggest we have a more relational test that is based on working with people who are willing and able to work in a more diverse alliance.'
Barclay studied 'community organising' projects and the government initiative Near Neighbours as part of a wider international research project looking at how religious and secular people can work together for the common good.
He said, 'One group I met was part of a New Neighbours project which was bringing dads and their sons together to go on monthly trips. They were all part of a school in Tower Hamlets, so there were Eastern Europeans, Bengalis and white East Enders.
'So this was quite a simple thing… they got a small grant and they decided to use that to go on trips. They went camping, did archery, go-karting, but the interesting thing was, that when the project ended they carried on doing activities together. The dads ended up forming a football team.
'There was also quite sad news after they finished their project. One of the dad's wives had a stroke but the amazing thing was that in this very difficult situation the rest of the people they'd been getting to know through the project really rallied round them… and they were praying together for the family across the different faiths. That's a really good example of how a small project can have a huge impactful result.'
Elizabeth Oldfield, director of Theos, said 'This is a vital and timely report which skewers many of the preconceptions about what the role of faith is, can and should be in building strong communities. The time when only those who agree with us, or only those who pretend to agree with us, can take part in making society better is passed. We need everyone in honest, active "political friendships" with those different from themselves working together for the common good.'