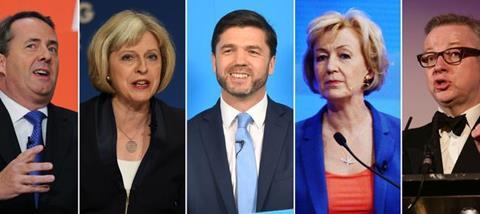 Whether we agree with their political views or not, our next Prime Minister will be a follower of Jesus - and be willing to say that publicly.
1. Theresa May
Take the Home Secretary, and now favourite, Theresa May. In her speech announcing her intention to stand as leader she reminded the public that as the daughter of a vicar, "public service has been part of who I am for as long as I can remember". She's also previously said her Christian faith is "part of me... part of who I am."
2. Michael Gove
The Justice Secretary Michael Gove is no stranger to the faith chat either. A late entry into the race for leadership, he recently wrote a piece for The Spectator titled 'In Defence of Christianity' and when he was criticised by Conservative colleagues for what they perceived as his soft stance on crime, he retorted that as a Christian he believes "in redemption". After playing second-fiddle to Boris in the Brexit campaign, perhaps this is his moment.
3. Stephen Crabb
Stephen Crabb, the Work and Pensions Secretary, has previously called the Bible his "guiding star" for social policy and is very aware that "Jesus Christ oozed compassion". With his time with the Christian charity CARE often negatively quoted in the media, he recently said "to speak openly as a Christian politician about praying is really asking for trouble". He went on to question whether we'll ever see again a British Prime Minister who can talk about praying to God. Might that be about the change?
4. Andrea Leadsom
And Energy Minister Andrea Leadsom has previously spoken about her Christian faith. She said "I always try to ensure that I'm doing what I think God would want me to do... God's there, guiding my hands and helping me." That guide may soon be needed more than ever.
5. Liam Fox
Finally, Liam Fox, a Catholic, has spoken of his concern of those who try to take Christ out of Christmas. In an online video he told of the need to be unapologetic of celebrating Christmas and to proclaim the "hope and renewal" that it represents.
Renegotiating the UK's relationship with the EU is one of the greatest opportunities - and burdens - that a British Prime Minister will ever have to bear. Assuming the emergency services haven't arrived yet to put out the Labour leadership fire, it is highly likely that a Conservative government will be the one taking that opportunity and carrying that burden. What trade deal(s) can they strike? What migration controls will they bring in? What EU laws will they keep and which will they scrap? So many questions. All I know is this: whoever has to answer them will need their relationship with God more than ever before.