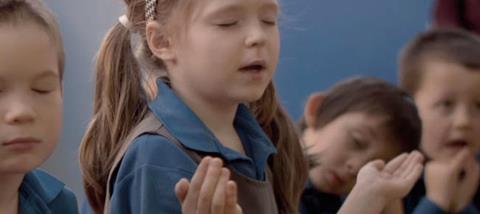 The 60-second advert which featured a diverse range of people praying the Lord's Prayer was due to be shown before Star Wars: The Force Awakens. It promoted the Church of England's new website JustPray.uk.
DCM defended its decision in the face of mounting criticism by saying some ads could cause offence to people of different faiths, political persuasions or those of no faith.
In a statement they said: 'DCM has a policy of not accepting "political or religious advertising" content for use in its cinemas.' Archbishop of Canterbury, Justin Welby, who features in the advert, said it was 'extraordinary' that Britain's biggest cinema chains had banned the advertisement.
The Prime Minister, David Cameron, and Mayor of London, Boris Johnson, also defended the ad.
Prominent atheist Richard Dawkins said, 'My immediate response was to tweet that it was a violation of freedom of speech. But I deleted it when respondents convinced me that it was a matter of commercial judgement on the part of the cinemas, not so much a free speech issue. I still strongly object to suppressing the ads on the grounds that they might "offend" people. If anybody is "offended" by something so trivial as a prayer, they deserve to be offended.'
The advert showed weightlifters, a police officer, a commuter, refugees in a support centre, schoolchildren, a mourner at a graveside and a festival goer saying the prayer Jesus taught his disciples.