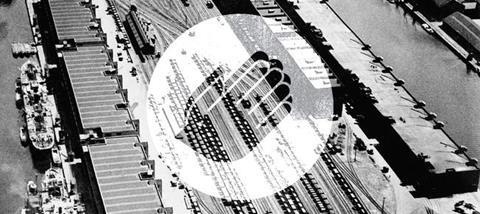 The closure of the docks in 1982 plunged Salford into decline and despair. The port had served for a century as the main access point for Manchester, linked by a ship canal to Liverpool and the sea. The advent of super-sized container ships rendered the canal unusable, and following its closure the local economy collapsed.
Fast forward 30 years and a different story is emerging. Salford Quays is now home to MediaCityUK, comprising more than 100 companies, including large sections of the BBC and ITV. An area that was for many years the very picture of dereliction is now buzzing with life.
LEGACY OF PRAYER
Local pastor David King grew up in Salford and pioneered a movement to unite its churches. His father, a pastor before him, prayed for 45 years for the renewal of the area; one of the most deprived in the UK. David took up the same challenge, regularly walking the streets to pray. One of his habitual walks took him through the wasteland where the thriving docks had once been.
During this process, David and those praying with him received an extraordinary promise. They felt God saying to them that a day would come when 'the nations would again come to Salford and Salford would again go to the nations, from the very same place'. They believed God had called their city to be a 'home of creativity'.
They held on to this word as they trudged the deserted roads among the rusted cranes in all weathers. Imagine their excitement when in 2006 the BBC announced the move of 1,800 jobs to Salford. Others followed suit and the area the team had walked, calling out to God, is now the very epicentre of UK broadcasting.
TODAY'S ABRAHAM
Sound familiar? It may be difficult to spot the tents and goatherds among the newsreaders and Coronation Street cast members, but this is a 21st-century parable of the story of Abraham. Hebrews 11:8-10 tells us that Abraham lived as a foreigner in the land God had promised him. He wasn't hoping for some other destination, waiting to be whisked away to glory; he was driving his tent pegs into the soil of the land he had been promised.
Abraham trusted in God's word that a new city would be built on the very ground he walked. This is the faith that, as we are told in Galatians 3:6, was 'credited to him as righteousness'.
I love David's story of transformation in Salford because I've engaged in this kind of prayer over three decades in cities and towns across Europe, standing with local believers to declare God's promises over their area. We have so much to learn about turning prayer from a tedious activity in a cold church hall into an adventure of hope and creativity.
Here are seven lessons we have learned about restoring hope and passion to our prayers:
1. Get yourself grounded
Jesus urged us to pray for the will of God to be done on earth. It's already being done in heaven; the angels don't need us there. We pray for real people in real places, using all the insight and resources available. Find out about the people and places you are praying for, and base your prayers on what you find. Be specific. Be determined. Jimmy Wales and Larry Sanger probably didn't know they were creating a global prayer guide when they founded Wikipedia, but we should thank them anyway.
2. Walk your words
It's no coincidence that so many great prayer stories involve walking. There is something powerful about tramping the ground you are praying for. You can pray as you walk, or you can walk and then pray. Either way, your prayers will be shaped and informed by what you see and experience. You don't have to do all your praying outdoors, but you can use prayer walks to let the outdoors influence your indoor prayers. Prayer isn't about escaping your surroundings to dream of God's elsewhere. It is about seeking God's blessing for the territory he has placed you in.
I'VE ENGAGED IN THIS KIND OF PRAYER OVER THREE DECADES IN CITIES AND TOWNS ACROSS EUROPE
3. Pray God's promises
At its most basic, prayer is a bridge between heaven and earth; between a realm where the will of God is done and a location where it isn't. As Jeff Fountain, director of the Schuman Centre, says: 'It is always the will of God for the will of God to be done.' If you don't know what that might be, go to scripture. Locate the promises of God in the Bible and apply them to your areas of concern. What does God want for your city or village? For your region? For the people you are bringing before him? God's kingdom is an aeroplane looking for a place to land. Maybe your prayers can build him a runway.
4. Learn to listen
As well as applying the broader promises of God to your area, you can listen for his specific word. You can't assume that everything you hear – in your head or from someone else's mouth – is from God, but you can learn to listen. When you sense God speaking, write it down. Keep a journal of God's words to you. Test them out with other believers. Learn to discern the voice of God. Over time, you will find yourself standing on promises you can fully trust.
5. Widen your world view
Alan Platt from Doxa Deo church in South Africa asks: 'If it takes a village to raise a child, we need to ask who is raising the village.' At times, God may call you to pray for the growth or success of your church. This is good, but it is not enough. If we are praying for God's will to be done, then there is no limit to what we can pray for. What does God want for your local schools? For hospitals? For business life? Start to ask God for more imagination, and he will take you further. What issues in culture and civic life is God asking you to carry in prayer?
6. Practise persistence
So many of Jesus' parables on prayer focus on persistence. You don't just ask, you keep asking. You knock until the door opens. There is something here about a godly persistence, about patience that holds on and won't let go. Yes, there is a danger of becoming obsessive, pursuing an agenda beyond the point at which God has gently urged you to lay it down, but let's be honest here: this is not the most acute danger facing the people of God across the UK. We are not suffering from a wave of churches praying too much. Maybe the best way to find out where the boundary between persistence and obsession lies is to press into persistence a little more. Nobody ever found out where the deep end starts by cowering in the shallows.
7. Fight fragmentation
A feature of every city-changing prayer movement I know is a commitment to unity. David King urges those who work with him to 'bless every church'. Our prayers are not on behalf of one group or congregation: they are the cry of the people of God for the places in which he has set them. Perhaps God is urging us to bless each other so that together we can bless the city.
PRAYER IS A BRIDGE BETWEEN HEAVEN AND EARTH
I now live just outside the city of Caen, in Normandy. Nowhere have these lessons been more significant for me than here. We are working with a group of local believers to plant a church in the city, with a vision for transformation guiding us from the very start. We are small in number, with scant resources, but we have enormous confidence in God's plans for Caen. Why? Because more than 20 years ago God spoke specifically to us about this place. We were sailing into Ouistreham, the sea port linked to the heart of the city by a ship canal. Praying on deck at dawn, we read Psalm 107:7 'He led them by a straight way to a city where they could settle.'
It's hard to explain how deep our conviction was that God had spoken. We had good reason to take this moment seriously, and once we acknowledged the voice of God, we were unmovable. Since that morning we have lived in Rouen and Paris, in the UK and in Amsterdam – until recently everywhere but Caen – yet we have always known that we would one day minister in the city. Now that we are planting a church here, can we even doubt that God is on the move?
Which places and people are you holding in your heart for the promises of God to be fulfilled?
Prayer Diary
In celebration of this year's Pentecost Sunday on 23rd May, Premier Christian Media is inviting churches and Christians nationwide to join together in a nine-day ecumenical act of unity and prayer, known as a Novena.
Based on the Catholic tradition, these nine days of special prayer mirror the prayers of the first disciples, who were commanded by Jesus to wait and pray for the Holy Spirit to come (Luke 24:49; Acts 2). Premier's hope is that together we can pray for the Holy Spirit to bring renewal to the UK Church and within villages, towns and cities across our nation.
Visit premier.org.uk/novena for your resources and intercessions.
Insightful Intercession
True intercession involves bringing the person, or the circumstance that seems to be crashing in on you, before God, until you are changed by His attitude toward that person or circumstance. People describe intercession by saying, 'It is putting yourself in someone else's place.' That is not true! Intercession is putting yourself in God's place; it is having His mind and His perspective. Oswald Chambers
We never know how God will answer our prayers, but we can expect that He will get us involved in His plan for the answer. If we are true intercessors, we must be ready to take part in God's work on behalf of the people for whom we pray. Corrie ten Boom
A Christian fellowship lives and exists by the intercession of its members for one another, or it collapses. I can no longer condemn or hate a brother for whom I pray, no matter how much trouble he causes me. His face, that hitherto may have been strange and intolerable to me, is transformed in intercession into the countenance of a brother for whom Christ died, the face of a forgiven sinner. Dietrich Bonhoeffer, Life Together: The Classic Exploration of Faith in Community (HarperOne 1978)