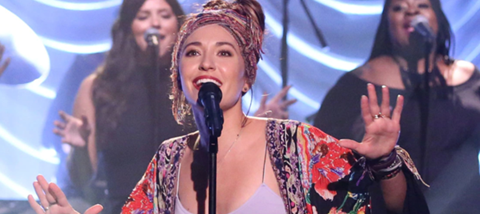 Lauren Daigle is a regular companion in our car courtesy of her songs, which are on repeat (often at the request of our kids). So when this two-time Grammy award-winning artist announced her one-night-only show in London we leapt at the chance to hear her perform live.
This 27 year old from Louisiana is currently riding a wave of media interest. Her pop music can be heard on both Christian and mainstream radio stations, not just in America, but here too.
After beginning her career singing in local choirs, she appeared on American Idol aged just 17. Although she made it through to the final 24, her journey ended with a 'no' from Simon Cowell (there was a sense of poetic justice earlier this month, when she was invited back to be a celebrity mentor on the latest series of the show!)
Daigle's debut solo album, How Can It Be was released in 2015 and reached number one on the US Christian Billboard chart. It's since become platinum.
Given her huge success stateside in recent months, it was a privilege to attend what must have been one of her most intimate gigs to date. Daigle has a wonderful, down-to-earth chatty style. The evening felt like a sharing of songs between friends.
The musicianship was phenomenal – producer Paul Mabury on the drums, a keyboard player and also a DJ who mixed samples steadily throughout. The three backing singers were similarly incredible and Lauren's rich voice was effortless. The band also mixed in other flavours along the way - Bob Marley's 'One Love' and Crowded House's 'Don't dream it's over' both made an appearance.
When one woman bravely and beautifully sung a line back to her, Lauren jumped into the crowd to invite her to join her backing singers (who had just chosen a name for themselves – 'The Rebels'). She blended in so well that Lauren's producer made a point of nodding to and clapping her as they left the stage. Her night was well and truly made!
Surprisingly, the Christian artist didn't speak a word about her faith on the night. However, her lyrics are packed full of gospel truth, and it was obvious the singer was looking up to her heavenly father as she offered up her voice – and sometimes her hands – to him. She also explained that when the deeply spiritual 'How can it be' was recorded for her first album, she wept, realising she needed the song more than the album did. And as she sung lines from the song such as "You gave Your life / To give me mine / You say that I am free / How can it be", Lauren was clearly fixing her eyes on Jesus, more than the audience. Looking around, others were also worshipping and there were moments that can only be described as sacred.
There was an honesty about what Lauren and her band were doing, which allowed those who shared her faith to engage on a deeper level. Doing so would have been easier and more comfortable for us if we'd had more room – a bigger venue would have helped, but that might have meant the intimacy was lost. It certainly didn't stop us from worshipping – and those who didn't share her faith from perhaps gaining an insight into the source of her very evident joy.
Claire Musters is a speaker, writer and editor who blogs at clairemusters.com. She is married to Steve, who leads the eldership team at River Church, Sutton riverchurchsutton.org
Get more articles covering news, culture, faith and apologetics in every print issue of Premier Christianity magazine. Subscribe now