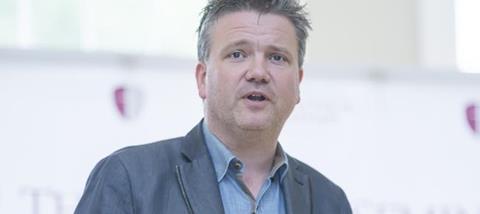 Keith, congratulations on being awarded an OBE. How did you feel when you heard?
It's a funny cocktail of emotions. You're shocked and it seems odd and you're embarrassed. But you're also delighted and biting your arm off cause you can't tell anyone! Ultimately I'm just very grateful. There are many other people who deserve it more than we do, but I'm very grateful.
So you had to keep the news under wraps for a while?
Yes you get very strongly worded letters in very posh language saying you can't tell anyone. I had 2-3 months where I couldn't say anything.
So what's next – a visit to see the Queen I suppose?
Yes, my wife is already looking at what hat she's going to buy! We're hoping to visit the Queen although my wife does want to ask Kate [Middleton] some questions about fashion. We'll see how it works out!
Top 10 Keith Getty hymns
In Christ Alone
Come People of the Risen King
Speak O Lord
Across The Lands
Resurrection Hymn
The Power of the Cross
There is a Higher Throne
O Church Arise
Hear The Call of the Kingdom
Behold the Lamb
Does it feel a bit funny to receive an OBE when it's ultimately about God?
I think of it as an encouragement. It's like anyone giving you thanks. If anyone is thanking you for anything you do in life, ultimately it's an encouragement and that's healthy.
John Stott was a big believer in public honours because he said it's important to recognise those who help others and encourage them in what they do.
I've never been good enough to do anything by myself. All the things I've done are usually because I've been around someone who was usually a lot cleverer. So even when they listed why I got this award, it was as much the brilliance as three or four other people, as much as any contribution I made.
Every time we do a poll here at Premier Christian Radio, 'In Christ Alone' comes out favourite along with '10,000 Reasons'. There seems to be something special about that song. Why does it resonate with so many?
Do you know what I wouldn't give to know what it was that was the special potion!? I definitely think it was one of Stuart Townend's finest. Certainly our best combination.
I can never explain – and neither can Stuart- why a song has done what it's done. But it opened the door for us to write modern hymns and begin this era of writing hymns for the church.
I always think of Charles Dickens who said 'we live in the best of times and the worst of times'. It's the most exciting generation in history to be a Christian. There are more believers in the world today, we have the chance to have the Bible in every language, the opportunity to communicate the gospel are more diverse and immediate than ever and Premier Christian Radio is a good example of that But at the same time the challenges are so great. We need a new canon of songs that help teach the Bible and are deep and rich and passionate about the gospel and this incredible good news.
What's next for you?
We're looking forward to launching our first book. Kris and I have toured together, written songs together. But nothing prepared us for the stress and intensity of writing a book. If you're married do not write a book together!
You've survived it so well done! What's it about?
We thought let's find a book that teaches people to sing and get congregations excited. We couldn't find a single book anywhere .There's lots of books for worship leaders but there isn't anything for normal Christians about singing.
The second most common command in scripture is to sing. So it must be important and be good for our whole spiritual lives.
Singing is an important witness. Look at the revival movements – people note how singing was important.
Singing transforms every part of our lives. The puritans wouldn't let a man take the Lord's Supper on a Sunday if he wasn't praying and singing with his family each day. I think that's a bit of a stretch but it is interesting how important it was to building up a rich family life.
To hear the full interview listen to Premier Christian Radio's 'Drive' program from 3pm on Monday 26th June
Click here to request a free copy of Premier Christianity magazine