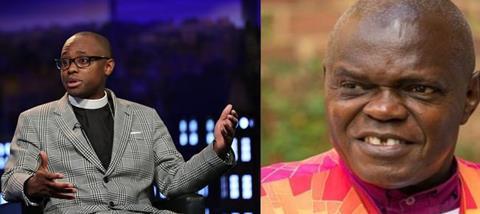 Archbishop John Sentamu inspired me to become the youngest black priest in the church of England.
His grace and elegance has encourage many people from ethnic minority backgrounds to pursue their vocation in the priesthood and has given us the vision and understanding to know that no position is too great for a man or woman from an ethnic minority background to occupy.
This has given birth to a desire in my heart to be the first and youngest black Archbishop of Canterbury. I remember doing a placement at one of the churches where he use to be the vicar. It was Holy Trinity on trinity rise in Brixton, where many would tell me about how he established home groups that led so many to deepen their faith and understanding in what the gospel message was all about.
The members of the congregation would often say "the last vicar that ran this parish became the Archbishop of York, so only God knows who you will become."
Although it was a running joke, it sowed a seed in my heart which led me to believe that because I had preached from the same pulpit as the Archbishop of York, God had given me extra grace to push through any obstacles in the way of becoming a priest.
Although I've never met him I'd love for him to know how much he has inspired a young man such as myself, who grew up in a rough area in the Borough of Brent, where many fathers had abandoned their families and not many black role models were conveyed in the right narratives. But the ministry and legacy of Archbishop John Sentamu has touched my heart and the hearts of many from ethnic minority backgrounds, who feel the call of God to ministry in the Church of England. He showed me that royal blood still runs deep within my veins as I am special and unique enough to one day live in a palace.
I'll never forget watching the news and seeing him cut up his dog collar in protest of injustice and to fight against what he believed to be dictatorship. To show that amount of courage to stand for what you believe in, displayed to me such an admirable spirit. I also remember when he did a sky dive for charity which was a moment that made me think he was a man that had no fear. His involvement in silencing the protester when ordaining the first woman bishop showed his heroic character and his heart for helping those that have at one time or another felt victimised and oppressed.
As I witnessed the day he was given back the pieces of his dog collar that he had cut in protest and put back on a new one, I knew that God had answered his prayers against dictatorship and that the voice of a prophet had been heard by heaven. Yesterday, as he announced his retirement in 2020, I prayed that God will strengthen and vitalise the rest of his ministry as he will always be seen as a beacon of hope.
Fr David Nwogbe is a former stand-up comedian and youngest black male priest in the UK
SPECIAL: Subscribe to Premier Christianity magazine for HALF PRICE (limited offer)