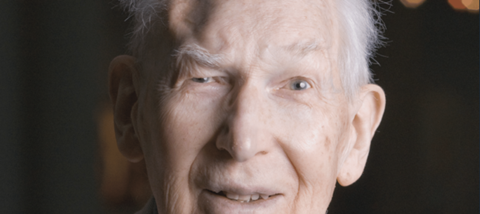 Dr J.I. Packer, one of the most influential evangelicals of the last 70 years, died on Friday, a few days short of his 94th birthday.
I was not especially close to Jim Packer. But I was privileged to know him well enough to say that, at his passing, the Church lost not just a renowned systematic theologian but a true pastor-teacher, a lover of Jesus who sought through his teaching, writing and personal relationships to build up the body of Christ "until we all attain to the unity of the faith and of the knowledge of the Son of God" (Ephesians 4:13 ESV).
As a student at Regent College in the 1990s, I remember Dr Packer as one of several strong personalities on the faculty. My abiding memory of him during those times was not so much his clear biblical exposition as his openness in debating his strongly held convictions with faculty colleagues, who sometimes held equally strong but differing opinions on controversial matters. Christ was modelled to us as students as much by the way Dr Packer handled disagreement and explained his own positions clearly and graciously, as by what he actually said.
Though he is known for his commitment to biblical inerrancy and complementarian views on men and women – opinions which earned him the scorn of much of the Oxford establishment in which he was formed – his was no jingoistic or narrowly fundamentalist form of evangelicalism. He was a cautious supporter of theistic evolution, believing that the creation accounts in Genesis did not rule out such a position. More controversially for some, he was a lifelong supporter of ecumenism and an active proponent of Catholic-evangelical unity for mission.
This willingness to form close relationships with those of quite different theological persuasions, whether institutionally or inter-personally, may have seemed a vexing form of behaviour to some other pillars of the evangelical establishment. But my own sense is that it arose naturally from the core of his deepest convictions about the love of God for us in Christ, saving us from our sin and drawing us to himself to know that love.
Years later, when I was privileged as a faculty member at Regent to relate to Jim as a colleague, I saw the pastoral side of his personality even more clearly. There was a tenderness in prayer particularly for the students, for their personal needs and that they might grow in faith. In later years Jim was less frequently in college as his teaching load reduced, but when he was it was evident from his questions and conversation that the details of your life had been the subject of his prayers and concern. How often many of us were encouraged because he remembered some particular project, plan or struggle and asked about them in order to pray for us.
Though it may not always follow, I think that the work for which Jim was most widely known is also the one that best captures his heart: Knowing God. For Jim Packer, pre-eminent evangelical theologian, biblical and theological study should always lead to and be a response of a closer walk with Jesus, or as he would say "true theology is doxology."
Paul S Williams is chief executive of the British and Foreign Bible Society and Research Professor of Marketplace Theology and Leadership at Regent College, Vancouver, Canada.