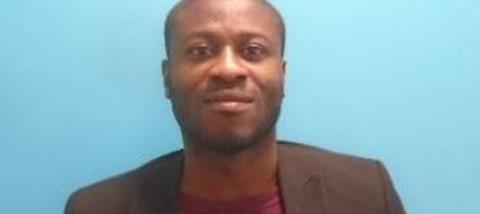 In 2015 I was sectioned under the Mental Health Act for my own safety and for the safety of the people around me. I'd been diagnosed with psychosis and spent a month in a psychiatric hospital.
Psychosis is a severe mental health disorder in which thought and emotions are so impaired that contact is lost with external reality. I wouldn't wish it on my worst enemy because, in effect, you lose your mind and surrender control of your thoughts. At my worst points I was terrified and felt very vulnerable.
Although psychosis is rare, mental health problems are not. In fact a mental health issue is the third most common reason someone visits their GP. 1 out of 20 of us experience an episode of depression.
It's important to recognise that our brains can be susceptible to illness and damage as much as any other part of our body. It's ok not to be ok. Even if you are a Christian.
My story
I had a fairly ordinary and happy childhood in Ghana, West Africa. I moved to London at the age of 9 and my primary, secondary school and college experiences were enjoyable. I attended the University of Kent, Canterbury where I studied architecture and excelled. Although I experienced a period of depression in my final year, I overcame it and graduated with top honours.
In December 2014 I returned to my family home in London for the Christmas break. I was feeling severely fatigued, both mentally and physically. I didn't pay this feeling much attention and ignored it. But as time went on I experienced severe headaches and sleep deprivation.
The doctors suggested I took some time out of work. I adhered to the advice but after resting for several weeks, collapsed to the floor in church due to severe pain.
Eventually my GP concluded I had anxiety. No longer able to carry out my duties, I sadly had to resign from my job. I felt like I'd failed and was severely depressed at this point. A few months passed and my condition worsened - my doctors advised they could do very little to help me as we had to wait for the results of an MRI test to establish what was wrong.
In May 2015 I was admitted to a psychiatric unit after having multiple psychotic episodes, which included me hallucinating and become delusional. This culminated in me forcefully dragging my sister outside of the house into the streets and shouting that "I am God" and she should "obey my commands".
I ended up spending a month in hospital where my condition deteriorated to the point where I had to be given a tranquilizer for my body and mind to calm down. I was then placed in an intensive care unit for several days, breathing and being fed through tubes due to an adverse reaction I had to the anti-psychotic medication.
I gradually began to improve and attended several in house cognitive behavioural therapy sessions. Following my release from hospital, I would still have delusions and hallucinations but it was not as manic as before and I felt like I was regaining control over my mind and my life thanks to the medication, therapy and prayers from my family.
Last year I was formally released from the Mental Health Act 1983, which means I'm no longer under any form of medication. My recovery process is going remarkably well. I've completed my post-graduate diploma while working part-time; published two books on mental health; organised a conference on wellbeing and spoken about mental health around the country.
If someone had told me when I was severely ill that my recovery would go this well less than three years later I would certainly not have believed them. To quote my doctor: "It is simply a miracle".
I am recapturing my life and as much as I wish I hadn't gone through this experience, I believe it has made me a stronger person. I am now a more patient person, more understanding, more empathetic and I live life to the full each day. I do not let my illness control me or hinder me. I appreciate every moment that I'm alive and I have my sanity.
Church attitudes
We should not feel guilty if we become ill as Christians, believing that it may be because we have done something wrong. We should not also think that it is as a result of a lack of faith.
Importantly, we must also stop demonising people with mental illnesses in the Church. Stating that people are 'demon possessed' if they have a mental illness is wrong.
We also need to avoid simplistic and careless answers to mental health problems. We should listen to people and work through things in a similar way to counselling or talking to a good friend. It's not simply addressing behaviour, it needs to address the heart. It is not a matter of sermonising or giving someone a pep talk. Our response should involve the big truths of the Bible and prayer.
Jesus is the hope
When I asked a well-known doctor in the mental health sector what steps someone with a mental illness could take to get help, he answered: "People will usually talk about medication, rehabilitation and all the other things. But the most important thing that tends to help people moving forward is hope."
This reminded me of Colossians 1:27 which says "To whom God was pleased to make known what is the riches of the glory of this mystery among the Gentiles, which is Christ in you, the hope of glory."
This means that within us is Christ - who is hope. That is the most important thing for our lives, including when it comes to dealing with mental illness as a Christian.
Our faith in Christ can certainly bring us healing from these illnesses. Equally, I believe there is a place for medication, therapy and other forms of treatment.
Depression in the Bible
When it comes to something like depression, the Bible gives permission to speak openly and be honest with God.
Job was in real mental anguish as a result of the disaster that struck him. After losing his home, his business, his servants and children he displayed some of the symptoms of depression. He isn't the only one. I think there are lots of people in the Bible who seem to have some of the symptoms that are common with depression without it necessarily being diagnosed as depression.
The only time we know these things will end is when we are finally with Jesus. Knowing that the mental health struggles people go through will not last forever is a real help. One day there will be a perfect world (Revelation 21) where there is no pain and no tears.
Emmanuel Owusu is the author of My Psychosis Story
Click here to hear Emmanuel share his story on Premier Drive
Click here to request a free copy of Premier Christianity magazine