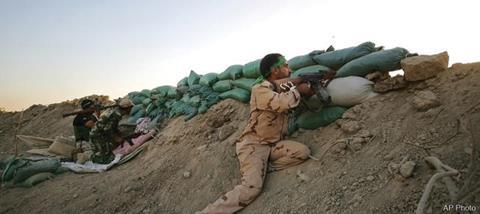 At the time Premier Christianity went to print, he said the extremist group was just 1.2 miles (2km) from Baghdad.
In a Facebook post, he wrote: 'They said it could never happen and now it almost has. Obama says he overestimated what the Iraqi army could do. Well you only need to be here a very short while to know they can do very, very little.'
In the speech Canon Andrew references, President Obama also said he had 'underestimated' the threat posed by IS. There are now believed to be as many as 31,000 IS fighters in Iraq and Syria, according to figures from the CIA.
Canon White claims more than 1,000 Iraqi troops were killed by IS militants on a single day in September and says the military air strikes are 'doing nothing'. 'If ever we needed your prayer[s], it is now,' he added.
Prime Minister David Cameron has admitted that air strikes alone will not be enough to defeat IS. He defended the UK's decision to join the US in taking military action against IS, but said air strikes were 'part of a comprehensive strategy'.
He told the BBC's The Andrew Marr Show: 'When you face a situation with psychopathic terrorist killers in Syria and Iraq, who have already brutally beheaded one of our own citizens, who have already launched and tried to execute plots in our own country to kill and maim innocent people, you have got a choice.
'We can either stand back from all of this...and say, "This is too difficult, it's too complicated, let's let someone else try to keep our country safe"...or we take the correct decision to say, "Let's have a full, comprehensive strategy".'
However, Iraq-based Louis Sako, who is head of the Chaldean Catholic Church, said the air strikes will not work and that many innocent people could be killed. He described the campaign as a 'dirty political game'.
'Bombing these jihadists will not make them disappear, that's for sure,' Archbishop Sako said.
He called for better education for young people in the Middle East, saying this was the only way to show 'how false and monstrous this bloodthirsty [IS] ideology really is'.
For the latest news on Iraq, visit premierchristianradio.com/PrayForIraq
Click here to receive your free copy of Premier Christianity magazine.