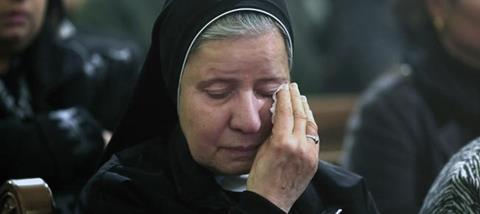 According to the UK-based Syrian Observatory for Human Rights, families were abducted from several Assyrian Christian villages in north-eastern Syria during dawn raids. Reports suggest 12 predominantly Christian villages have been captured.
Thousands of Christians are believed to have fled the area, having been given the familiar ultimatum to convert to Islam or be killed.
Christian Solidarity Worldwide's chief executive, Mervyn Thomas, said: 'This kidnapping is the latest appalling assault on these ancient Assyrian villages. Daesh [IS] was already inflicting terror and suffering in the region through systematic use of religious taxation, destroying churches and capturing and killing anyone who does not share their beliefs.'
Earlier in the month, IS released a video showing the beheadings of 21 Egyptian Christian fishermen who had been kidnapped in Sirte, Libya. IS had threatened to kill the men to 'avenge the [alleged] kidnapping of Muslim women by the Egyptian Coptic Church'.
The President of Egypt, Abdel Fattah el-Sisi, announced a seven-day period of national mourning after the murders, and the men were commemorated as martyrs.
Shortly after the beheadings, Egypt and Libya carried out air strikes on IS bases in Libya.
Syrian Anglican priest, Rev Nadim Nassar, said not enough is being done to defeat IS: 'I blame…the Western countries in keeping silent about the funding and the arms flowing to IS and they're not doing anything about it...Christianity is vanishing in the Middle East.'
In response to the growing persecution of Christians around the world, Release International, Open Doors, Christian Solidarity Worldwide and the Evangelical Alliance have joined forces to form a new Religious Liberty Commission.
Speaking at the launch, Archbishop of Canterbury, Justin Welby, said: 'We must speak out in solidarity. Silence is not an option. Treasuring the dignity of each and every human must mean that we treasure their right to religious belief.'