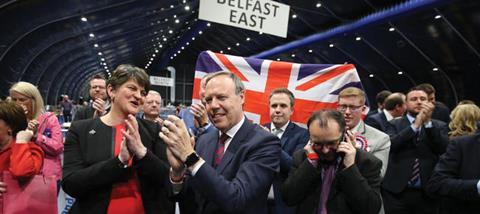 There has been a lot of irresponsible and uninformed comment about the DUP ever since it was suggested they might support the next Conservative government.
I say this as someone who is not a member of any political party. My work involves meeting with all the parties while remaining politically neutral. But given some of the recent attacks on the DUP, it's worth taking a closer look at the facts.
Firstly, the DUP are neither left nor right. They are often seen as right of centre because of their views on security and social issues. However, many of their voters are working class and they opposed aspects of the Conservative manifesto, including welfare cuts.
Many people in Northern Ireland are currently being labelled as 'extremists' for having socially conservative views on marriage and abortion. However, those same people, including members of the DUP, have had personal experience of terrorism.
The loose use of 'extremism' for political point scoring will ultimately undermine attempts to legislate against terrorism.
The DUP have been strong supporters of Brexit, but Arlene Foster wrote a letter with the late Martin McGuinness calling for flexibility on the Irish border, ease of trade with EU member states and access to both skilled and unskilled labour. Northern Ireland has the only UK land border with Europe, and wants to maintain strong relationships with Ireland.
Much has been written about the DUP's opposition to same-sex marriage. But those in Britain should remember the redefinition of marriage is a devolved issue – it is for the Northern Ireland Assembly to decide whether to redefine marriage and the DUP do not appear to have raised it in negotiations with the Conservatives. It is worth remembering that about 160 countries in the world hold to a traditional understanding of marriage, with only a handful changing. Northern Ireland is with the majority.
When it comes to abortion, the DUP, like most politicians in Northern Ireland, are pro-life. Their policy is that both lives matter and this is reflected in Northern Ireland's laws which balance the life of the mother and the unborn child. There is no appetite to see the 1967 Act introduced in Northern Ireland and like marriage, it is a devolved matter.
Questions should rightly be asked of those who seek political office and want to be in government. There are serious and legitimate concerns about the DUP – including the fact that any deal with the Conservatives could delay or undermine the restoration of the Northern Ireland Assembly. However, the reporting of this party must be fair. When Ruth Davidson, leader of the Scottish Conservatives, said she put LGBTI rights above her party, no one challenged her. Compare that to the treatment of Tim Farron being grilled over his faith or the unchallenged comments in the media about the DUP.
This election has shown us how divided our society is. Now is the moment to take seriously the biblical command to pray for those in authority (1 Timothy 2:1-2).
A good friend of mine talks about honour in this way: "When you honour someone, you say their name differently – their name is safe in your mouth." How safe are the names of our politicians?
Peter Lynas is the Northern Ireland director of the Evangelical Alliance
For more opinion on the latest trends, topics, news and culture from a Christian perspective, visit premierchristianity.com/blog