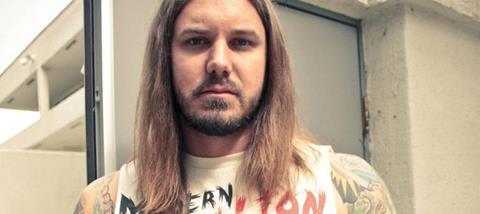 Tim Lambesis from the band As I Lay Dying is serving a six-year prison sentence for plotting to murder his wife Meggan, a revelation that shocked the Christian metal community last year. In a recent interview with rock magazine Alternative Press, he said that he had been an atheist for several years but that the band had continued to play at Christian festivals. It was during this time his marriage broke down and he attempted to take out a contract killing on his former wife.
Referring to controversy over the lyrics of his band's album Pyrithion, he said: 'I was afraid it would affect As I Lay Dying sales, which would affect my overall income. I was trying to put out the fire by saying the easiest thing, "I'm not a satanist!" Truthfully, I was an atheist.'
In reality, As I Lay Dying's movement away from the Christian faith had been signalled during the previous few years, though Lambesis affirmed his faith in an interview as recently as 2010. However, he also asserted that many other 'Christian' bands were in the same position, saying: 'We toured with more Christian bands who actually aren't Christians than bands that are. In 12 years of touring with As I Lay Dying, I would say maybe one in ten Christian bands we toured with were actually Christian bands.'
Lambesis had indicated that his loss of faith made it easier for him to act immorally, but sources close to the former singer say that he has recently embraced Christianity again and is repentant of his crime.